Using Built-In Smartphone Apps to Scan Documents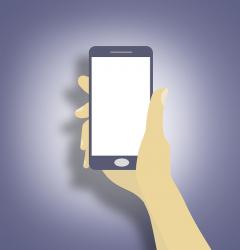 In this digital teaching and learning world we are in, some disciplines are easier than others to submit homework assignments. While submitting a paper is pretty straightforward, submitting math or other science discipline homework may not be as simple. There are scientific symbols that are hard to recreate in a digital format. Students may be working problems out on paper and then submitting them by taking pictures of each page with their phones. This can be inconvenient if you have multiple pages to submit.  
Luckily, there are native apps on both Apple and Android phones that can let you submit one or more pages as a scanned PDF document. On the iPhone, you can use the "Scan Documents" feature within the Notes App. On Android phones, you can also use the "Scan" feature within the Google Drive application. Both are pretty straightforward to use.  
To make sure you get a good quality scan:
Make sure the camera is held perpendicular to the document you are scanning. This will prevent angled scans and provide for the best readability.

Use a contrast background so the app can better detect the edges of the paper you are scanning.

Use the cropping feature to remove any unnecessary background elements.
These apps with document scanning features may be a welcomed surprise. If you find they work well for you, let others know about them.