Using the Blackboard Mobile App

The free Blackboard app allows students to use their mobile devices to stay connected to Blackboard Learn, and is available for iOS, Android, and Windows devices.  It has many services and features students will find very useful.
With the Blackboard App you can: 
Prioritize your work using the activity stream prioritizes events and actions for you, so that you can stay on top of upcoming assignments and deadlines.

Stay informed in real-time by setting up Blackboard push notifications to your phone about new grades, upcoming tests, and past due dates.

Access courses to view announcements, content, discussions, and grades

Join Blackboard Collaborate Ultra session: participate device's microphone, speakers and keyboard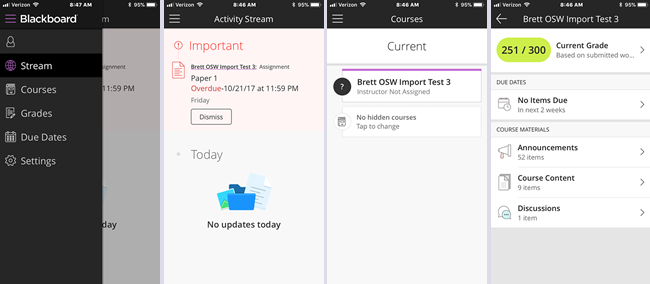 Getting Started
Download the Blackboard app and install it on your device. The app is free and can be downloaded from the following locations:
Next launch the app on your device and search for SUNY Oswego. Enter in your Laker NetID and password then click the Log In button.
Set up Notifications
Notifications settings are located on the Global Navigation, located in the upper, right corner in Blackboard Learn when access on a computer. After clicking on the Global Navigation, select Settings → Edit Notification Settings. From this screen you are able to define the notification frequency, specific courses, and specific types of notification. Select Mobile to have the notifications sent to your mobile device via the Blackboard App.
Limitations
While it is possible to submit assignments and take tests using the app, it is best to complete these tasks on your computer instead.
Blackboard App Tour