OzSpeaks
OzSpeaks started in 2016 as a way to bring the Oswego campus community together to explore issues and topics related to diversity, equity and inclusion in our society.  The signature aspect of these programs is that those in attendance are asked to share their thoughts, feelings and expressions on the topic at hand making each event an interactive and deeply impactful experience.
Upcoming Events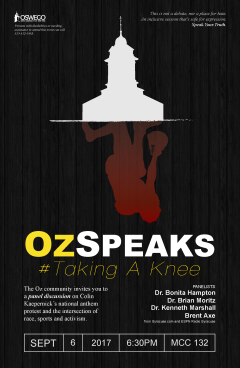 OzSpeaks — Taking A Knee
September 6th, 2017
6:30 PM
Marano Campus Center — Room 132
The Oz community invites you to a panel discussion on Colin Kaepernick's national anthem protest and the intersection of race, sports and activism.
For more information: Contact the Dean of Students Office at deanofstudents@oswego.edu or 315-312-5483