Gain experience and preparation to enter the health-care field, which is the largest industry in the United States today, according to the Bureau of Labor Statistics.
Overview
As the healthcare industry continues to expand, the job outlook for wellness management graduates is excellent. Our unique SUNY wellness management program combines fitness and health promotion disciplines along with business.
You can select a program that focuses on wellness, worksite health promotion and managing such programs. In addition to a broad liberal arts education, you can graduate with a foundation in health science/wellness, management and human behavior, and gain skills in needs assessment, program planning, program implementation and program evaluation. We also offer an online degree completion program for those with appropriate transfer credit.*
You'll gain valuable real-world experience during your junior or senior year internship, which consists of 120 hours of supervised field work. Choose from a wide variety of settings — including fitness centers, YMCAs, worksite health promotion programs, physical therapy offices, public health agencies, nursing homes, hospitals, rehabilitation centers and more. The program is also available as an online completion degree.
A Revitalized School of Education
Recently, SUNY Oswego has brought all six departments of the School of Education into a rejuvenated 21st century home complete with cutting-edge facility designs and equipment for teachers of the future.
Outcomes
With your Oswego degree, you'll be eligible to sit for national certifications, including Certified Health Education Specialist (CHES), American College of Sports Medicine (ACSM) Personal Trainer and ACSM Certified Health Fitness Specialist.
Career Opportunities
Physical therapist
Wellness coach
Fitness instructor
The health and wellness atmosphere is very hands on. We conduct a lot of fitness tests and learn useful things like how to take heart rate and blood pressure. It is also very discussion oriented, very rarely will you find yourself in a health class where the professor only lectures.
I'm working with a professor to implement a program on campus whose goal is to help others with their health. It's very hands on and is a great way to learn directly through doing.
Several faculty members have inspired me to grow academically. They really have taken the time to get to know me and encourage me to be a successful student and beyond.
If I had to describe the Health Promotion and Wellness department's atmosphere in two words it would be; dedicated and ambitious. The department is passionate about the hard work and success that comes from the students and is always willing to help.
Program Resources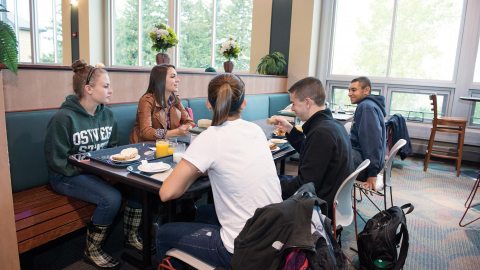 The Oswego Guarantee
No increase in room & board 
Timely course offerings
High touch connections to alumni 
Small student to faculty ratio
Full Details
Tuition and Costs
Our college education is affordable, see our in-state and out-of-state tuition and costs.

View tuition and costs
Visit Oswego
Experience what makes Oswego special in person. We have a variety of visiting options through the year.
Plan your visit
Next Steps to Apply
Ready to get started? We're here to make the application process as smooth as possible. Just answer a few quick questions, and get your customized application guide.