Marrying a strong technical component with coursework in the human aspects of computing, our information science program will provide you with the skills to link people and technology.
Overview
While the technical component encompasses computer programming, database and text management systems, telecommunications, expert systems and statistics, the human perspective includes assessing information needs and exploring the social effects of information systems.
You'll gain experiences that develop both computational competence and the ability to link people with technology — as well as the skills needed to participate in a field that continually adapts to match emerging technologies with evolving information requirements. Our strong internship program and networks provide many opportunities for hands-on experience in that in-demand field.
State-of-the-art facilities in the Shineman Center include workspaces configured for class-based, small-group and individual activities. Our labs provide a great learning, testing and training ground for future success.
Shineman Center for Science, Engineering and Innovation
This $118 million-dollar facility serves as the home for the mathematics, science, computing and engineering programs. This 230,00 square-foot center features a planetarium, three observation decks, a greenhouse, extensive laboratories and state of-the-art equipment.
Outcomes
Knowledge in fundamental application and theoretical foundation
Understanding ethical standards
Oral and written communication skills
Ability to work in groups
Career Opportunities
Information specialist
Librarian
Computer operator
System manager
User support technician
Laboratory specialist
Network administrator
Database manager
The Oswego faculty has been here for me the whole time. The majority of help has come from two of my information science professors, they have helped me choose this degree and succeed in it no matter what obstacle I face.
Program Resources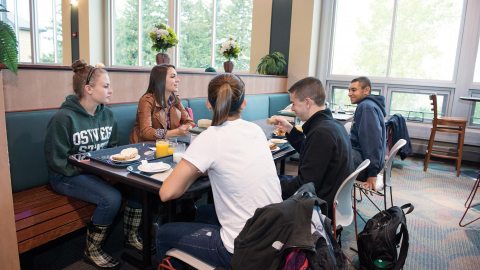 The Oswego Guarantee
No increase in room & board 
Timely course offerings
High touch connections to alumni 
Small student to faculty ratio
Full Details
Tuition and Costs
Our college education is affordable, see our in-state and out-of-state tuition and costs.

View tuition and costs
Visit Oswego
Experience what makes Oswego special in person. We have a variety of visiting options through the year.
Plan your visit
Next Steps to Apply
Ready to get started? We're here to make the application process as smooth as possible. Just answer a few quick questions, and get your customized application guide.