Our global and international studies program responds to ever-evolving changes in the social, political and economic environment in the 21st century.
Overview
You may choose a concentration in global politics and governance, global political economy, global culture or area studies. Core courses encompass international and global events, organizations, structures and processes — as well as the global economy, global media and increasing worldwide cultural interconnectedness. During the senior year, you will choose either a capstone seminar in your concentration or a relevant internship in an international area. In consultation with an adviser, you can develop a more directed program of study — such as a focus on development in the Third World or on globalism.
Apply to live in the Hart Hall Global Living and Learning Center to become part of a unique community of students and faculty with a deep interest in global affairs. You'll take at least 6 credit hours of a foreign language at the intermediate level, enhancing your ability to communicate internationally. Study abroad and deepen your understanding of the culture — and your proficiency in the language — through firsthand personal experience.
Outcomes
Explain theoretical controversies in the globalization literature
Identify and evaluate the causes, consequences and interconnections between and among a variety of global issues, such as war and peace, global inequalities and poverty, cultural hybridization, overpopulation and environmental degradation
Apply global studies' concepts and theories to real-world situations
Construct a well-reasoned argument supported by quality evidence that addresses the theoretical controversies or global change or a real-world global problem
Career Opportunities
International business
International relations
Government
Non-profit organizations
Language services and education
Journalism
Advocacy organizations
I get to study multiple subjects including history, anthropology, language, politics, economics, law - almost everything! It is also really nice that we are able to chose areas to concentrate in, which includes subjects or regions.
Both Political Science and Global and International Studies have gotten me to look at the world and to see the broader implications of decisions and policies.
I have studied abroad twice through the Quarter Course programs.
Program Resources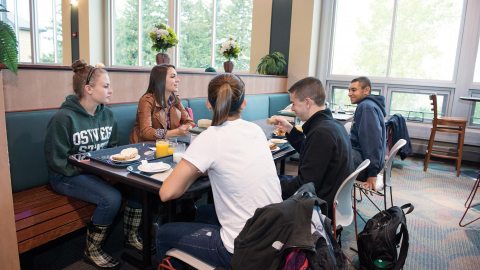 The Oswego Guarantee
No increase in room & board 
Timely course offerings
High touch connections to alumni 
Small student to faculty ratio
Full Details
Tuition and Costs
Our college education is affordable, see our in-state and out-of-state tuition and costs.

View tuition and costs
Visit Oswego
Experience what makes Oswego special in person. We have a variety of visiting options through the year.
Plan your visit
Next Steps to Apply
Ready to get started? We're here to make the application process as smooth as possible. Just answer a few quick questions, and get your customized application guide.