The study of the chemical composition of Earth and the other planets, geochemistry provides an interdisciplinary background to deal with the complex problems involving the environment, business and industry, and public policy.
Overview
Geochemistry covers topics ranging from the chemical makeup of Venus to the search for oil on Earth. Courses cover general, historical and structural geology; mineralogy; petrology; and physical chemistry.
You can perform research with professors around the country, or learn firsthand about field-based research and much more in our Geology Field Program.
Facilities include four full-sized laboratories, a seismograph for recording worldwide earthquakes and a geology computer lab in the Shineman Center.
Shineman Center for Science, Engineering and Innovation
This $118-million dollar facility serves as the home for the mathematics, science, computing and engineering programs. the 230,000 square-foot center features a planetarium, three observation decks, a greenhouse,  extensive laboratories and state-of-the-art equipment.
Outcomes
Developed quantitative skills that enable you to analyze data and solve problems
Skills using computers to conduct literature searches, manage and analyze data, and do basic geochemical modeling.
Extensive writing skills, including writing literature reviews, technical reports and research papers
Public speaking experience and experience giving oral presentations of your work
Ability to critically read scientific papers in your field, which includes enumerating primary arguments, assessing analytical methods, evaluating data quality and rendering learned opinion on the reasonableness of scientific arguments
Career Opportunities
Urban planning
Environmental restoration
Defense intelligence
Oil, gas and mineral exploration
Geophysics research
Environmental consulting
Program Resources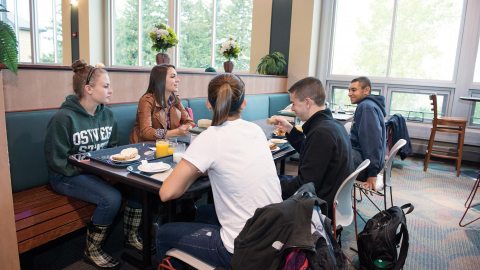 The Oswego Guarantee
No increase in room & board 
Timely course offerings
High touch connections to alumni 
Small student to faculty ratio
Full Details
Tuition and Costs
Our college education is affordable, see our in-state and out-of-state tuition and costs.

View tuition and costs
Visit Oswego
Experience what makes Oswego special in person. We have a variety of visiting options through the year.
Plan your visit
Next Steps to Apply
Ready to get started? We're here to make the application process as smooth as possible. Just answer a few quick questions, and get your customized application guide.