Cognitive science is an interdisciplinary study of the mind with an emphasis on how people interact with computers.
Overview
To integrate research results from a wide range of disciplines into a more complete understanding of the mind, the programs draw on methods associated with psychology, computer science (artificial intelligence), linguistics, philosophy, anthropology and biology. You'll start building a solid foundation in the field through two introductory courses that focus on the core values of cognitive science and the seminal ideas associated with contributing disciplines and the brain, mind and consciousness. In addition to learning more about yourself, you will be better equipped for success in our technologically vibrant society.
Enroll in our BA degree program and select a set of three upper-division courses from a broad range of options — including Neural Networks, Cognitive Musicology, Computational Linguistics, Cognitive Neuroscience, Evolutionary Psychology and Artificial Intelligence. Or choose our more tightly focused BS degree program and pursue additional coursework in psychology and computer science. Use your nine-semester-hour learning agreement to explore a particular aspect of the field in depth — and develop your own interest into a wealth of focused knowledge.
State-of-the-art facilities in the Shineman Center include workspaces configured for class-based, small-group and individual activities. Our labs provide a great learning, testing and training ground for future success.
Outcomes
State, explain and debate from diverse perspectives
Attain ability to discuss fields of knowledge that are grounded in evolutionary theory
Gain ability to define and discuss language, culture, consciousness and psychological investigations
Career Opportunities
Cognitive engineering
Human-computer interface design
Software design and development
Medicine
Clinical psychology
Research
The best thing about Oswego is the camaraderie between students as well as the faculty. The students, unlike anywhere else I have been, grow closer and become friends or connections that seem to last a lifetime.
The summer before my junior year I was able to take part in a research program at Carnegie Mellon University.
Program Resources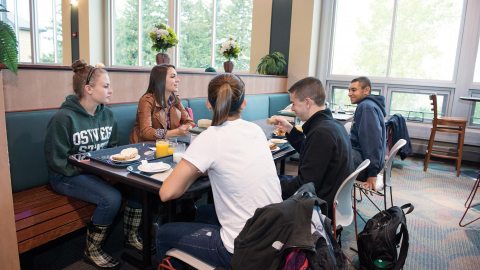 The Oswego Guarantee
No increase in room & board 
Timely course offerings
High touch connections to alumni 
Small student to faculty ratio
Full Details
Tuition and Costs
Our college education is affordable, see our in-state and out-of-state tuition and costs.

View tuition and costs
Visit Oswego
Experience what makes Oswego special in person. We have a variety of visiting options through the year.
Plan your visit
Next Steps to Apply
Ready to get started? We're here to make the application process as smooth as possible. Just answer a few quick questions, and get your customized application guide.