CAPA Flexible Choice
We are excited to share that in partnership with CAPA: The Global Education Network, SUNY Oswego is offering CAPA's study abroad Flexible Fall 2020 Courses and Internship Opportunities program with options to study in-country overseas, online, or both at three of CAPA's Global Centers (Florence, London, and Sydney). By taking advantage of CAPA's Flexible Choice programs, you can customize your international experience in any of the following ways:
12 weeks in-country abroad, no online component

12 week online international experience, no international travel
4 weeks online, 8 weeks in-country abroad
8 weeks online, 4 weeks in-country abroad
All programs include an optional internship.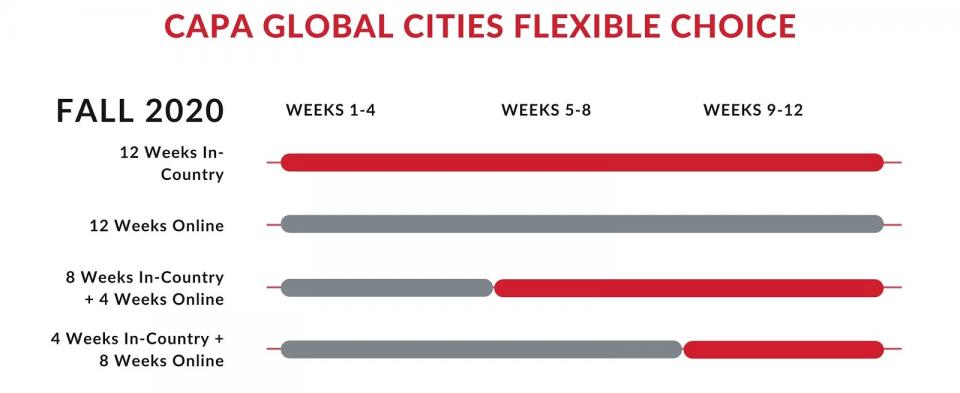 SUNY Oswego and CAPA understand that the current global environment is uncertain, and so CAPA's Flexible Choice programming offers multiple program choices, plus the option to change from an in-country program to a fully online global experience up to 7 days prior to departure.
These programs are available to all undergraduates. During the unprecedented times of COVID-19, we are working to provide students with alternative opportunities for a global education that includes both an in-country option as well as a remote online learning and internship opportunities.
Students will choose from a range of courses across CAPA's Global Centers, covering a variety of disciplines such as art, history, business, finance, history, marketing, political science, writing, and urban/global studies.
Students choosing to add the internship option will gain work experience and develop professional competencies through CAPA's in-country or remote internships and accompanying Global Internship course. These personalized internships provide direct professional placements in international work settings. Learn to work and excel in a global environment with international colleagues remotely. 
Each of CAPA's new programs will utilize a Globally Networked Learning (GNL) technology. CAPA launched GNL in 2015, making CAPA one of the first international education organizations to enrich teaching and learning with a global perspective through digital classrooms around the world bringing students and faculty together across all CAPA sites. CAPA's goal is to make online and blended programs as engaging and impactful as traditional experiences on the ground. 
Important Information
Application deadline: July 30, 2020  
Program Dates (In-country or Virtual): September 18 - December 11, 2020
If you are an international student holding an F or J student visa, please first consult with the International Student and Scholar Services Office to see if you qualify to participate in one of these virtual international opportunities: isss@oswego.edu
We hope these offerings will help you earn the academic credits you were looking for this fall as well as provide an opportunity for international adventure!
For more information, see the program options linked above and feel free to contact Lizette Alvarado for more details at lizette.alvarado@oswego.edu.