Wireless Locations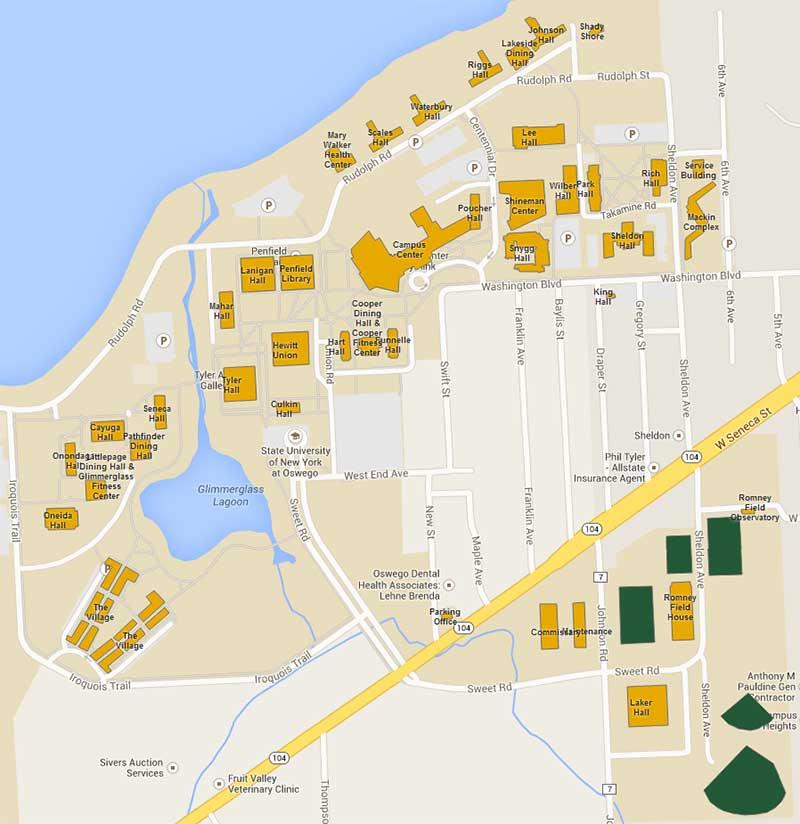 Wireless areas on the SUNY Oswego campus are intended to cover classrooms and public gathering spaces such as academic commons and dining halls. It is not intended to cover office space nor residence hall rooms (unless indicated below). If coverage does reach into these areas, it is purely a symptom of the radio signal and may not function properly. 

The following areas have wireless network access available:
Academic
Campus Center: All Classrooms, All Public Areas, including those in Poucher Wing
Laker Hall: 1st, 2nd floors classroom/office/common areas including pool, gym area on 1st floor, varsity locker rooms in basement, workout/gym room in basement. coverage in all non-mechanical areas.
Lanigan Hall: Rooms 26 & 27 (Tech Support Center), Room 37C, 1st Floor Classrooms and Labs, 2nd Floor Classrooms
Mahar Hall: All Classrooms, Labs, and Group Meeting Rooms
Park Hall: 1st Floor, 2nd Floor, 3rd Floor
Penfield Library: 1st Floor, 2nd Floor, 3rd Floor, Basement
Rich Hall: 1st Floor, 2nd Floor, 3rd Floor
Sheldon Hall: Ballroom, West Wing Classrooms
Shineman Hall: All Classrooms and Public Areas
Tyler Hall: All Classrooms, Front Lobby, Galleries
Wilber Hall: All Classrooms and 1st Floor Lobby
Residential
Cooper Dining Hall
Cayuga Hall: All Residence Hall Rooms
Funnelle Hall: All Residence Hall Rooms, Laundry Rooms & Adjacent Kitchenettes
Hart Hall: All Residence Hall Rooms, Laundry Rooms & Adjacent Kitchenettes
Johnson Hall: All Residence Hall Rooms, Basement Classrooms, Main Lobby
Lakeside Dining Hall 
Littlepage Dining Hall
Lonis Hall: All Residence Hall Rooms
Mackin Hall: Dining Hall, Offices, Residence Rooms, Lounges 
Moreland Hall: All Residence Rooms
Onondaga Hall: All Residence Hall Rooms, Laundry Rooms & Adjacent Kitchenettes
Onieda Hall: All Residence Hall Rooms, Laundry Rooms and Adjacent Kitchenettes
Pathfinder Dining Hall 
Riggs Hall: All Residence Hall Rooms
Seneca Hall:All Residence Hall Rooms, Laundry Rooms & Adjacent Kitchenettes
Village Townhouses: All Rooms and Public Areas
Waterbury Hall: All Residence Hall Rooms
Other Buildings
Culkin Hall: 1st, 6th and 7th Floor Conference Rooms
Hewitt Union: 1st Floor, 2nd Floor
King Alumni Hall
Metro Center Extension in Syracuse: All Classrooms
Phoenix Education Center
Rice Creek: All Classrooms