Broadcasting and Mass Communication
This major is designed to provide students with an understanding of the mass media industries, including radio, television, cable, film, the Internet, multimedia and mobile platforms.  Learn about the creation and production of media, the interrelated nature of media industries and the skills necessary to write, produce and distribute media messages.  Explore a variety of areas including audio and video production, broadcast journalism, copywriting and media management.
"Engaging classroom discussions led by seasoned professionals and hands-on experience with student media groups and internships prepared me for lifelong learning of new technologies and provided strong problem-solving skills that can be applied anywhere."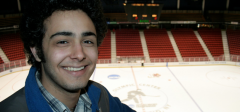 -Lewis Karpel '11, News Reporter/Photographer/Editor,
WSTM NBC-3/WTVH CBS-5/WSTQ CW-6/CNY Central
The broadcasting and mass communication major is a nationally recognized program that is designed to provide students with an understanding of the evolving media landscape.  This updated and relevant curriculum also includes a variety of offerings in new media, including courses in integrated media design, social media, video games, and other areas.
Department facilities include:

State-of-the-art digital TV studios
Digital multi-track audio/radio production lab and recording studio
Non-linear video editing suites that include high-definition video and multimedia labs
There are many opportunities to gain experience through involvement with campus student-run broadcasting stations WNYO-FM and WTOP-TV and the campus-based National Public Radio (NPR) affiliate WRVO-FM.  Additionally, students participate in programs such as Hollywood POV, which involves travel to Los Angeles for a first-hand look at the entertainment industry from an insider's point-of-view and our annual Media Summit which brings nationally recognized practitioners to campus.
Our expansive and successful internship program allows students to complete more than one internship during their undergraduate career at local, national, and international venues.  Oswego students have served internships at all the major networks, and at places such as "The Late Show" with David Letterman, The American Film Institute, "The View," "Dr. Phil," Jim Henson Productions, and "Late Night with Conan O'Brien."
Broadcasting and mass communication core requirements:
COM 100 - Foundations of Communication
COM 210 - Critical Thinking and Public Speaking
BRC 108 - Introduction to Mass Media
BRC 319 - Mass Media and the Law
BRC 320 - Programs, Programming and Effects
BRC 321 - Broadcast Sales
Select one course, under advisement, from the following:
BRC 300 - Broadcasting and Cable
BRC 301 - Media Economics
Select one course, under advisement, from the following:
BRC 220 - Radio Production
BRC 235 - Introduction to Video Production
View the complete degree planner for broadcasting and mass communications major
For more information see the prospective student page
or contact:
Professor Jennifer Fogel, Area Coordinator
18 Lanigan Hall
Telephone: 315.312.2562
Email:jennifer.fogel@oswego.edu