Conference Rooms
Reservation Guidelines
The 2 conference rooms in Penfield Library are for group use only. They may be reserved for meetings, group study, and presentation practice.
You may book up to:

4 hours/week.
2 months in advance.

You forfeit your reservation if you haven't claimed it within 30 minutes of its start time; it may be given to someone else.
The room is available on a first-come-first-served basis when it isn't reserved. Please be considerate of others by not monopolizing the room or its technology.
For questions or more information, ask a librarian.
Media Viewing & Conference Room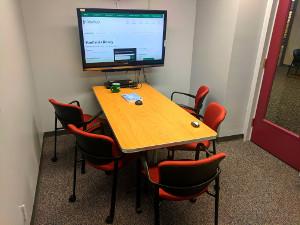 Conference table seats 5.
Flat-screen TV with access to campus cable channels.
HDMI connection for laptop use.
Blu-ray player.
Lake Effect Conference Room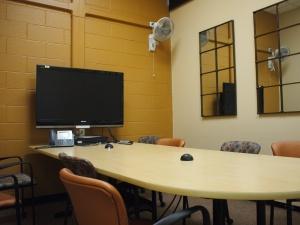 Conference table seats 9.
Flat-screen TV with access to campus cable channels.
VGA and HDMI connections for laptop use.
Speakerphone: Authorization code (PBN) required for off-campus calls. Contact the Telecommunications Office to setup a PBN.
Technical Assistance
For technical assistance, ask at the nearest service desk. The person there will contact appropriate personnel.
Alternatives
We want to preserve this space and technology for those who need it most. If you simply need group study space, consider using other areas of the library designated for group use. See Study Areas and Rooms.
Non-library space for presentation practice sessions and meetings can be reserved through the Event Management Office Reservations page.
Faculty/staff needing meeting space in Penfield may also contact CELT about reserving their conference room.