Archives & Special Collections Policies
Services
The key to successful use of our collections is to contact Archives & Special Collections staff prior to arriving to do research. This maximizes the expertise and collections content you can take advantage of.
Staff provides assistance with research in our collections but we are not able to do research for patrons. See Visit Archives & Special Collections for more information.
Guidelines for Using Special Collections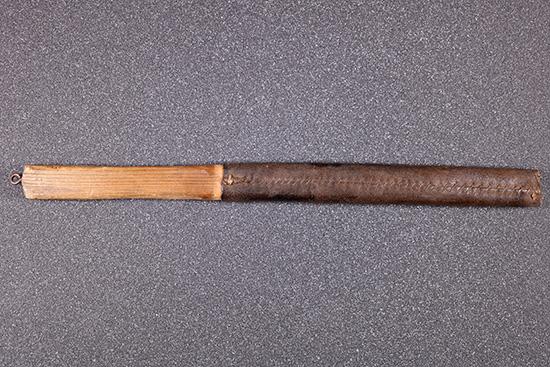 Pennellville Teacher Edith Gregg's (1877-1968) Hand Whacker
Food and drink are prohibited.
Pencils only are allowed for taking notes.
Gloves are provided and may be required.
Lockers are provided for patron belongings.

Paper, pencil, and laptop (or similar devices) are permitted at the research table.
Folders, binders, and all other patron belongings must remain in the locker.

Staff will retrieve requested material and will provide one item or box at a time.

Please maintain original order of materials provided. This includes folder level or box level materials.
Do not place anything on top of materials – papers, folders or boxes – such as, elbows, laptops, books, pencils, magnifiers, devices, etc.
Do not take notes on top of archival materials, folders, or boxes.
Photocopies, Scans, and Other Reproductions
Due to the rare, valuable, and often fragile nature of our collections, staff makes most of the reproductions requested by users; some self-service scanning is permitted with assistance provided. We reserve the right to restrict reproduction of our materials due to donor agreements, copyright restrictions, condition, value, and size.
For more information regarding how to order photocopies, digital images, and other reproductions, please contact us using our correspondence form.
Reproduction Fee Schedule
Standard photocopy (letter and legal size): $0.15 / side.
Copy from microform: $0.15 / side.
Digital image: $0.15 / print image.


Maximum size 8 by 10 inches.
Fees are waived for all SUNY Oswego Faculty, Staff, and Students.
Pre-payment is required on all orders of $10.00 or more. Shipping charges additional, if applicable.
Photography
Researchers may take your own digital images (without flash) at no charge. Staff approval is required prior to any filming.
Please contact us for more information regarding reproductions of other types of materials.
Publication and Copyright
Regard should be given to common law literary rights, copyright laws and the laws of libel when using items in the care of Penfield Library's Archives & Special Collections for publication. Responsibility for obtaining permission to publish rests with researchers and their publishers.
In situations where the issue of copyright ownership is unresolved, the requestor agrees to hold harmless SUNY Oswego and its trustees, officers and agents either jointly or severally from any action involving infringement of the rights of any person or their heirs and descendants in common law or under statutory copyright. Learn more about copyright.
We do not require fees or written permission to publish or exhibit based on our holdings. However, we do ask that our institution be noted in film credits or bibliographic citations.
A courtesy copy of any subsequent publication is also requested for our records.
How to Cite Materials
For items in the Archives & Special Collections:
From Orsamus Holmes Marshall to his mother, 8 September 1851, Series 1, Box 4, Folder 2, in the Marshall Family Papers, Archives and Special Collections, Penfield Library, State University of New York at Oswego.
From the Faculty Assembly: Faculty Assembly, Series 1, Box 4, Folder 4, Meeting Minutes 2016, Archives and Special Collections, Penfield Library, State University of New York at Oswego.
Scoville, Wadsor M. 1934. Attention Class!. State University of New York at Oswego. Oswego Digital Library Collections. Oswego, NY. http://digitallibrary.oswego.edu/PPPH001672/00001 (accessed January 25, 2019).
Donations
If you are interested in donating materials related to local history, or that were written / created by SUNY Oswego employees, please visit Donations to learn about contributing to our collections.