Multimedia Production Rooms
The library's Multimedia Production Rooms are outfitted with a webcam, headphones/microphone, recording software, and tutorials. See complete list of software and hardware in the Multimedia Production Rooms.
Reservation Guidelines
These rooms may be used for multimedia projects only.
To use these rooms, you must agree that:

You are a current SUNY Oswego student, faculty, or staff member with an @oswego.edu address.
You will use the room and its technology in a responsible manner.

You must make an appointment to use the rooms.

Appointments may be made up to 2 months in advance.
You may reserve the room up to 8 hours/week.
If you need more hours, please send an email to librarytech@oswego.edu

When you come to claim the room:

Room keys are available at the Check-Out & Reserves Desk on the first floor. You will need your campus ID card to pick up the key.
If the space is not claimed within 30 minutes after the reservation begins, it may be given to someone else.
For questions or more information, ask a librarian.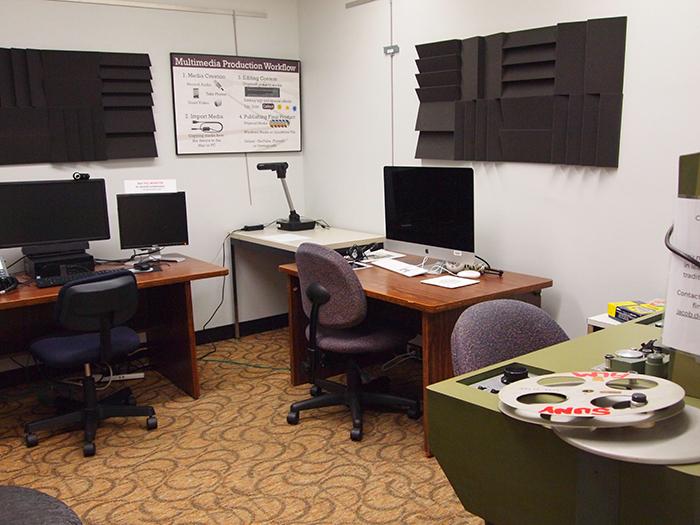 Both rooms contain a Mac as well as a PC.
Room 208 is near Penfield Classroom 215 (formerly Speakers' Corner Classroom).
Room 210 (pictured) is near the 2nd Floor Service Desk.
Reserve a Multimedia Production Room
Technical Assistance
For technical assistance, ask at the Check-Out & Reserves Desk. The staff there will contact appropriate personnel.
Alternatives