Fire Safety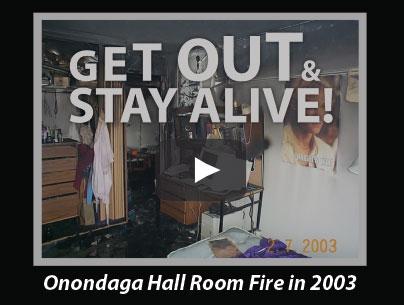 Watch Get Out and Stay Alive: Fire Prevention Info for College Students  (Students or parents needing assistance with the above YouTube video, should contact the Residence Life and Housing office at 315.312.2246 between the hours of 8 am and 4 pm. Thank you.)
Notification of Fire Safety Standards
to SUNY Oswego Residents of
College-Owned/Operated Housing
August 15, 2017
SECTION 6438 of New York State Education Law requires notification of fire safety standards and measures in college-owned or college operated housing to students. To facilitate compliance with Section 6438 of the NYS Education Law the following shall be provided:

The following SUNY Oswego Residence Halls have fully automatic sprinkler systems which protect the entire structure (i.e. Johnson Hall, Riggs Hall, Sheldon Hall, The Village Townhouses (A-L), and Waterbury Hall). Sprinklers for these structures are located in every room, corridor and common area of the building. Standpipes for fire department fire hose use are located on each floor in the corridor or stairwell (exception: The Village Townhouses). These standpipes and sprinkler systems receive water from the campus municipal water supply system to each building. Sprinklers are activated by a heat source releasing water to control a fire. Additionally, each structure is completely protected with an intelligent fire alarm detection system which communicates with University Police Dispatch immediately. Portable fire extinguishers are available in every residence hall. Fire alarm pull stations are located near exits throughout the building. Smoke detectors are located in every sleeping unit, corridor, and common area of the building. These devices activate upon sensing the presence of certain size particles that signal the building's fire alarm system reporting immediately to University Police Dispatch who notify the Oswego County 911 System. The following SUNY Oswego Residence Halls do not have automatic fire sprinklers but are equipped with intelligent fire alarm systems as well as other life safety features (Oneida Hall, Onondaga Hall, Cayuga Hall, Seneca Hall, Funnelle Hall, Hart Hall, Lonis and Moreland Hall's, and Scales Hall).

Additional features in every campus residence hall are smoke doors; which automatically close upon activation of the fire alarm system. Finally, if a smoke detector activates which is located in an elevator lobby anywhere other than the first floor, the elevator doors will automatically close and the car will report to the first floor for fire department use.

Campus building fire alarm systems are activated from any one or combination of the following: fire alarm pull station activation, smoke or heat detector activation, water flow from a sprinkler activation or water flow from fire hose operations.

SUNY Oswego takes a proactive approach to ensure life safety for all students, faculty, and staff. The college follows New York State requirements when evaluating the need for fire suppression as a part of any large remodeling or renovation project.

A copy of SUNY Oswego's Annual Clery Security/Fire Report can be obtained through the following web link: http://www.suny.edu/police. Please feel free to contact us if you should require any additional information or wish to discuss this report further. Thank you.

Best regards,
Kenneth Ayhens 
Fire Marshal:
Environmental Health & Safety 
315.312.3156 main

Richard Kolenda
Assistant Vice President for
Residence Life & Housing
315.312.2246 main
315.312.6329 fax
richard.kolenda
@oswego.edu
Eric Foertch
Director:
Environmental Health & Safety
315.312.3157 main
eric.foertch
@oswego.edu

303 Culkin Hall
Oswego, NY 13126
P: 315.312.2246
F: 315.312.6329
E: reslife@oswego.edu
RELATED LINKS:
QUICK LINKS:
Students or parents needing assistance with the content of these ResLife pages should contact the Residence Life and Housing office at 315.312.2246 between the hours of 8 am and 4 pm. Thank you.