Coming to Oswego
So, you've made the big decision...
Now what? There's a great deal to look forward to; and, there's lots to do to prepare, lots of questions to ask, etc.
Use the "Coming to Oswego" links on this pages "Additional (or Left side) Navigation" to explore on-campus housing at SUNY Oswego. We hope you'll find answers to many of your questions, and then some.
Get in touch with us if there is something we missed!
Use the Live Where You Learn document below to get a head start.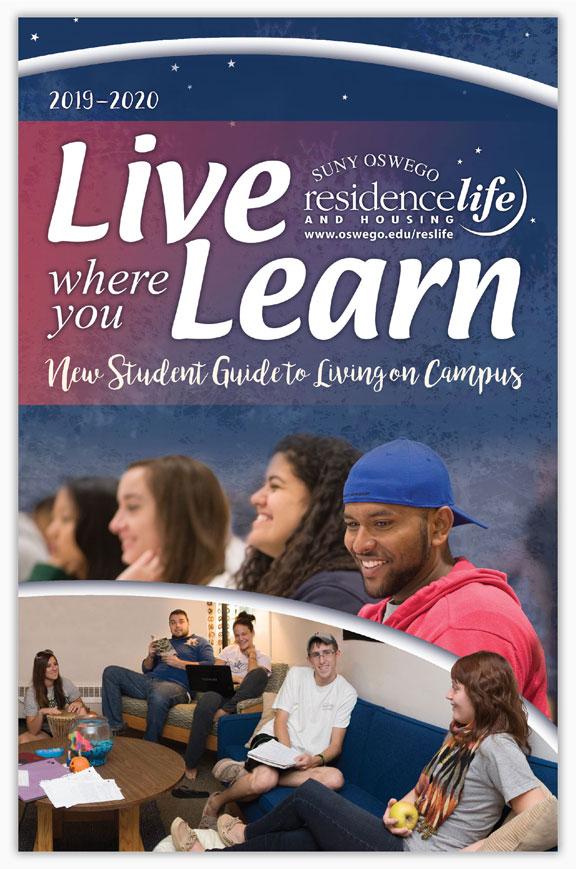 Live Where You Learn 2019-2020
New Student Guide to Living On Campus (pdf 5.7mb). Text version below.
Parents or students needing assistance with this publication or web page may contact the Residence Life and Housing office.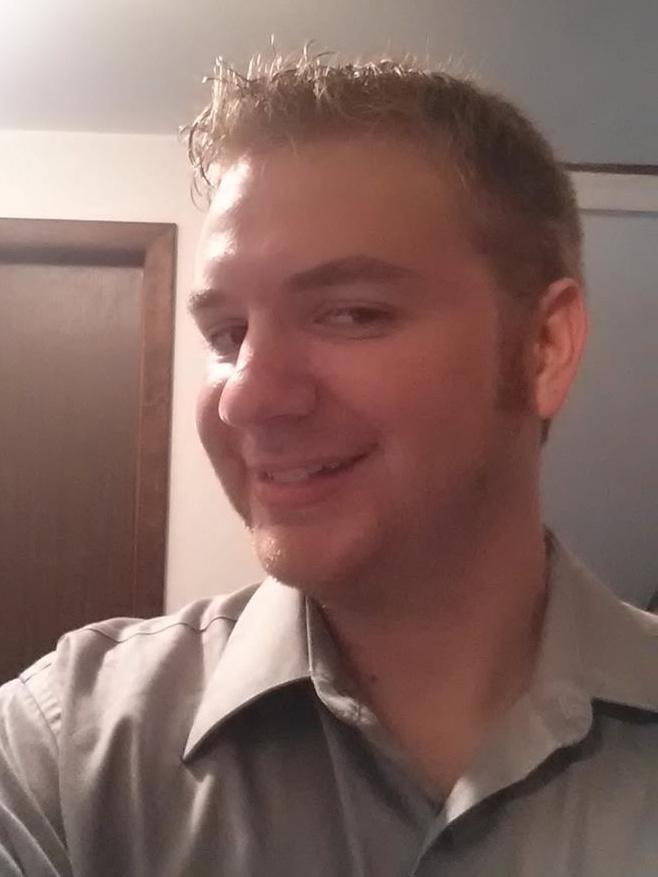 Yes, I live close by. Yes, I live on-campus! Testimonial by former resident Luke Parsnow: Journalism/Creative Writing major, Class of 2015.
Get ready… you're in for the time of your life!
The Live Where You Learn - New student guide to living on campus text version is Under Construction! Please come back soon...
Live Where You Learn: New Student Guide to Living On Campus
If you have any questions that are not answered in this booklet, check out our website at www.oswego.edu/reslife Feel free to call Residence Life and Housing at (315) 312-2246, Monday through Friday, 8:00 a.m. - 4:00 p.m. Questions can also be emailed to reslife@oswego.edu or posted on our Facebook page. Follow us on twitter and Instagram to learn more about on-campus living!
We look forward to seeing you soon!
Residence Life and Housing provides secure, welcoming and engaging living environments that encourage and support the academic and personal success of residential students.
We are so glad you have chosen to make SUNY Oswego's Residence Life and Housing your home away from home. We look forward to having you join our on-campus residential community. Residence hall living creates an opportunity for students to feel a sense of belonging in a comfortable, educational, diverse, and caring community. Our Student Learning and Success Programming incorp-orates over 400 programs that blend knowledge and experiences both inside and outside the classroom. We encourage you to take advantage of our live-on experiences. Get involved, meet others in your hall, join hall government, get a job in the halls. We'll help you to make connections and create a sense of community. We invite you to explore this guide and our website to learn more about living options on campus, what you can and cannot bring to campus, and employment opportunities. We are ecstatic that you will be attending SUNY Oswego. We are anxiously awaiting your arrival to campus this fall. Sincerely,
Renée Landers-Jennings, Interim Director for Residence Life and Housing
The College believes that immersion in the educational environment is the preferred experience for new students. Therefore, all full-time undergraduate students who will need to establish an Oswego-area residence in order to attend the College are required to live on campus to the extent that facilities are available and utilized*.
Students generally exempted from this requirement are those who:
will continue to reside with their parent(s) or legal guardian(s);
will continue to reside in their official residence, which is separate from that of their parent(s) or legal guardian(s), and at which they had resided for at least three consecutive months prior to their acceptance of the admissions offer from the College;
are married; or
are twenty-one (21) years of age as of September 1 for fall admission or January 1 for spring admission. Students in these categories must submit a Request for Exemption form available on the Department's web site and at 303 Culkin Hall.*Due to current facility availability, students who fulfill specific criteria will be considered as having fulfilled the Housing Requirement and would no longer be required to live in College Housing; these students are those who first enrolled at SUNY Oswego as:
first year students and have lived in residence at SUNY Oswego for four (4) consecutive semesters (fall and spring) if admitted in the fall or three (3) semesters if admitted in the spring.
-or-
transfer students and have lived in residence at SUNY Oswego for two (2) consecutive semesters (fall and spring) if admitted in the Fall or one (1) semester if admitted in the Spring.
At this point, you should have logged into myHousing.oswego.edu to accept the terms of the Room and Board Agreement and submit Housing Preferences (such as roommate requests and preferences for specific residence halls). After the majority of new student room assignments are made (late June), you can access the info at myHousing; you'll be able to see your actual room assignment and the name and contact information for your roommate! We encourage you to contact your roommate(s) to become acquainted and start planning what each of you will be bringing for your room. Although entering students (first year, transfer and readmitted) are given no guarantee of assignment to a specific building or room, every attempt is made to honor students' preferences. The Department of Residence Life and Housing will attempt to honor roommate requests when all students involved have requested each other (electronically or in writing) before any of the involved students have been assigned to a room.
The College will assign roommates for students who do not express roommate preferences. In general, entering students are assigned rooms in accordance with the date on which the College receives their housing intent. The College does not discriminate on the basis of race, religion, national origin, gender identity or sexual orientation in these assignments.
A note about room assignments: If you have not received your room assignment by August 15th or have questions, please contact the Residence Life and Housing Office at reslife@oswego.edu or call (315) 312-2246, Monday through Friday between 8:00 a.m. and 4:00 p.m.
Residence hall rooms are furnished with a bed, dresser, desk, desk chair, and closet for each resident. Room furnishings also include a floor lamp, wastebaskets, one mirror, and blinds. While this setup is standard, by the start of classes each room will begin to develop its own "look." Coordinating the furnishings and arrangements for your room is a good opportunity to become better acquainted with your new roommate(s). Some things you may want to discuss are:
sharing belongings
social and academic expectations and desires
study and sleep habits
who is bringing a TV (cable-ready), electronic equipment, etc.
loft option, etc.
Internet and WiFi
All residential communities are part of the SUNY Oswego Wireless Network. In addition, all resident rooms have ResNet, Oswego's Residential Network, which provides a dedicated wired connection to the campus network. One data connection is provided to each resident. If you have further questions, please contact the CTS Help Desk at help@oswego.edu. What telephone service is available? The College does not provide active phone lines in individual residence hall rooms. If you would like phone access in your room, contact the Campus Technology Services (CTS) Help Desk at help@oswego.edu. By default, this phone service provides on-campus service only. If you would like to place off-campus calls, you will also need to arrange for long distance services.
What television service is available on campus?
Each residence hall has at least one television lounge with cable service and a large-screen TV. Student (bed)rooms are also equipped with cable TV service, but students must provide their own TV and coaxial cable. SUNY Oswego recently upgraded the channel line-up received from our service provider, Spectrum. Most channels are high definition digital, and the service does not require a set-top box cable receiver; however, your TV must be equipped with a QAM (quadrature amplitude modulation) tuner. Most TVs purchased after 2010 have QAM tuners but refer to your TV's specifications to be sure. The complete channel line-up and more information can be found at https://www.oswego.edu/cts/cable-tv-setup.
What should I bring?
Clothing: It is not necessary to bring your entire wardrobe when you first move in! Given that dresser and closet space are limited, consider College recesses as opportunities to change your seasonal wardrobes. The first time the halls close during the fall semester is for Thanksgiving break.
Average monthly temperatures in Oswego are: August - December, mid 70s - 30s, January - April, mid 20s - 40s, May - July, mid 50s - 70s.
Bed and bath linen: You will need to bring your own pillow, pillowcases, mattress pad, sheets, blankets, bedspread, towels and washcloths. All SUNY Oswego regular residence hall mattresses are 80 inches long, 6.5 inches deep and 36 inches wide; they require "extra long" twin sheets.
What else might I want to bring?: While shopping, please use the SUNY Oswego approved checklist found at: What to Bring
NOTE! Lists provided at stores may include items that are prohibited in our residence halls.
*Compact refrigerators must not exceed 6 cubic feet and operate on no more than 2.0 amps. Residence Life & Housing has refrigerators for rent. Visit our website at: www.oswego.edu/reslife/forms
What if I bring something that's prohibited? If prohibited items are found in the residence halls, they will be confiscated and disciplinary action may be taken. Confiscated items will not be returned! Please see the approved list above for examples of prohibited items.
­­­­
How much electric/electronic equipment can one room handle?:
Keep in mind that overloading of electrical circuits is a common cause of electrical fires. In order to ensure a safe environment, the use of electrical extension cords is strictly PROHIBITED in residence halls and academic buildings on campus. However, circuit-breaker-protected multi-outlet power strips that are UL or ETL-approved can be used. "Daisy chaining" (connecting one or more of these power strips to each other) is not permitted. Should I insure my belongings? Yes, definitely! The College assumes no responsibility for loss, theft or damage to personal property, even if that loss was caused by the failure of a College mechanical system such as a pipe bursting. We strongly encourage you to have insurance coverage before you begin residency. Typically, such coverage may be provided by extension of a homeowner's policy, renter's insurance or insurance specifically for college students. Many vendors offer low cost insurance specifically directed to the college environment. Two such vendors are: College Student Personal Property Insurance (www.nssi.com) and CSI (www.CollegeStudentInsurance.com).
How do I create more space in my room?
The standard or 'default' bed setup allows for 28 inches of storage space below the bed (see below). However, our residence hall beds can be positioned at several different heights, creating more storage space and/or greater flexibility for room configuration. To request a bed setup other than the default when you move in, submit your Loft Request online by July 26, 2019. To do so, log in to myHousing.Oswego.edu; then, click 'Applications' at the top of the page. Choose 'Loft Request New Student' from the dropdown menu and follow the prompts. More info about bed options at www.oswego.edu/reslife/forms
What size are the rooms?
Although the actual dimensions of rooms vary from building to building, the average square footage is 185. In order to plan for the set up of your room, we have provided diagrams and measurements of rooms in each residence hall below. • West Campus Halls Onondaga Hall* • 600 Residents • 10 Floors - Suites (Upper-class students only) • Window Frame = 51.25" x 63.75" (1st floor) • Window Frame = 51" x 58" (2nd through 10th floors) • Ceiling Height = 8' • Closets width = 41" depth = 21" *Onondaga is our "suite style" residence hall. There are primarily 3-room suites and a few 2-room suites in the building. Suites are unique in that they have a private bathroom and common living area that only the suitemates share.
The Department of Residence Life and Housing
Rules Governing Residential Facilities
Residence Hall Opening & Closing Schedule
Contact ResLife / Fast Facts about us...
303 Culkin Hall
Oswego, NY 13126
P: 315.312.2246
F: 315.312.6329
E: reslife@oswego.edu
RELATED LINKS:
Parents or students needing assistance with a publication or web page may contact the Residence Life and Housing office.