Our Students and Graduates
"Students and graduates thrive through knowledge, experience, perspectives and discovery gained here that animate and inform their work, their communities and their personal lives."

Providing access and opportunity, and preparing students and alumni for lives of leadership, service and impact on the world is at the core of our mission. Over the past year, the college developed and strengthened student-centered programs, and fostered a college-wide culture of caring. These collective actions enable students to experience real world learning opportunities, broaden their perspectives inside and out of the classroom, and discover the paths of excellence that lie ahead.
---
Recruit and retain a highly diverse, prepared and talented student body
For the fourth consecutive fall, more than 1,400 freshmen—and 705 new transfer students–joined our campus community in 2016 and directly contributed to the progress the college is making in diversifying our enrollment geographically as well as racially, ethnically and culturally.
Record-breaking cultural diversity
486
culturally diverse freshmen
enrolled in 2016
33.6%
of the first-year class is
culturally diverse
25.8%
of the student body identifies
as culturally diverse
80%
increase in diversity since 2010
Expanding access and "opportunities for all"
SUNY Oswego implemented Governor Andrew M. Cuomo's Excelsior Scholarship in anticipation of the fall 2017 semester. The Excelsior Scholarship provides tuition-free college at New York's public colleges and universities. The program, to be phased in over three years, beginning in fall 2017, first applies to families who earn $100,000 or less, then to those who earn $110,000 or less in 2018, and eventually reaching $125,000 or less in 2019.
ALANA multicultural celebration marks 30 years
SUNY Oswego's ALANA Student Leadership Conference celebrated 30 years of multicultural events in the fall of 2016. The African, Latino, Asian and Native American Student Leadership Conference began in 1986 as a daylong celebration of the multifaceted aspects of culture, diversity and heritage. Today it is a weeklong signature observance that embodies the college's pride in sustaining an atmosphere of mutual understanding and respect.
Veteran presence on campus
SUNY Oswego celebrated Veterans Day 2016 with the dedication of a new Battle Buddy Center in Hewitt Union. Designated by New York State Industries for the Disabled Inc. (NYSID), the Battle Buddy Center serves as a safe haven for veterans to socialize with each other and receive services that are unique to their military backgrounds. SUNY Oswego is the 12th NYSID-designated Battle Buddy location in New York state and the only college in Central New York offering this safe haven for vets.
Encouraging critical thinking, leadership, knowledge and motivation
Responding to the college focus on intentional learning and ethical development, our students actively engaged in various campus, community and civic-minded activities this past year. These experiences, award-winning for many, are preparing our students to contribute intellectual capital, professional expertise and ethical service to their broader communities.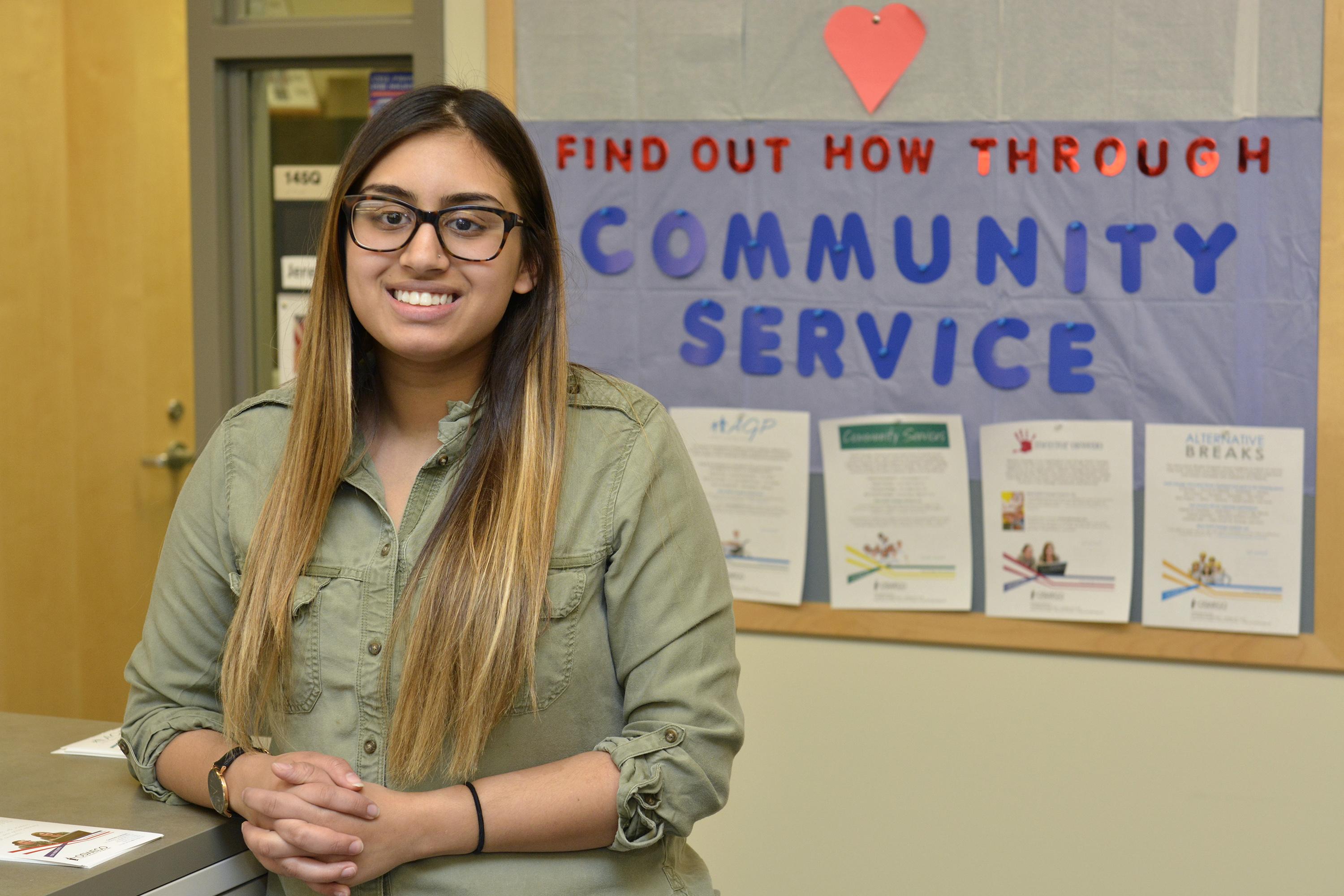 Community-minded student honored as Newman Civic Fellow

Sahar Rajput earned a Newman Civic Fellowship, one of only 273 such honors the Campus Compact awarded in 2017 in 39 states and Washington, D.C. "Sahar has worked tirelessly to develop programs that promote community engagement and provide meaningful opportunities for her peers to get involved," said President Stanley.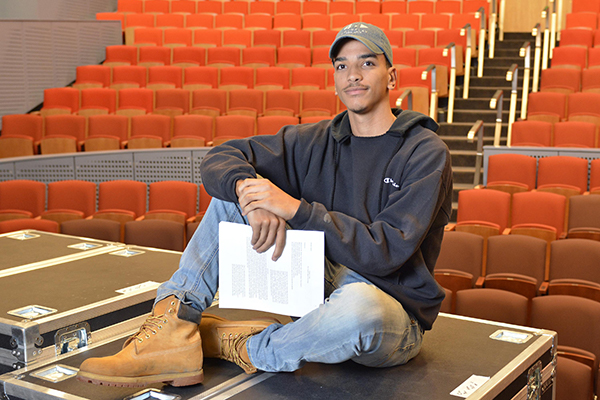 Student playwright wins national competition

SUNY Oswego senior Michael Jaquez was named a winner in a national playwriting competition. Actors and alumni of The Acting Company presented public readings of Jaquez' play, "I Know a Girl: The Country Opera Love Song," in March 2017 at Lynn Redgrave Theater in New York City.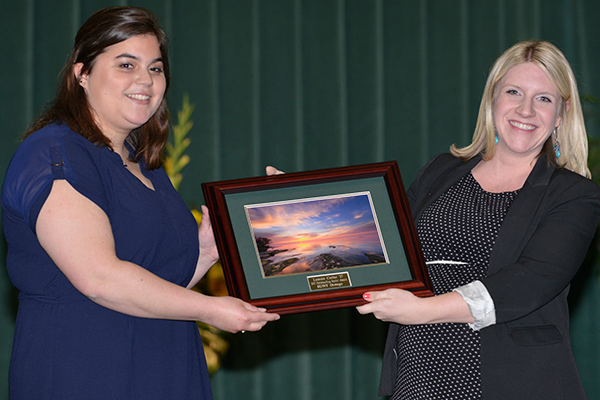 2017 Outstanding Senior Award

Lauren Cutler of North Canton, Ohio, received the 2017 Outstanding Senior Award by the Oswego Alumni Association. Cutler, a meteorology major, was chosen from a highly competitive group of 43 graduating seniors nominated by faculty, staff and peers.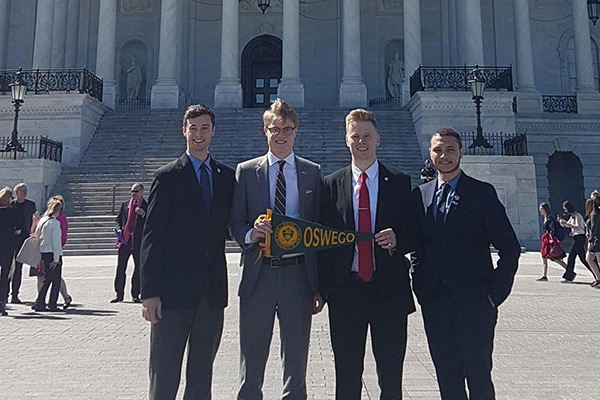 Advocating on Capitol Hill
Four SUNY Oswego students – Alex George, Peter Mancarella, Derek Smith and Eusebio Omar Van Reenen – were among those who represented their fellow students during a SUNY Students on the Hill event. The students traveled to Washington, D.C., in March to learn more about how to advocate for a cause for the more than 600,000 SUNY students.
Fostering a college-wide culture of caring, advising and mentoring
A new pilot advisement program called the O-TEAM (Oswego Team for Effective Advising and Mentoring) was designed in 2016-17 to provide select incoming students with an array of contacts and resources with the goal of supporting student success and improving retention. The O-TEAM was developed as a team-based approach to advise incoming freshmen, better acclimate them to the expectations of college, and guide them on where to find resources to help them remain on track. The pilot includes seven majors: communication and social interaction, creative writing, electrical and computer engineering, graphic design, physics, public justice and public relations. The advisement team for each student includes a faculty mentor, career coach and instructional librarian — all predicated on the student's major — as well as a hall director and financial aid contact.
Increasing alumni engagement and lifelong affiliation with SUNY Oswego
More than 2,000 students participated in SUNY Oswego's December 2016 and May 2017 Commencement ceremonies, with many engaging in advanced study and others already forging successful careers as they leave the friendly confines of SUNY Oswego.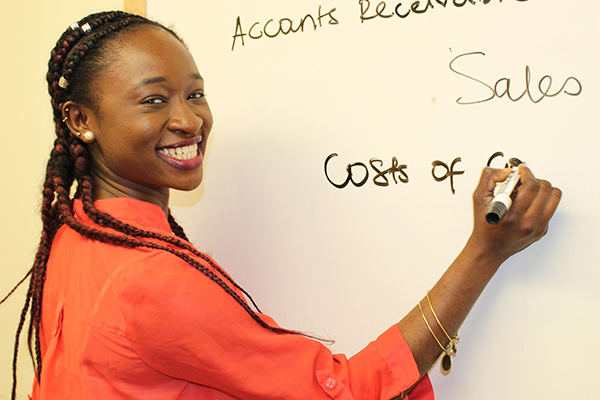 Charlene Assam
Charlene Assam, who completed her MBA in May after earning a bachelor's in accounting at Oswego, started as a core assurance associate at PwC — also known as PricewaterhouseCoopers — in New York City after graduation.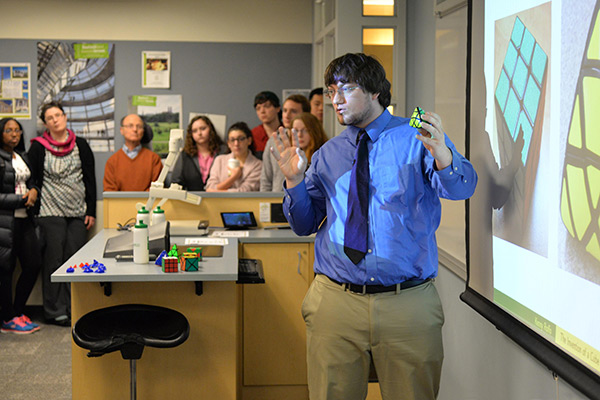 Kenny Roffo
Kenny Roffo headed off to NASA's Jet Propulsion Laboratory in California for a software engineer job -- a gig he owes at least in part to a Rubik's Cube.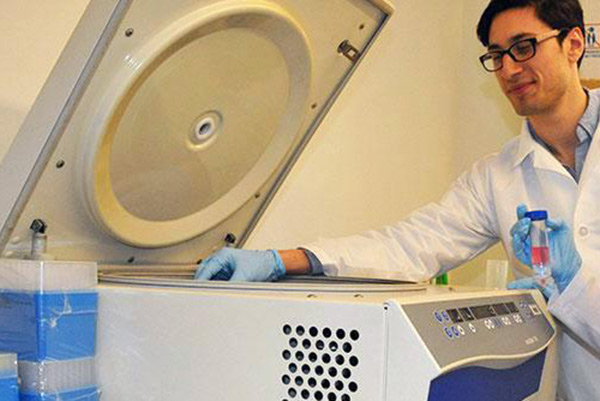 Iain Thompson
Biochemistry major Iain Thompson was accepted into the M.D. program at SUNY Upstate Medical University. A 2016 recipient of the SUNY Chancellor's Award for Student Excellence, Iain served in a co-op role at the college's Agricultural Testing and Analysis Labs at the Port of Oswego and the Shineman Center.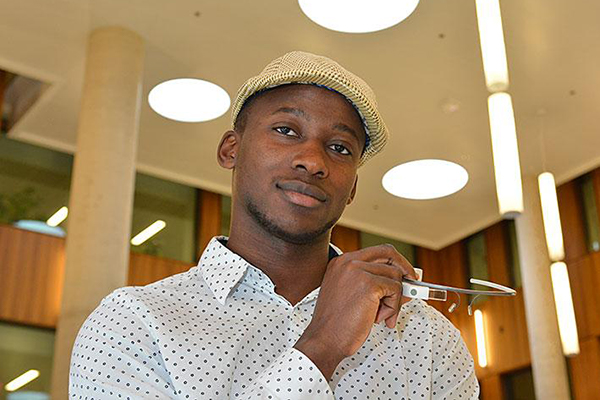 Lincoln Daniel
Computer science major Lincoln Daniel started as a software engineer at his dream company, Medium.com, in San Francisco. He hopes to one day build a billion-dollar software company.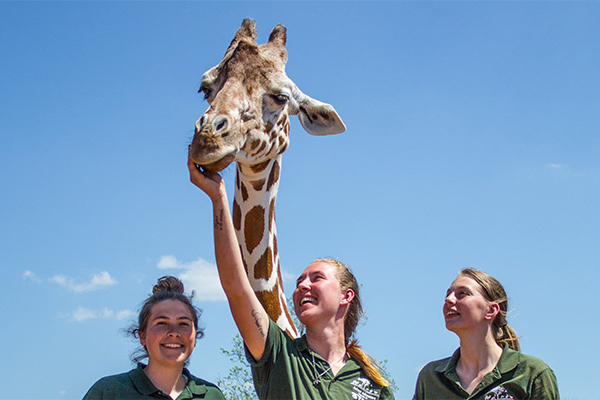 Allysa Swilley
Millions around the world followed the pregnancy of April the giraffe, the unlikely Internet star who gave birth in April. Caring for her the whole time, and becoming a bit of a star as well, was Allysa Swilley, a 2015 SUNY Oswego zoology graduate. Serving as April's keeper and companion at Animal Adventure Park in Harpursville, Swilley gained a following for her love and dedication to April. Swilley said, "I now have the opportunity to give a voice to giraffes and hopefully other species (at the Park and around the world) in an effort to conserve them."
Award-winning Alumni-In-Residence program
The Oswego Alumni Association's Alumni-In-Residence (AIR) program earned a 2017 Judges' Citation from the State University of New York Council for University Advancement (SUNYCUAD) in June 2017. The program brings Oswego alumni back to campus to share their knowledge and career experiences with current students through classroom visits, panel discussions, campus-wide presentations or hands-on workshops and critiques. The Office of Career Services partners with the Alumni Office to connect hundreds of students to career professionals each year to help them explore possible majors and careers. The program is supported by Stephanie Lamb '07, associate director of alumni relations, and is supported by gifts to The Fund for Oswego.
Connecting students with alumni
159
alumni participated in AIR
367.65%
increase since 2011-12
Actively and civically engaging in conversation
The campus community was treated to a number of opportunities in 2016-17 to listen and speak out on significant societal issues. OzSpeaks kicked off in the fall 2016 as a forum for students to express their thoughts and feelings in a safe, respectful environment on a range of important issues and events occurring across our country. The "I Am Oz" speaker series shined light on the ever-changing notion of community, and incorporated aspects of diversity among students, faculty and organizations with the purpose of engaging the campus community in respectful conversations. A sampling of speakers who visited campus and addressed our students, faculty, staff and members of the neighboring community is provided below.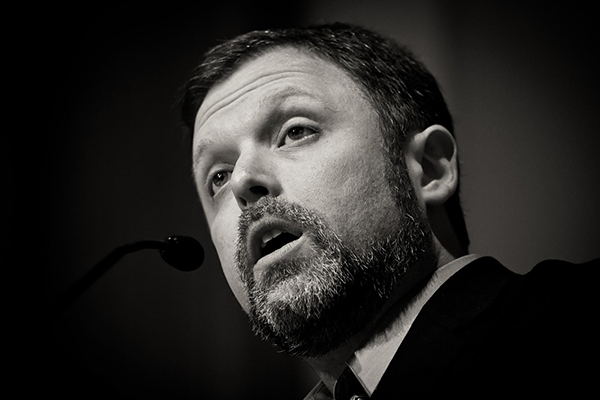 Tim Wise
Tim Wise, one of the country's leading anti-racism activists and writers, and author of six books about racism and inequality in the United States (September 2016)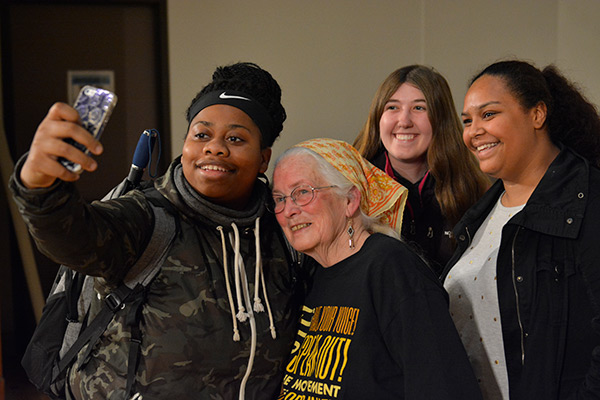 Joan Trumpauer Mulholland
Joan Trumpauer Mulholland, a Civil Rights legend who participated in more than 50 sit-ins and demonstrations by the time she was 23, and a Freedom Rider who participated in the Jackson Woolworth's Sit-in and helped plan and organize the March on Washington (November 2016)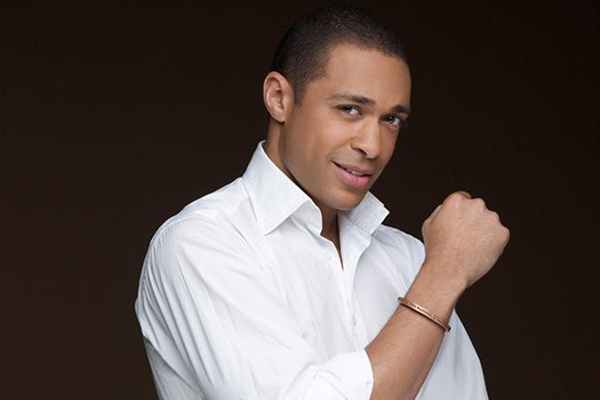 T.J. Holmes
T.J. Holmes, ABC News anchor/correspondent, a regular on "Good Morning America," was the keynote speaker at the college's 28th annual Martin Luther King Jr. Celebration (January 2017)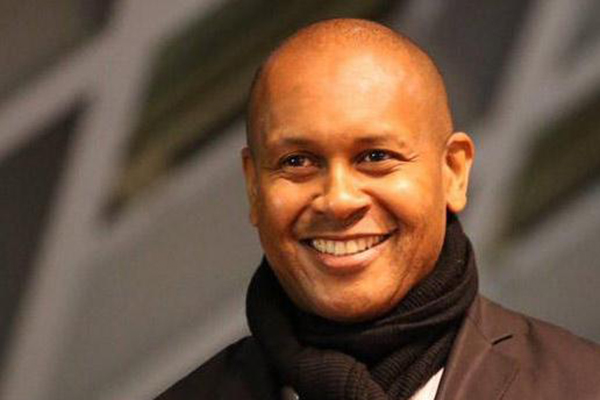 Kevin Powell
Kevin Powell, activist, author, pop culture curator and co-founder of multicultural civil and human rights organization BK Nation (February 2017)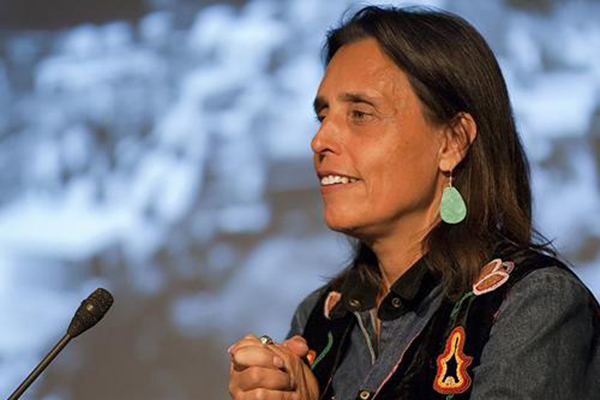 Winona LaDuke
Former vice presidential candidate Winona LaDuke, a sustainability and women's rights activist and co-founder of Honor the Earth (March 2017)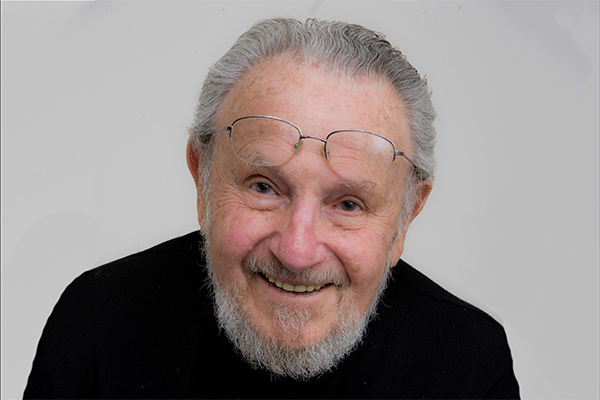 Irving Schild
Irving Schild, photographer, Holocaust survivor and wartime resident of the Fort Ontario Emergency Refugee Shelter (April 2017)
Video Spotlight
Start Now partnership spawns student success
The Start Now program enrolls first-year students at JCC where they can develop study skills, become successful at completing college-level work and earn credits that allow them to transfer to Oswego. In the fall of 2016, Start Now successfully enrolled its first cohort of 26 students at JCC. The fall 2017 Start Now program includes 54 students enrolled at JCC and four JCC students (from the fall 2016 cohort) who transferred to SUNY Oswego.
Video Spotlight
SUNY Chancellor's Awards honor four Oswego students
Abigail Boyce, a finance major with a minor in statistics; Tatiana Gregory, a biochemistry major with minors in health science and nutrition; Nicholas Noviasky, a physics major and mathematics minor; and Lauren Saroli, a zoology major and chemistry minor received the 2017 SUNY Chancellor's Award for Student Excellence -- the highest student recognition through the statewide university system.
Video Spotlight
Vote Oswego energizes college registration campaign
Allison Rank's "Vote Oswego" class project to encourage students to register and vote in November's presidential election and local races reached a crescendo in fall 2016 as the Vote Oswego drive recruited students across campus to pitch in for a "blitz week" of nonpartisan mobilization events.