Our Education Ecosystem
"Our academic quality is demonstrated, extended, recognized, sought-after and heralded."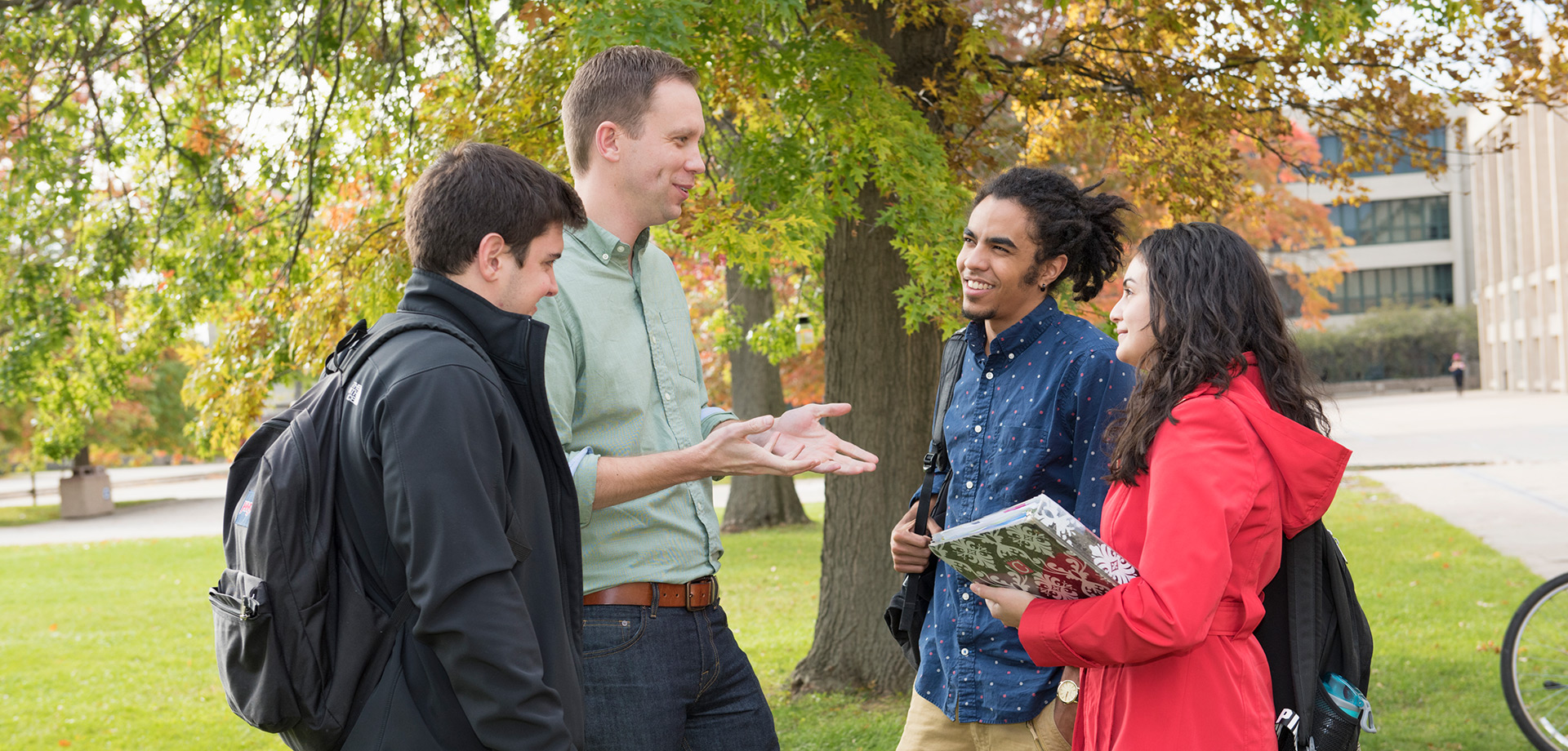 SUNY Oswego's faculty and staff work collaboratively, resourcefully and creatively to enhance dynamic course offerings, programs and research, and provide our students with applied learning experiences that prepare them to make an impact in their career fields and in communities around the world.
A commitment to student, faculty and staff research
More than
$6 million
in federal, state and private support for research and innovative programs.
More than
$1 million
in campus support for teaching, undergraduate research, research development and student travel to conferences.
Infuse dynamic and effective teaching practices
The college encourages a culture of excellence in its teaching practices and innovative curriculum across campus, online and hybrid academic offerings, and at the SUNY Oswego in Syracuse location.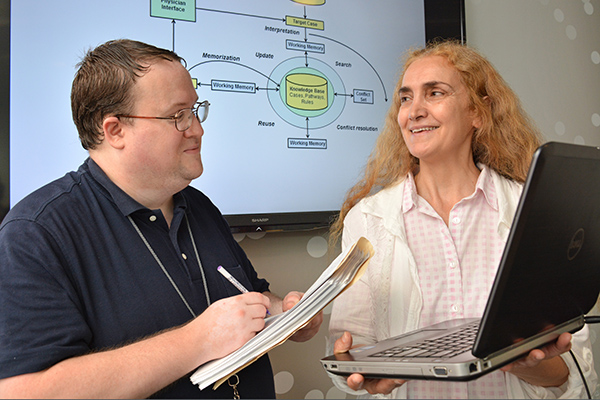 Developing online courses in biomedical informatics
Computer science faculty member Isabelle Bichindaritz' proposal to develop online courses in biomedical informatics was among the promising initiatives supported by the SUNY system's 2016-17 Innovative Instruction Technology Grants. Funding received will support the development of courses in a fast-growing interdisciplinary field that studies and uses biomedical data, information and knowledge to improve human health.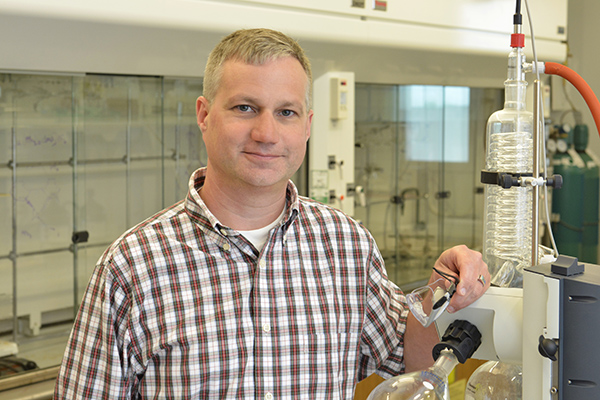 Creating online content for science and mathematics
A project led by chemistry faculty member, Casey Raymond, also received support from the SUNY Innovative Instruction Technology Grants. The initiative will support a range of learners at Oswego and other colleges by creating faculty development materials for generating algorithmic and mathematical questions in a variety of science, technology, engineering and mathematics (STEM) courses in Blackboard Learn.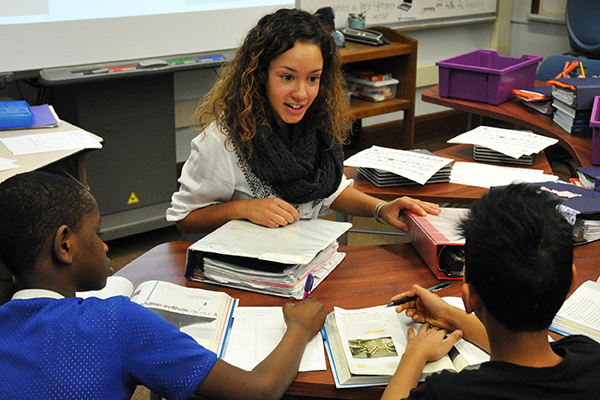 Preparing teacher candidates from underrepresented groups
The New York State Education Department awarded a five-year, $1.63 million grant to SUNY Oswego's School of Education to scale up and enhance its Teacher Opportunity Corps program, which seeks to attract and retain teacher candidates from underrepresented groups — particularly young men of color — in high-need schools.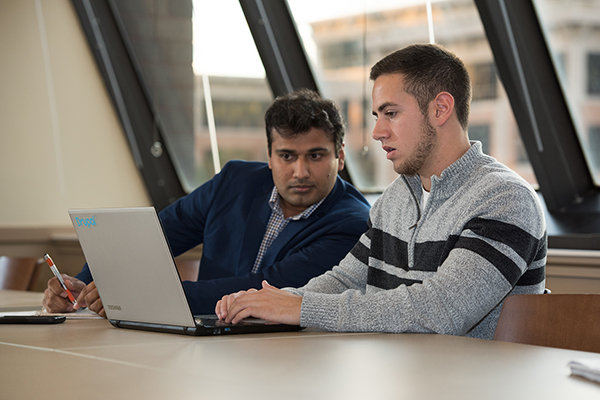 Expanded offerings at our Syracuse campus
Three undergraduate completion degree programs were introduced at the Syracuse campus in August 2016. Building on the success of existing graduate offerings in Syracuse, non-traditional and place-bound students now benefit from access to hybrid programs in Business Administration, Human Development, and Public Justice.
Create and deliver innovative academic programs
SUNY Oswego continuously seeks to understand the pulse of our society as well as the state of our economy by forecasting business and industry demand for skills and academic program offerings that will propel our students and the communities in which they live, well into the future. The following 2016-17 highlights represent academic programs added, enhanced or recognized for successfully matching curriculum offerings with society and student need.
Healthcare in the digital era—telemedicine, big data, decision analytics, computer networks integrating patient and caregiver information and more—led to the launch of a new master of science degree in biomedical and health informatics at SUNY Oswego.
A new sports studies minor was created, giving students the opportunity to study the history and impact of sports through a variety of academic lenses.
A new professional teacher certification track for teachers pursuing a SUNY Oswego master of science degree in curriculum and instruction was approved.
A new course, "Big Data, Genes and Medicine," was introduced in fall 2016 and represented Oswego's pilot project in the evolving world of mass open online courses (MOOCs) while preparing learners for an in-demand job field.
The master's degree program in clinical mental health counseling obtained accreditation from the discipline's standards-setting organization, opening new avenues of employment and other benefits for graduates.
Provide high-impact, transformative learning experiences
The college continued to invest in its students by providing experiential learning, innovative research and international opportunities, and inclusive residence life programming that inspire and broaden their educational and social experiences.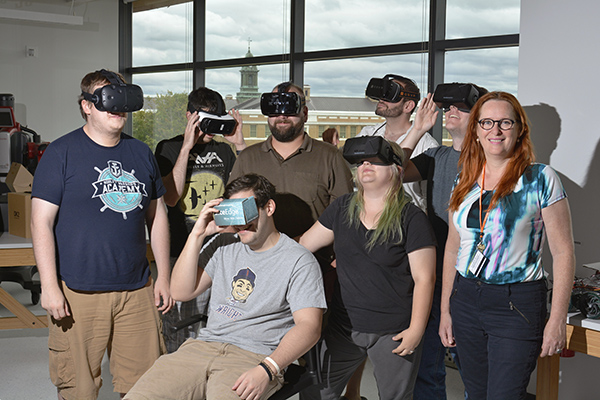 Virtual reality research

A partnership with a German virtual reality (VR) software developer, Crytek, pushed VR research and learning opportunities forward in SUNY Oswego's graduate program in human-computer interaction, and contributed to the establishment of the college's first dedicated virtual reality lab in Shineman Center.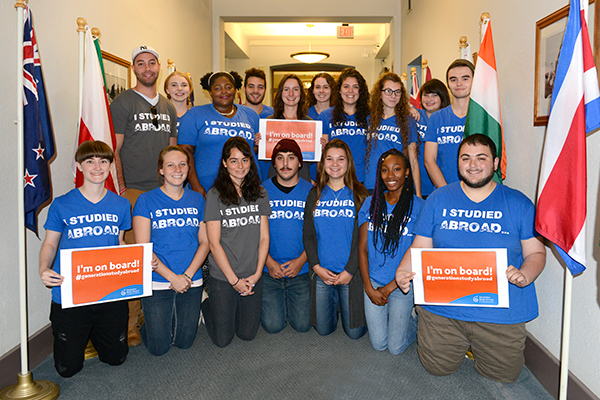 Diversity in study-abroad
The Institute of International Education's Generation Study Abroad initiative recognized SUNY Oswego and 11 other U.S. higher education institutions that exceeded their goals to boost the number and diversity of its students in study abroad. In the most recent year reported, 20 percent of Oswego's students are now engaged in international education opportunities.
Empower and recognize collaborative research and creative work
The statewide university system recently honored SUNY Oswego's Christy Huynh, associate director of career services, and Richard Kolenda, assistant vice president for residence life and housing, with the 2017 Chancellor's Award for Excellence in Professional Service. The State University of New York also honored administrative assistant Jo Richardson, who for 15 years has served as the main face of International Student and Scholar Services at SUNY Oswego, with the Chancellor's Award for Excellence in Classified Service.
Members of the college faculty also earned significant recognition in 2016-17 – a year highlighted by many contributions and academic offerings. Here is a sampling: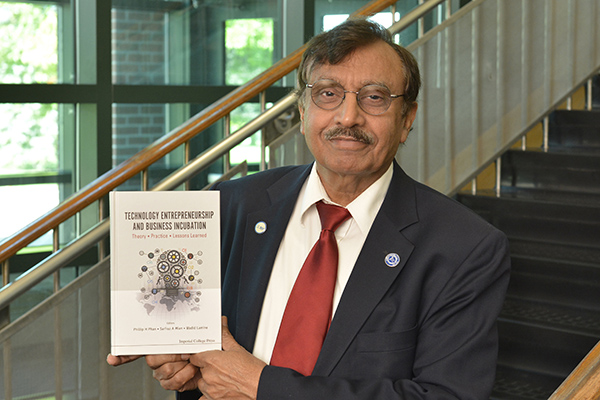 Sarfraz Mian
Sarfraz Mian, professor of marketing and management, joined two co-editors of a new book to take a global view of business incubation, using case studies to describe how technology business incubators by any name have evolved and gained traction as economic development drivers around the world.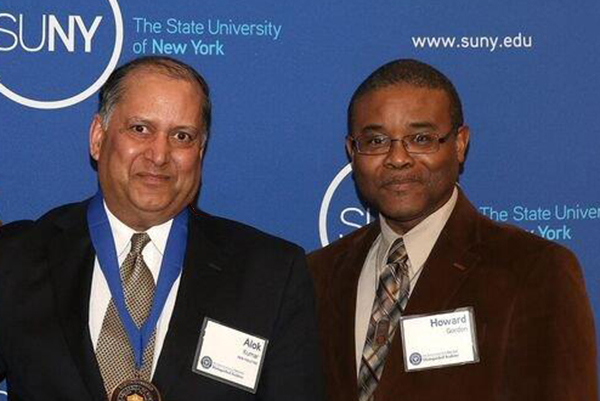 Alok Kumar
As one of only eight faculty in the SUNY system, physics professor Alok Kumar, earned the Distinguished Teaching Professor title for his distinguished honor in professorship, teaching or service.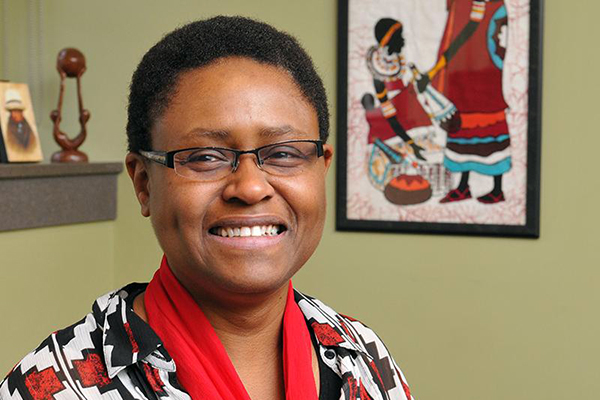 Marcia Burrell
Marcia M. Burrell, professor and chair of curriculum and instruction, was selected to attend the 2016 Higher Education Resource Services (HERS) Bryn Mawr Summer Institute in July 2016. Burrell joined a group of 64 women leaders from across the United States.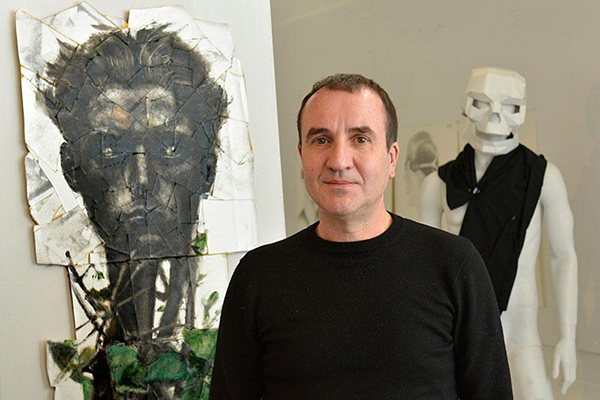 Juan Perdiguero
Juan Perdiguero of art earned the President's Award for Scholarly and Creative Activity, which honors tenured faculty for exemplary mastery of subject matter, effectiveness in teaching, and scholarly and creative achievements.
Other notable faculty achievements
Benjamin Allocco, English and creative writing, earned bestseller status on the Amazon Kindle charts with his futuristic novel, "Deathform."
Kestas Bendinskas, chemistry, earned the President's Award for Scholarly and Creative Activity at SUNY Oswego, while Christopher Chandler of biological sciences received the Provost's Award for Scholarly and Creative Activity.
Philosophy professor and chair Craig DeLancey published "A Concise Introduction to Logic" as an Open SUNY Textbook.
SUNY Press published "Lessons Learned from Popular Culture," a 274-page book that co-author and sociology chair Tim Delaney says "entertains as it reflects and provides valuable life lessons about popular culture."
Distinguished Service Professor Alfred Frederick earned the title of Citizen of the State of Piauí, an award bestowed by the northeastern Brazilian state's Legislative Assembly for his more than 25 years working to improve education in the state of Piauí and elsewhere in Brazil.
Physics faculty member Carolina Ilie co-authored a new textbook "Electromagnetism: Problems and Solutions" with former student and 2015 graduate Zac Schrecengost, while December 2016 graduate Julia D'Rozario created more than 500 digital illustrations for the problems textbook users will solve.
The 2017 SUNY Oswego President's Award for Teaching Excellence honored chemistry faculty member Casey Raymond, who was recognized for his 14 years of challenging, supporting and inspiring his students.
Fulbright Canada, part of the prestigious global Fulbright program, awarded Kevin White of the anthropology faculty a spring 2017 visiting research chair in trans-border studies at Brock University in St. Catharines, Ontario.
Video Spotlight
International Coffee Hour offers refreshing language opportunities
International Coffee Hour is one of the many events SUNY Oswego runs that benefits international students as well as American students trying to improve their language skills over a cup of coffee. Sponsored by the modern languages and literatures department, the program has run for more than 15 years and assists students in improving their foreign language skills, whether in German, Spanish or French.