Our Grand Challenges
"Our work contributes to finding solutions for the grand challenges of our time."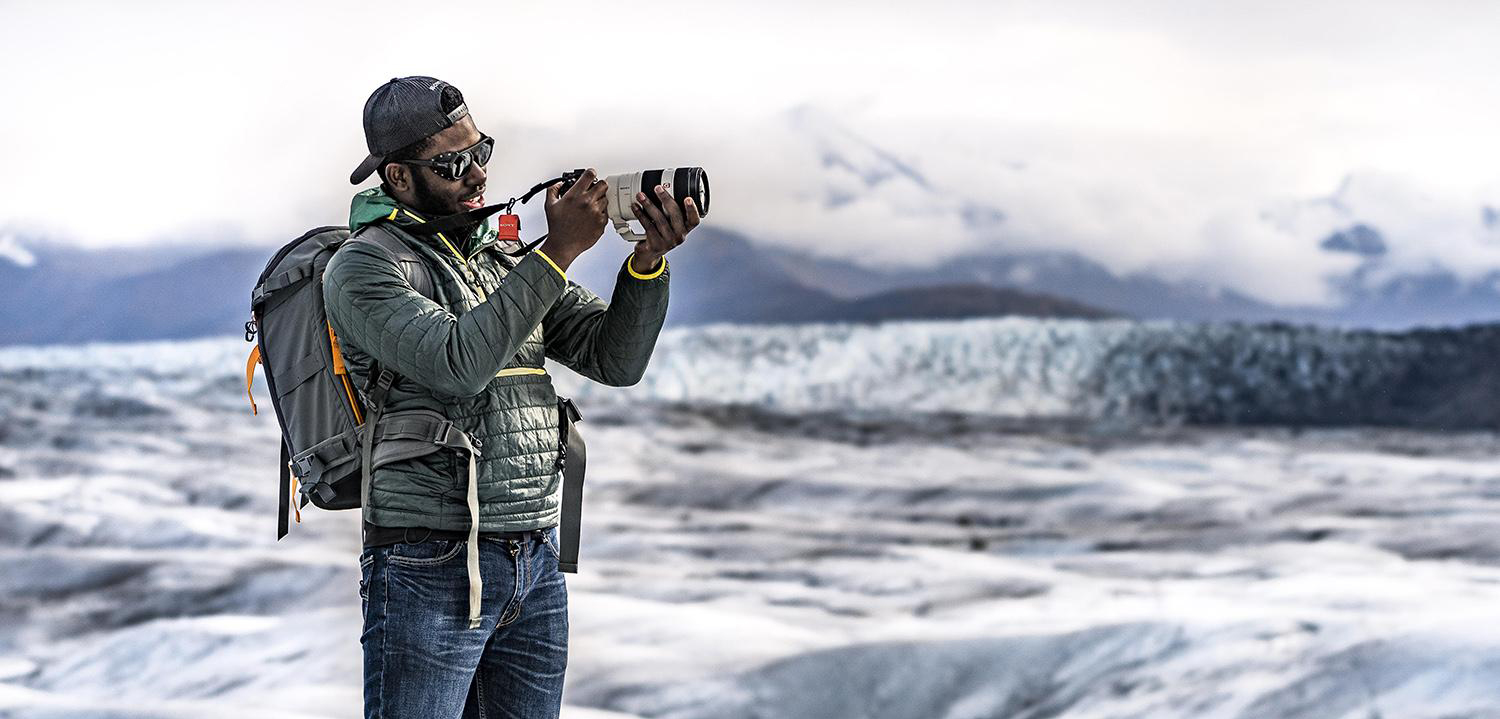 There is a spirited belief at SUNY Oswego that our campus community can and will contribute at the highest levels of theory and application to investigate social and global issues, and find solutions for the grand challenges of our time. Grounded in shared goals, integrative skills and technologies, and a multidisciplinary approach to problem solving, SUNY Oswego is primed and positioned to promote learning and knowledge in and out of the classroom to advance the common good and lay the foundation for a better world.
---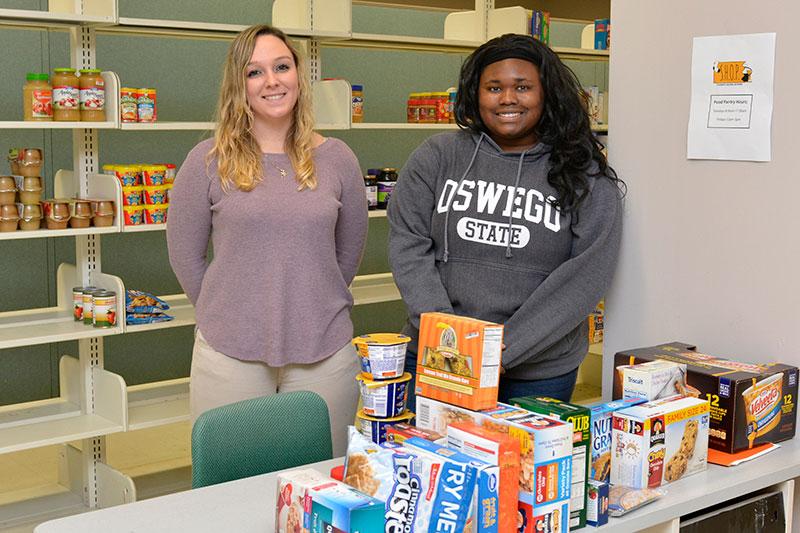 College opens pantry to help fellow students
In fall 2016, SUNY Oswego opened a pantry with food, toiletries and winter clothing to meet a need among college students who sometimes lack these necessities. The Students Helping Oz Peers project—or S.H.O.P. for short—opened its pantry in October 2016 in Penfield Library's basement. The Student Association, Dean of Students and Student Affairs offices, Campus Life, Counseling Services, and the Mary Walker Health Center all worked together to create the food and clothing pantry, which was designed to be located in the center of campus to allow any and all students—traditional and non-traditional—to make use of it.
"Food insecurity issues affect students at colleges and universities everywhere," Dean of Students Jerri Howland said. An October 2016 report by the National Student Campaign Against Hunger and Homelessness found 20 percent of students at four-year schools across the nation qualified as having very low food security, with 48 percent of respondents reporting food insecurity in the previous 30 days.
Students raise funds, awareness against child abuse
Throughout Child Abuse Awareness Month in April 2017, SUNY Oswego students in the For the Kids program actively raised awareness about child abuse in our society and collected funds to support local victims. In its first three campaigns, For the Kids raised $30,000 and collected a range of items to donate to the Child Advocacy Center (CAC), a local agency that provides a child-friendly and safe environment for a multi-disciplinary response to child abuse, promotes healing for victims and families, and raises awareness of the issue.
A pair of 2015 graduates, Eli Kim-Swallow of the Laker men's hockey team and Denvol Haye of Delta Kappa Kappa (DKK) fraternity, founded For the Kids in 2014, and those two groups have created a sustainable organization that includes interns receiving academic credits, student volunteers and community supporters.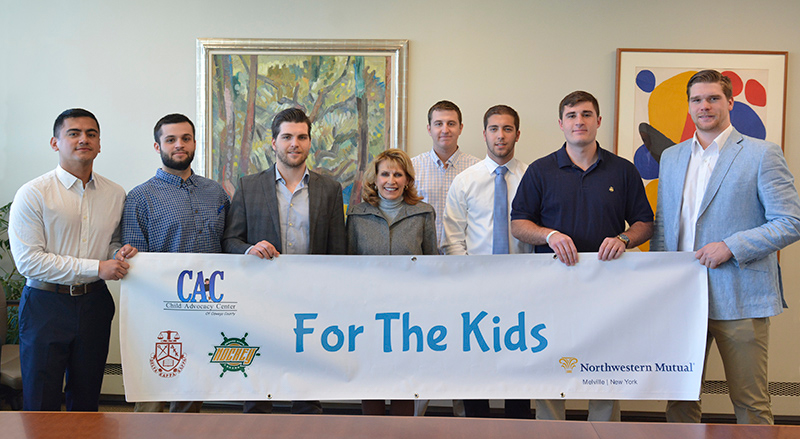 Cleaning up Oswego for a cause
In May 2017, a group of SUNY Oswego students and members from the Oswego community — calling itself Punks Against Pollution — hit Oswego's streets and parks to clean up litter after the last day of college classes. According to SUNY Oswego junior cinema and screen studies and philosophy major Alex DeSacia, the group is "a new initiative to raise consciousness about environmental issues, and to help keep Oswego free of litter," and consists of students from the college, Oswego High School and the local community.
The group cleaned up several bags of litter as well as recyclables that they planned to redeem, and donated the money to the Oswego County Humane Society. Though Punks Against Pollution was originally planned as a one-time event, the level of interest and positive reception have motivated the group to organize again in the future.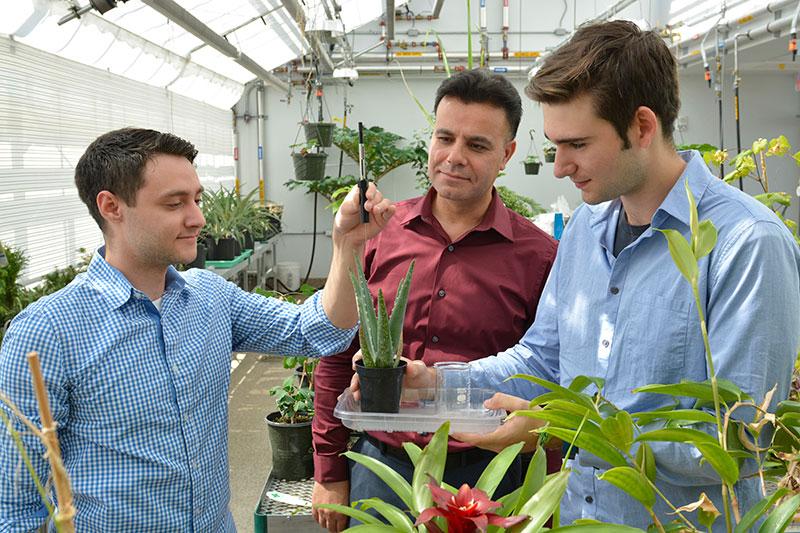 Seeking solutions for air quality
Vadoud Niri of the SUNY Oswego chemistry faculty and his undergraduate assistants worked steadily—and quietly—for three years researching five common houseplants as agents for removing potentially hazardous chemicals such as acetone from the air. Niri's presentation at the American Chemical Society's (ACS) annual conference in the summer of 2016 attracted the attention of Washington Post columnist Sarah Kaplan in the "Speaking of Science" blog and subsequent global attention from science mass media and "green" websites worldwide. The outburst of attention shined a spotlight not only on Niri's sustainable approach to an air-quality problem afflicting everyone, but on the opportunities for hands-on faculty-mentored research at SUNY Oswego among undergraduates and graduate students alike.
Video Spotlight
Yards for Yeardley to take steps against relationship violence
Hundreds of SUNY Oswego campus and community members went miles against relationship violence during Yards for Yeardley, a One Love Foundation awareness event, held in April. Between SUNY Oswego's prevention education programs and Yards for Yeardley, the campus reaches thousands of students and employees, inviting them to be a part of the solution.
Video Spotlight
It's On Oz collects pledges to stop sexual assault
The SUNY Oswego chapter of the national It's On Us movement held awareness events throughout the year, and in April asked members of the campus community to sign the pledge to stop sexual assault.