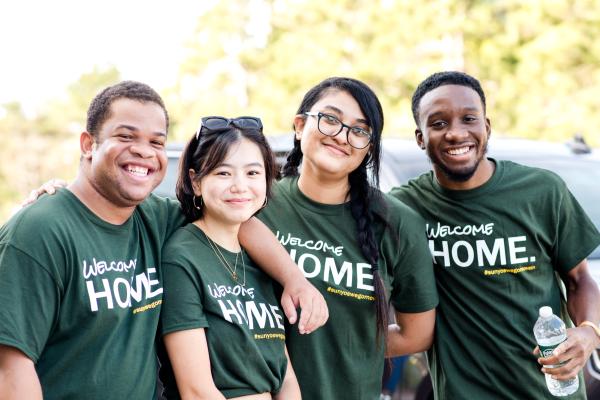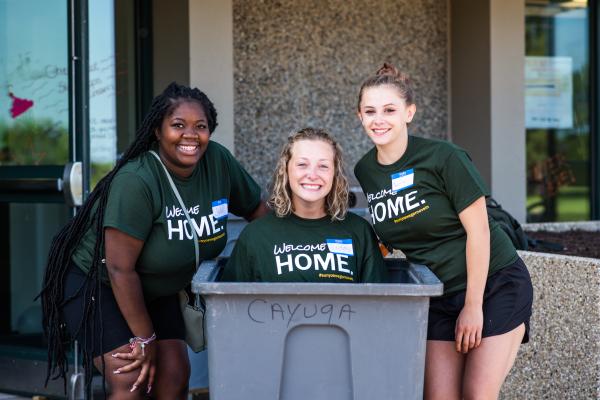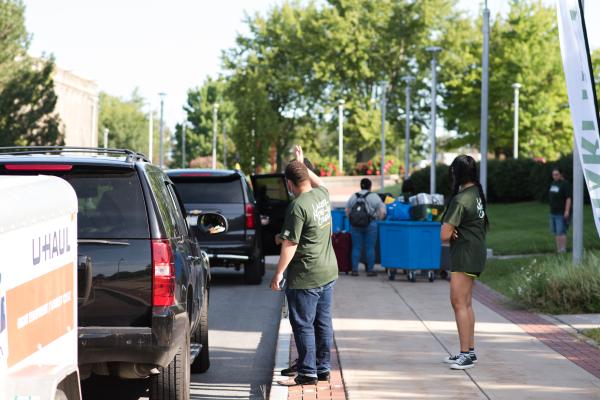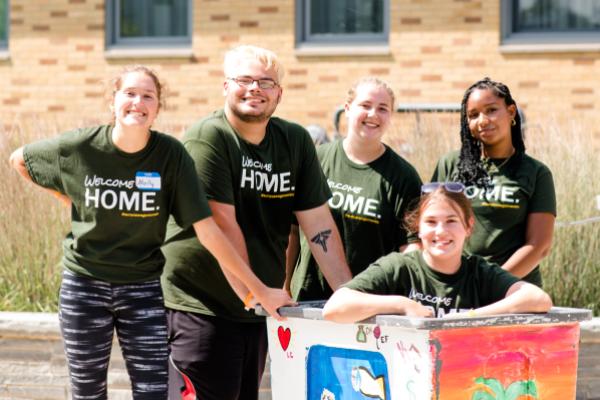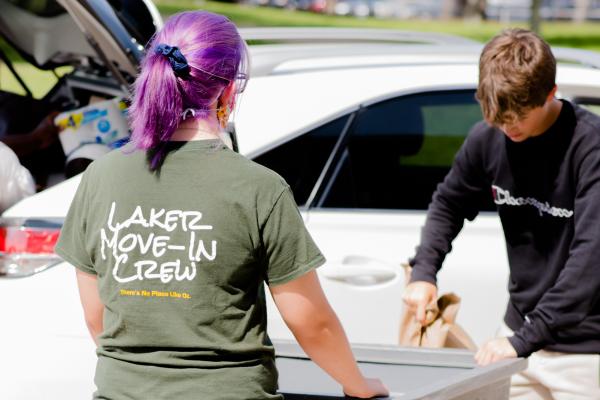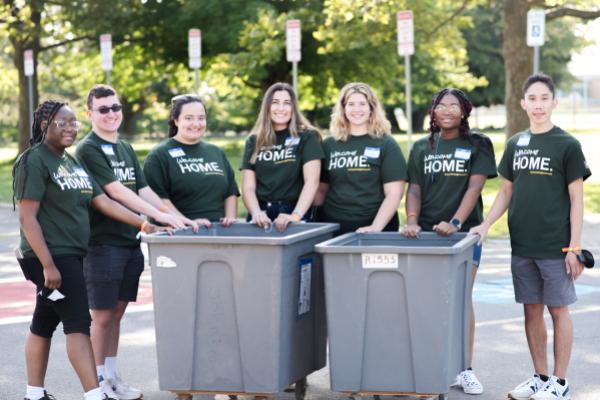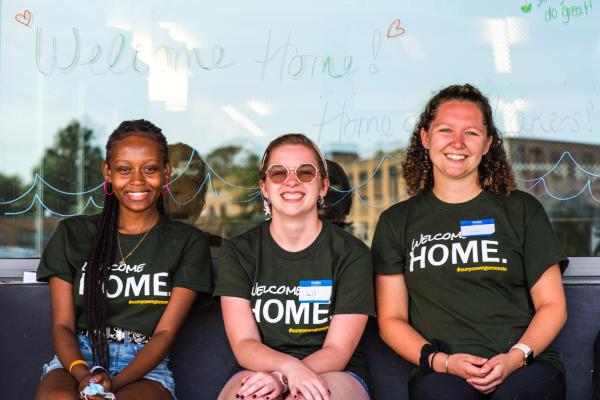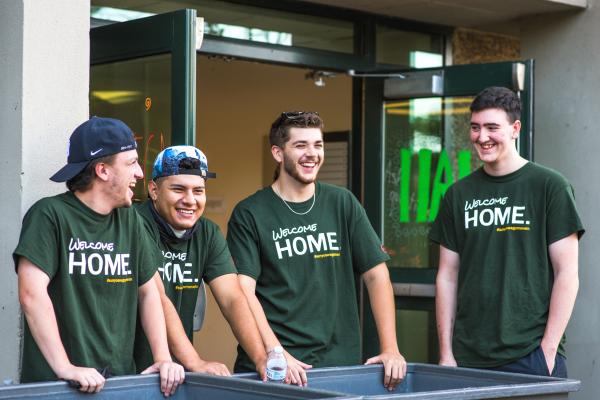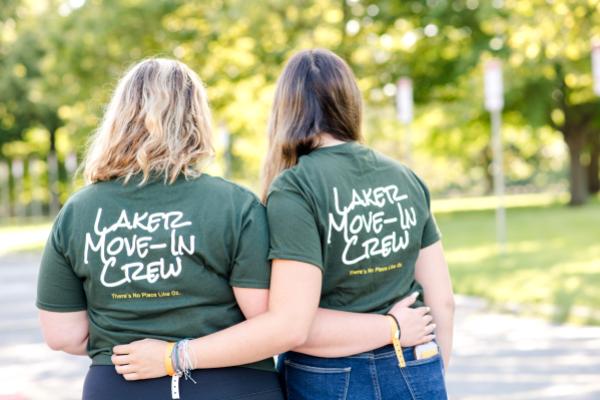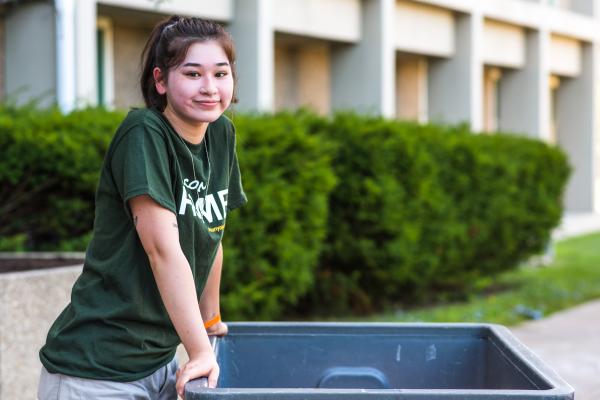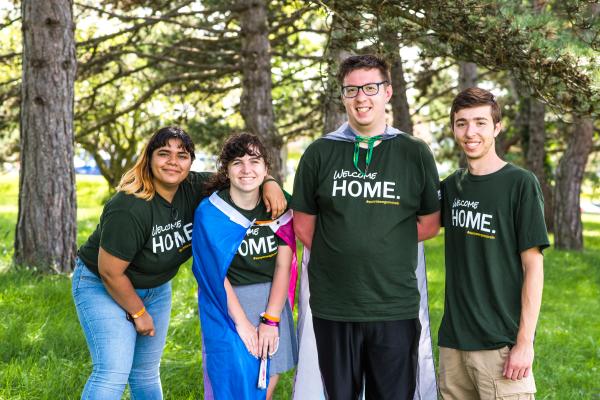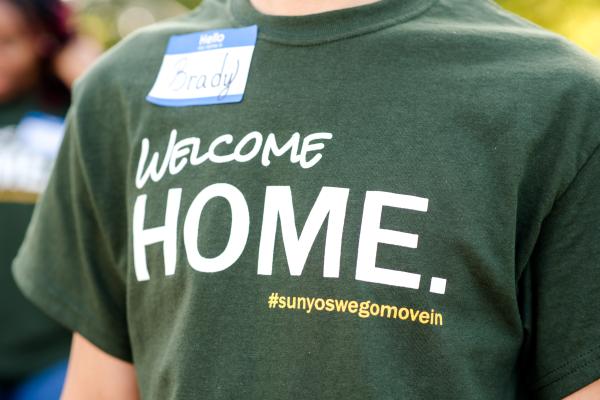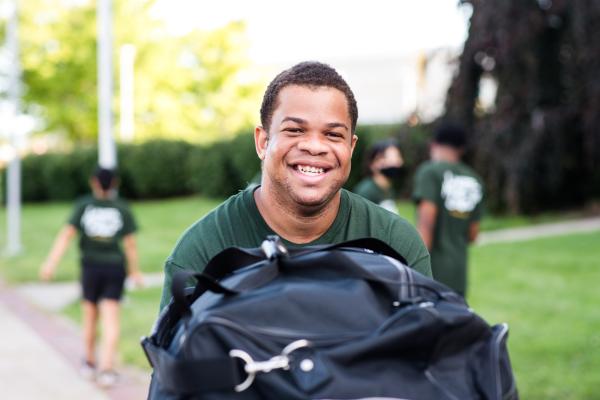 Welcome students home to Oz!
Laker Move-In Crew consists of eager and engaged students who are excited to welcome our new students to the residence halls. The primary focus of Laker Move-In Crew is to physically assist students and families with moving into their rooms in an efficient and welcoming manner. In addition, crew members are expected to provide excellent customer service and answer general knowledge questions along the way. We are looking for motivated and energetic volunteers to help us create a memorable Laker move-in experience for students and families!
Available Volunteer Positions
Laker Move-In Captain
An enthusiastic, organized, and dependable SUNY Oswego student leader who is responsible for leading their hall's crew in the welcome of students to campus. The Laker Move-In Captain works directly with their Residence Hall Director to create an opening plan for moving students into the hall. This plan consists of a decorating scheme that is welcoming to all students, a moving bin organization and waitlist system, equitable shift assignments for crew members, etc. This person also needs to demonstrate excellent verbal and written communication skills with the various students, families, and staff members with whom they will interact. Lastly, the Laker Move-In Captain needs to be team-oriented and able to create a positive and energetic atmosphere for not only the students and families moving into the residence halls, but also for their crew members.
Laker Move-In Crew
An energetic SUNY Oswego student who is responsible for welcoming students and families to campus during opening weekend. The primary responsibility of crew members is to physically help students and families move belongings into the residence hall. Additionally, crew members will work together to decorate the hall, assist UPD with traffic control, and answer general questions about SUNY Oswego. Crew members are also expected to work cooperatively with other student staff members in the hall such as Resident Assistants and Desk Attendants in an effort to provide a coordinated move-in experience. Finally, assistance in promoting the Laker Launch orientation program and opening week events is requested in an effort to help direct students towards opportunities that will help them make SUNY Oswego home.
***Also, you can volunteer for Laker Move-In Crew as part of a SUNY Oswego club or organization! Talk with students about getting involved in your club or organization and represent your group with a custom logo on your Laker Move-In Crew t-shirt!
Requirements
Must be a returning SUNY Oswego student for the 2023-2024 academic year
Must be able to lift and transport approximately 25 pounds
Must be able to return to campus early

 Captains & Crew Members:  Monday, August 21 by 4pm

Must be able to volunteer during the following student move-in times:

Tuesday, August 22 | 9am to 4pm (Oneida and Waterbury Hall Crew Only)

Wednesday, August 23 | 9am to 4pm (All Other Crews)
Deadline
Laker Move-In Captain: Friday, April 28, 4pm
Laker Move-In Crew: Friday, July 28, 4pm
Benefits
Help welcome students and families to SUNY Oswego
Gain leadership, teamwork, and customer service skills
Return to campus early and avoid moving in during crowded times
Earn community service hours
Use this volunteer experience for your resume
Promote your club or organization
Supervision
Laker Move-In Captains are directly supervised by the Residence Hall Director of their assigned hall. Laker Move-In Crew members are supervised by the Laker Move-In Captain(s), with oversight and guidance from the Residence Hall Director
Placement
We will attempt to place applicants in their first preference hall. Applicants may be assigned to other halls where assistance is needed. Students applying who may need accommodations or who have questions should contact reslife@oswego.edu.
I joined because when I was a freshman I was really nervous on my first day here and I remember the Laker Move-In Crew member who helped me was really nice and she took me up to my room and helped me unpack which was really great. I just wanted to be that person for another freshman.
I'm most excited about just meeting everyone. I live here too and so it kind of gives me a first look at everybody I'll be living with in the community.
I wanted to join because I wanted to help other people get acclimated to the environment because it a very big change and I understand that and so I just wanted to be that person to help them.
I wanted to join Laker Move-In Crew to reassure students and parents that you're making the right choice when you come to SUNY Oswego.
I like seeing all the new faces because even though they are new students they could become your best friends, you just never know!