Hollywood POV
We are pleased to learn of your interest in the Hollywood P.O.V. Program!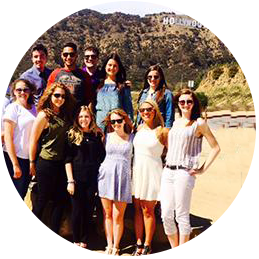 Hollywood P.O.V. takes you to the entertainment capital of the world to explore the many career paths associated with the media production industry. Students who apply should have a general interest in learning more about directing, screenwriting, camera operation/cinematography, editing, producing, sound design, audio engineering, animation, marketing and promotion, graphic design, acting, special effects, set and costume design, development, programming, casting and music composition for film and television.
You will meet media professionals with expertise in many of the areas listed. You'll also get a rare look inside the facilities where the real work happens, including recording studios, sound stages and production houses. Previous site visits have included: Nickelodeon Animation Studios, a live taping of the CBS sitcom "Mom", a private tour of the "Young and the Restless" soundstage with the soap opera's associate casting director, a meet and greet with audio engineers at L.A. Studios, a tour of the iconic Hollywood Bowl followed by the L.A. Philharmonic in concert. In addition, you'll have the opportunity to network with dozens of SUNY Oswego alumni who live and work in greater Los Angeles.
When
Dates of the program have been tentatively set for January 8  - January 16, 2023.
You will be registered for a Quarter 2 course (CMA 410) in Fall 2022 upon acceptance to the program, and receive three credits upon completion of the program, assuming you adequately complete all assignments and requirements outlined in the course syllabus.
Cost
The program cost is tentatively set at $1800*. This fee does not include airfare or most meals. The program cost includes hotel for the duration of the program, transportation while in Los Angeles, some meals, excursions, and first-hand access to the entertainment capital of the world.  
The process of applying to be a part of Hollywood P.O.V. is as follows:
Please complete the Hollywood P.O.V. application and submit it no later than Friday, April 1, 2022.
After submission of the application, you will then receive an email stating whether you will be granted a Zoom interview with either Prof. Michael Riecke or Prof. Catherine Loper.
Accepted students will be notified when a final decision on admission has been made. Acceptance notification occurs within approximately two weeks of your interview. Those accepted students will be required to submit a deposit of $300, payable to "Research Foundation of SUNY Oswego". This fee is non-refundable, and will be credited to the tentative program fee of $1800.
Contact
If you have any questions regarding the program, please email michael.riecke@oswego.edu or catherine.loper@oswego.edu.

Thank you for considering SUNY Oswego's Hollywood P.O.V. Program.