Facilities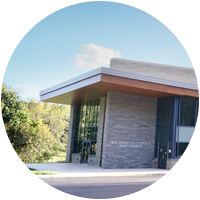 Rice Creek Field Station
Rice Creek Field Station, about a mile south of the main campus, contains two state-of -the-art laboratories, a lecture/seminar room and a small exhibit and reception area for visitors in a recently constructed central building.
Rice Creek's surrounding grounds include an herb garden and 300 acres of fields, forests, ponds and streams used for ecological research by faculty and students in formal coursework and independent study projects.​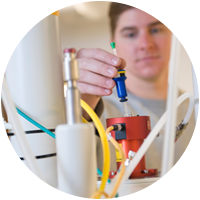 Molecular Biology and Biochemistry Center
The MBBC is a shared research and teaching facility that consists of several laboratories and offices in the east wing of the third floor of the Shineman Center. Students in this lab can sequence and label DNA, observe mammalian and bacterial cell cultures, and clone cDNA.​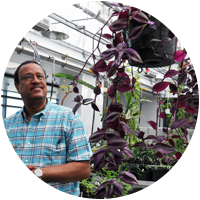 Greenhouse
In our greenhouse, students gain hands-on experience growing and experimenting with plants in the controlled conditions in our 1,250-square-foot greenhouse in the Shineman Center. Established to support basic and applied plant research for undergraduate students and faculty, this facility houses a large collection of plants from exotic and familiar climates, with specimens ranging from cacao trees to strawberry plants.​​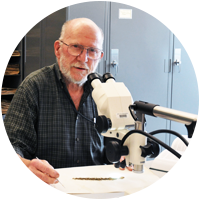 Herbarium
Our herbarium contains a collection of over 50,000 dried and pressed plant specimens from a range of geographic areas across the world. This collection allows students to get up close and identify a variety of flora for the study of plant systematics and geographic distribution. The herbarium catalogue also serves as a reference for nomenclature and the writing of field guides or manuals.​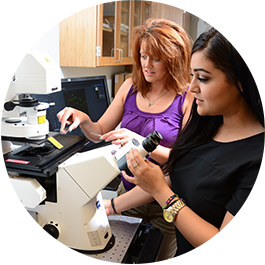 Microscopy
Our microscopy facilities include a Zeiss LSM-700 laser confocal microscope, a Leica M205 FA stereomicroscope with fluorescence, a Zeiss Stemi 2000 dissecting scope, and a low-vacuum Jeol JSM-6610LV Scanning Electron Microscope with an EDX system.