Department of Biological Sciences
The Department of Biological Sciences offers degrees in biology and zoology. You'll learn from outstanding professors, gain hands-on research in the labs of the new Shineman Center and the living laboratory of the Rice Creek Biological Field Station, and become well-prepared for in-demand professional opportunities or graduate school pursuits.
Biology is the study of living things; zoology is the sub-discipline of biology that is specifically the study of animals. 
News
More news in the Bio Sciences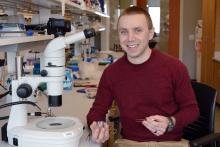 NSF grant to Oswego professor to offer student research opportunities
A major National Science Foundation grant recognizes the research and accomplishments of SUNY Oswego biological sciences faculty member Christopher Chandler while providing research opportunities for his students at Oswego and overseas.
Read more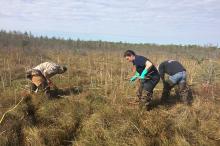 Grant supports college's effort to protect rare moth, turtle habitat
SUNY Oswego faculty and students have taken on a project to slow or stop the advance of cattails threatening to choke the sensitive Oswego County habitat of two rare species, the bog buckmoth and bog turtle.
Read more