Fresh water for all
Over the past three years, Oswego students, faculty and staff from all disciplines have come together to tackle the multi-faceted sustainability issue of Fresh Water for All. As a result of the Grand Challenges Project, the Grand Challenges Oversight Committee gave out mini-grants to support the following areas and projects:
Led by Catherine Sullivan from the accounting, finance and law faculty, students engaged with local businesses to tour their operations and better understand the impact/potential impact of the business on our freshwater supply.
Marie Lorenz's "Travels, 2010-2019," a multimedia exhibition exploring waterways, came to campus in October 2020.
ETHEL (known as New York City's most adventurous string quartet) and Robert Mirabal, a Native American musician, instrument builder and three-time Grammy Award winner, presented a cross-cultural concert experience this fall. The audience was immersed in a flow of music, narrative and ritual that evokes timeless Native American traditions through contemporary musical artistry.
Melissa Webb of the English and creative writing faculty led the juried collection, distribution and presentation of student cross-disciplinary work on the Grand Challenge project through a printed anthology of exemplary student production over the fall 2019 and spring 2020 semesters.
Students in Paul Leary's electronic music course created a wooden mechanical music box powered by flowing water using a classic water wheel to drive the mechanical motion. The class used sensors to send data about speed and other data points to computers that played music.
Focused on the Environment
SUNY Oswego is committed to being a leader in sustainability, improving the environment, and developing a deeper awareness of environmental and technological developments.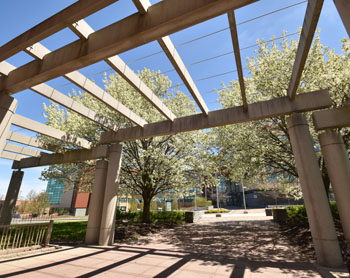 Committed to Sustainability
SUNY Oswego's Sustainability Office oversaw a number of public awareness programs for the campus community such as Perk Up, Tap In, and the Bike Share programs, and organized annual events such as Sustainability Week in the fall and Earth Week in the spring.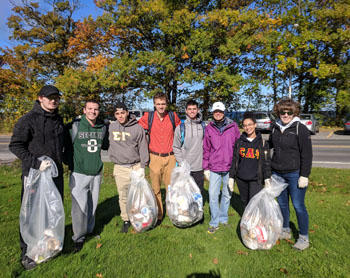 Shining Waters
Student group leaders brought volunteers to campus and surrounding areas to pick up trash and maintain trails, the waterfront and waterways in the community.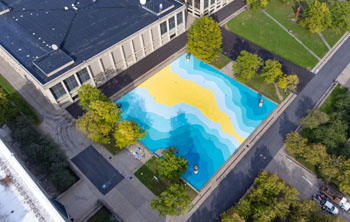 Public Art Inspired by the Flow of Water
Last fall, ARTSwego spearheaded the installation of a beautiful waterscape paint mural in the former concrete sundial in the SUNY Oswego quad located in front of Lanigan and Mahar Halls. The waterscape mural supports the campus' Grand Challenge initiative – Fresh Water for All.
We Must All Be Agents of a Vastly Better Future
SUNY Oswego continues to encourage the full participation of individuals who are willing to stand up and aid in the struggle for justice and peace, as well as those engaged in seeking greater understanding and equity. Over the past year, the college infused this pursuit of justice into programs across the campus.