Prospering together
SUNY Oswego continued to respond to and prepare to meet the current and future needs of its increasingly culturally diverse students, faculty and staff. In 2015-16, SUNY Oswego engaged with its surrounding communities through research partnerships, community and service-learning programs, economic development, and a rich assortment of cultural, recreational and academic performances, events, and lectures.
---
Expanding our reach
SUNY Oswego strives to elevate and support productive external partnerships; collaborate on research projects and applied work with industry partners; and engage in mutually beneficial agreements and commitments that lead to educational, civic and business advancement.
World class anechoic chamber debuts
A $3.1 million, "next-generation" echo-free chamber debuted in SUNY Oswego's Wilber Hall in 2015-16, formally crowning the college's new capability for developing and testing wireless devices ranging from tiny blood pressure sensors to the antennas on a Humvee. The anechoic chamber—at 45 by 32 by 16 feet, the size of a small gymnasium—is actually a building within a building, albeit one studded inside with thousands of blue and gold cones made of carbon-impregnated foam. It rides on a concrete foundation separated from the rest of Wilber Hall with a two-inch gap, one of many features that keep vibrations and electromagnetic and sound waves out in order to provide a pure environment for measuring wireless signals.
Advanced Wireless Systems Research Center
The chamber and the rest of the college's Advanced Wireless Systems Research Center took wing thanks to a SUNY High Needs Grant and a collaborative SUNY 2020 grant on which SUNY Upstate Medical University, SUNY College of Environmental Science and Forestry and Onondaga Community College partnered. The research facilities are rich with promise for other partnerships of many kinds, as expressions of interest in Oswego's capabilities range from as far away as China and as near as companies in our own region. The wireless center—a companion lab is in SUNY Oswego's Richard S. Shineman Center for Science, Engineering and Innovation—also provides academic opportunity aplenty.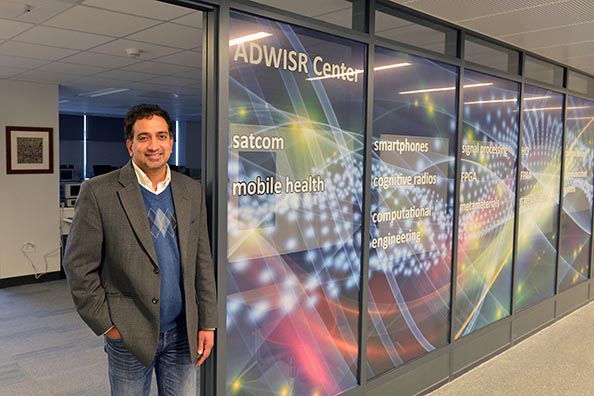 In the summer of 2015, SUNY Oswego's Advanced Wireless Systems Research Center won a two-year, $100,000 research grant from a Western New York antenna manufacturer to co-develop high-efficiency compact antennas for railway transportation systems and, potentially, other applications. Under terms of the grant, Oswego's wireless center will be responsible for design, simulation, measurement and preliminary prototyping of miniaturized, omnidirectional antennas for STI-CO Industries of Orchard Park.
Arts, athletics & recreation
SUNY Oswego continued in 2015-16 to integrate and embed arts and entertainment, athletics and recreation offerings in its campus programming. Committed to being a good neighbor, the college has made most of its programs and events open to the community.
Continued Cruisin'
Wintertime fun takes on a wide variety of entertaining, recreational and educational forms as SUNY Oswego continued its annual tradition of inviting the greater Oswego County community to a series of family-friendly activities and events in late December and the first three weeks of January. The program also serves the community during the public Pre K-12 schools' Thanksgiving, winter and spring breaks.
Genius Olympiad
SUNY Oswego once again hosted and co-sponsored (with Pathfinder Bank) the GENIUS Olympiad – a global high school competition for environmental innovation and advocacy.
Youth Conservatory for choral training
SUNY Oswego assembled the first class for the new Oswego Youth Conservatory, reaching out to area schools by offering extracurricular training in choral singing to middle school, high school and home-schooled students ages 12 to 18. The fall 2015 class culminated in a gala holiday concert in December, as the Oswego Youth Conservatory joined the college's State Singers, the College Choir and a group that long has welcomed adult members of the college and community, the Festival Chorus.
Laker pride in the community
After two thrilling NCAA Division III Tournament wins propelled the men's basketball team to reach the program's first-ever Sweet 16, Oswego State hosted tournament action in Laker Hall in 2016. The Lakers lost a heartbreaker 66-65 to the College of Wooster in the round of 16 but were supported by a packed, passionate crowd in Max Ziel Gymnasium.
Laker baseball enjoyed a breakout year in 2016, cracking the Top 5 in D-III national rankings and reaching the NCAA Division III Baseball Championship for the second-straight year.
SUNY Oswego hosted the 10th annual Pathfinder Bank Oswego State Hockey Classic in January 2016. The Classic is a great example of a thriving college and community partnership -- the seats in the Marano Campus Center arena fill up each year with over 2,000 community members and visitors to our campus and the Oswego community for this holiday tournament.
Pathfinder Bank continued its support beyond sponsorship of the Hockey Classic and Genius Olympiad, by making a $30,000 gift to SUNY Oswego in December 2015 to endow a scholarship to create opportunities for students with financial need.
Making a difference
Our students, faculty and staff participated in a number of efforts in 2015-16 that supported the social interests and needs of the wider community. Whether academic, career-focused or volunteer-related, the campus community was active in serving our neighbors.
It's On Us
SUNY Oswego's Title IX Committee sponsored information sessions and teamed with other offices and organizations around campus to recognize and support victims of sexual assault. Students, faculty and staff engaged in open discussion and spearheaded a community effort to raise awareness.
The SUNY Council of Chief Student Affairs Officers' top annual awards recently went to groundbreaking SUNY Oswego programs designed to shift campus culture in reporting and response to sexual violence and to build respect for those of different races and ethnicities. A program titled "Creating a Culture of Reporting and Response: A Collaborative Approach" won the council's Outstanding Student Affairs Program Award in the category of violence education and prevention, crisis management, campus security and related programs. The college's multifaceted "I Am Oz" campaign won a similar honor in the international, multicultural, gender, LGBTQ, spirituality, disability and related programs category.
Community service & outreach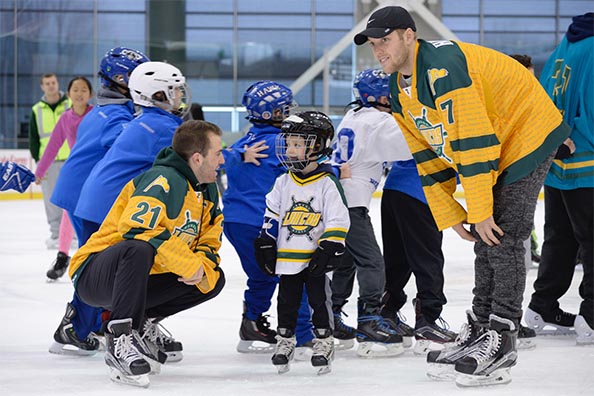 Oswego's Intercollegiate Athletics Department once again earned national recognition from the National Association of Division III Athletics Administrators for its community service and outreach efforts. In 2015-16, twenty-four Laker teams set new marks for the number of different projects (60) and the number of various organizations supported (42). Many projects were continued annually by their respective teams: Lighthouse restoration by track and field, Green/Gold/Pink Game by men's lacrosse, Skate with the Lakers United Way benefit by the ice hockey teams, Special Olympics bowling event by baseball, the For the Kids benefit for the Child Advocacy Center of Oswego County by men's ice hockey, and the April 2016 St. Baldrick's event -- the athletic department's 10th annual fundraiser for childhood cancer research led by men's lacrosse with assistance and participation from men's and women's ice hockey, cross country and women's lacrosse teams.
Additional benefit events included Alex's Lemonade Stand by volleyball, Stride to SAVE Lives 5K by four squads, bell ringing at Salvation Army kettles by women's lacrosse and field hockey, and Leukemia and Lymphoma Society fundraisers by women's basketball.
SUNY Oswego stood tall in 2016, working with the One Love Foundation, SUNYAC and students, faculty and staff on campus to bring Yards for Yeardley to Oswego in 2016. The event was a success, bringing numerous organizations together to run over one million yards in a single day to raise awareness and put an end to domestic and relationship violence.
SUNY Oswego was named a "Community Champion" for the month of February 2016 by Recognize Oswego County for the 3,000 hours of tutoring and mentoring provided by Mentor Oswego to over 500 children in three school districts and two community centers.
Serving our senior population
In its effort to improve the lives of Americans, 55 years of age or older, strengthen communities and foster civic engagement through service and volunteering, SUNY Oswego's Retired and Senior Volunteer Program (RSVP) celebrated its forty-second year of operation in 2015-16.
Over the past year, RSVP cultivated 400 senior volunteers who provided 42,225 hours of volunteer service to the community. RSVP volunteers provided direct support and training on location at 21 Osteo strengthening activity sites throughout Oswego County utilizing 60 certified instructors with a combined monthly total of 200 participants. In addition, our volunteers provided support and training for four "6 Steps to a Better Balance" classes – a six-week program that served 30 participants in the community.
Spotlight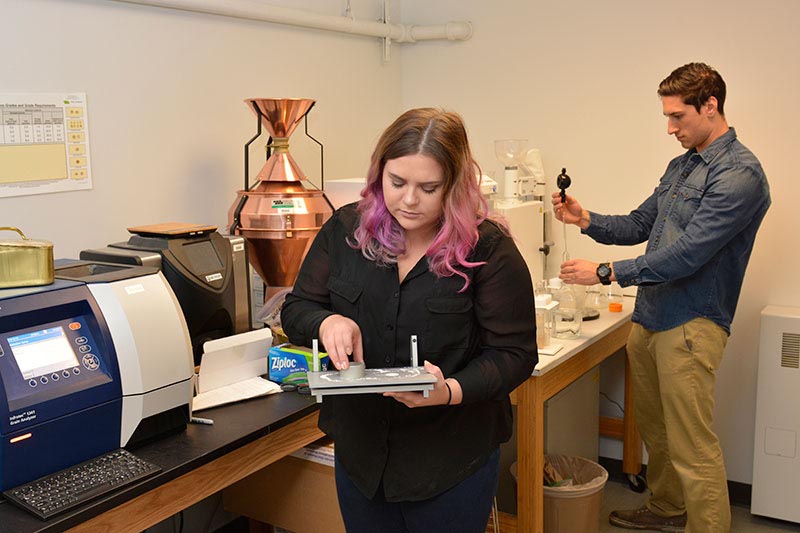 Agricultural Testing and Analysis Labs at the Port of Oswego and the Shineman Center
SUNY Oswego's enterprising Agricultural Testing and Analysis Labs at the Port of Oswego and the Shineman Center were created to close an export loop in the regional economy. Utilizing trained student inspectors to test and analyze grain for quality, quantity and food safety, the laboratories have met the needs of one of the Port of Oswego Authority's largest customers, Perdue AgriBusiness, and provided on-the-job business experience for undergraduates.
Supported in part with a commitment of $250,000 through Gov. Andrew Cuomo's office to equip the laboratories, the college's program seized an opportunity presented by Perdue and its determination to reduce its energy footprint while shipping 30,000 tons of grain a year through the Port of Oswego to its facility in Norfolk, Virginia, for export. The college ultimately seeks to have its student inspectors obtain U.S. Department of Agriculture certification to provide USDA weights, grades and testing, enabling the port to export grain and increasing the volume of corn, soy and wheat passing through Oswego.
"We truly had a call to action by key stakeholders in order to move this project forward," said Pamela Caraccioli, deputy to the president for external partnerships and economic development. The college made an "active, dynamic and responsive" proposal to Perdue, the Port of Oswego Authority and government leaders.
The two-year-old program, under the leadership of biological sciences faculty member Anthony Contento, has so far trained 26 students in a five-week course coupled with three weeks of on-the job mentoring to ensure excellence, consistency and safety in testing and analysis year-round, including summers.