Institutional strength
Our college continues to be guided by a shared vision, a strategic plan and a commitment to institutional effectiveness that results in increased resources, flexibility, academic capacity and success for SUNY Oswego.
---
Recognition and Rankings
We are meeting the goals of our strategic plan and, as our recent rankings reflect, we are positioned for continued success and achievement in the years ahead. A sampling of the recognition received in 2015-16 included:
"Top Public Regional Universities in the North" for 2016 – U.S. News & World Report
#1 online MBA program in New York state; #20 national ranking – U.S. News & World Report
"Best in the Northeast" college – The Princeton Review
"Best Business Schools"– The Princeton Review
"Green College" – Listed among the world's most environmentally responsible colleges by The Princeton Review
"Best for Vets College" and "Best for Vets Business School" – Military Times
Awards of excellence
SUNY Oswego received the Seal of Excellence (2016) from the Institute of International Education (IIE) for being one of 12 institutions nationally to have already exceeded its 2020 goal of boosting study abroad participation among students to 20% through the IIE Generation Study Abroad Commitment. This was achieved through our significant student participation in study abroad programs and our increase of culturally diverse students choosing to study abroad. In 2015-16, more than 25% of SUNY Oswego study abroad participants identified as culturally diverse compared to just 13% in 2010-11.
The Carnegie Foundation for the Advancement of Teaching in 2015 reaffirmed the college's Carnegie Community Engagement Classification through 2020. This designation recognizes the college for deeply intertwining community engagement in our leadership, curriculum, outreach programs, strategic planning and community partnerships.
Our Office of Career Services received two SUNY Excellence in Programming Awards in 2015-16. Its "Industry-Centric" operational model received the prestigious "Capstone Award" for best overall program in the SUNY system, and the Office Operations and Communications award.
University Police at SUNY Oswego attained state accreditation in 2016, an achievement that marks it as one of only 10 departments in the State University system and fewer than 150 police agencies of all kinds statewide to meet scores of exacting standards of professionalism. Achieving accreditation requires a department to demonstrate the effectiveness of its policies supporting 133 standards, covering everything from fiscal responsibility to firearms training, treatment of crime victims to evidence handling.
Unparalleled Passion and Pride
$43,483,781 from With Passion & Purpose Campaign
"With Passion & Purpose: The Campaign for SUNY Oswego" came to a successful close in June 2016, with final numbers announcing a five-year campaign total of $43,483,781. Surpassing its most ambitious goal in college history by $3.48 million, the campaign is also the largest completed among all SUNY comprehensive colleges, and the total is nearly double Oswego's last campaign, which raised $23.8 million. The campaign engaged and inspired the Oswego family, including more than 16,000 donors representing alumni, employees, students, parents and friends during the five-year fundraising period.
"Oswego has never been as strong as it is today. We are tremendously proud of what has been accomplished through this campaign, With Passion & Purpose," said SUNY Oswego President Deborah F. Stanley. "We are grateful to the generous support of many -- alumni, employees, students, parents and friends -- who helped us surpass our historic goal. Their support is having a direct impact on the lives of our students and in the vibrancy of the communities where our graduates live and work.
"We stayed true to our enterprising spirit to build an endowment that invigorates our intellectual environment, and that increases and diversifies scholarship funds, experiential learning opportunities and student success programs," added President Stanley.
Most significantly, the success of the campaign has enabled the endowment to grow 163 percent from $11.5 million in 2011 to $30.3 million as of August 2016, adding financial stability and a predictable source of revenue that helps the college plan and build programs.
A Culture of continuous improvement
We remain focused on putting physical resources, capital assets and technological capabilities to their highest usefulness, and ensuring they are protected against waste and deterioration and are renewed and strengthened to advance continuous improvement.
Waterbury Hall renovation
Waterbury Hall, a 211-bed residence hall that opened in 1960 along the lakeshore at SUNY Oswego, reopened in August 2015 after $8.8 million in renovations were made over a seven-month span. Renovations included adding lounges on each floor and a solar chimney; making all floors, rooms and common spaces wheelchair accessible; rebuilding the restrooms in modern configurations; upgrading technology and mechanical systems; and installing new windows and a new entrance, roof and lakeside terrace and otherwise rehabilitated the exterior.
Laker Turf Stadium
After years of planning, SUNY Oswego unveiled its new, first-ever outdoor turf field on Sept. 1, 2015. The new facility has raised the sights and spirits for Laker field sports and is helping a number of our athletic programs strive for excellence.
Tyler hall renovation
In 2016, SUNY Oswego completed a two-year, $22.2 million first phase of 48-year-old Tyler Hall, a popular campus destination to many in the Oswego and Central New York communities, especially those with an interest in and appreciation for the visual and performing arts. The rejuvenation of Tyler Hall included a renovated Waterman Theatre, a soaring new instrumental rehearsal room, a new choral rehearsal room, a state-of- the-art recording studio, modernized Tyler Art Gallery, and a sweeping new lobby with a curved-glass theater façade.
Spotlight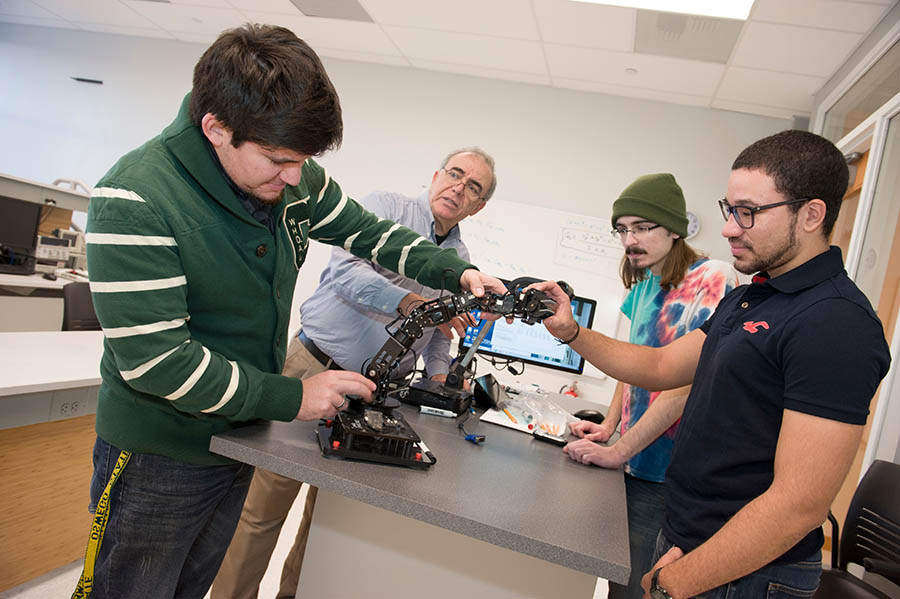 SRC establishes endowed scholarship program for SUNY Oswego business, engineering students
SUNY Oswego will offer four new scholarships to Central New York students, thanks to the generosity of a Syracuse-based research and development company.
SRC Inc., which develops solutions for customers in the defense, environment and intelligence industries, established the scholarships to support future STEM and business professionals and to acknowledge the role a vibrant workforce plays in creating a successful Central New York community.
"This leadership gift from one of our most valued and esteemed community partners reinforces what we know to be true," said Deborah F. Stanley, SUNY Oswego president. "Our students and graduates provide their communities with the intellectual capital, professional expertise and ethical service that they need to thrive. By establishing these scholarships, SRC is investing in the future of not only its prospective employee pool but also in the larger community. We are grateful for their support of our students and our region."
"SRC knows how important it is to cultivate an interest in STEM and business to be successful," said Paul Tremont, president and CEO of SRC Inc. "These students will help us and other companies prosper, and we look forward to continuing the relationship with SUNY Oswego and the students."