Addressing grand challenges
It is the belief of the SUNY Oswego community that we can delve into multidisciplinary investigation of problematic social and global issues; promote learning and knowledge to advance the common good; and contribute at the highest levels of theory and application to provide solutions to the grand challenges of our time.
---
Investing in our future
SUNY Oswego and its students in a variety of majors were proud to partner with CiTi BOCES in an alternative learning program to help boost disengaged Oswego County high school students who may have lost hope of earning a diploma. The program began in September 2015 as the Center for Instruction, Technology and Innovation (CiTi) responded to a call from superintendents, teachers and parents in districts around the county to launch a program that allows students who have fallen behind in a traditional school setting to accrue credits toward graduation and embrace learning in nontraditional ways.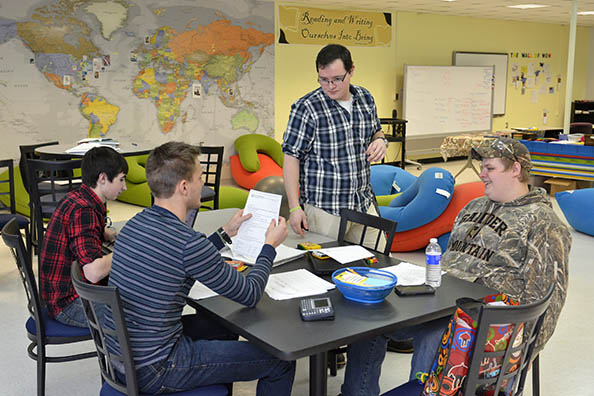 Nestled in Wilber Hall's lower level, the CARE—Credit Accrual and Recovery for Everyone—program hosted 11 students in grades 9 to 12 who worked one-on-one with a CiTi teacher, School of Education faculty members and students from around campus. The goal of CARE is to rekindle a fire for learning in the high schoolers that had dimmed due to impediments to success in a traditional setting.
Environmental stewards
EPA grant
Under a $1.5 million share of an Environmental Protection Agency grant, SUNY Oswego and its Environmental Research Center will continue to have the opportunity to document marked declines in older chemical pollutants in the Great Lakes. The new effort aims, in part, to expand the list of target chemicals, and to identify new threats before they become potential health problems for fish, other lake inhabitants and the people in the Great Lakes Basin who consume them.
In its partnership with Clarkson University and SUNY Fredonia, SUNY Oswego will continue to lead the effort to monitor such persistent toxic chemicals as PCBs, dioxins, furans and a long list of other legacy pollutants.
Student action award
This past fall (2015), SUNY Oswego achieved the silver level in Purposeful Networks' Student Actions Awards, earning the honor for demonstrated student leadership and engagement in activities that positively impact the community and the planet. My Student Actions, formerly called myActions, recognized 125 colleges and universities nationwide. Among the several dozen institutions earning silver recognition, Oswego joined three of SUNY's university centers—Albany, Buffalo and Stony Brook—and SUNY Geneseo.
"The power of student leaders to build community and inspire action for causes and programs they support is tremendous," said Kristine Sturgeon, president of Purposeful Networks, which creates digital platforms and programs to encourage and mobilize global citizenship.
LEED gold certification
SUNY Oswego's Richard S. Shineman Center for Science, Engineering and Innovation, which opened in fall 2013, received the Leadership in Energy and Environmental Design (LEED) Gold rating from the U.S. Green Building Council in the fall of 2015.
LEED is a green building certification program that recognizes best-in-class building strategies and practices, according to the council. LEED-certified buildings save money and resources and have a positive impact on the health of occupants, while promoting renewable, clean energy.
Among Shineman's green features are the state's largest geothermal-well installation, recycled fly ash in the estimated 13,000 cubic yards of concrete, state-of-the art foam insulation and curtain-wall construction that help seal the building, innovative windows and shades that optimize daylight and energy savings, a vertical wind turbine and rooftop solar panels that tie in to the building's electrical system, water bottle filling stations, chemical fume hoods with energy-efficiency controls and monitoring, a solvent recycler to reduce the amount of acetone used in experiments, small roof gardens and four storm-water retention basins, as well as systems for monitoring water, light, heat and air conditioning.
Spotlight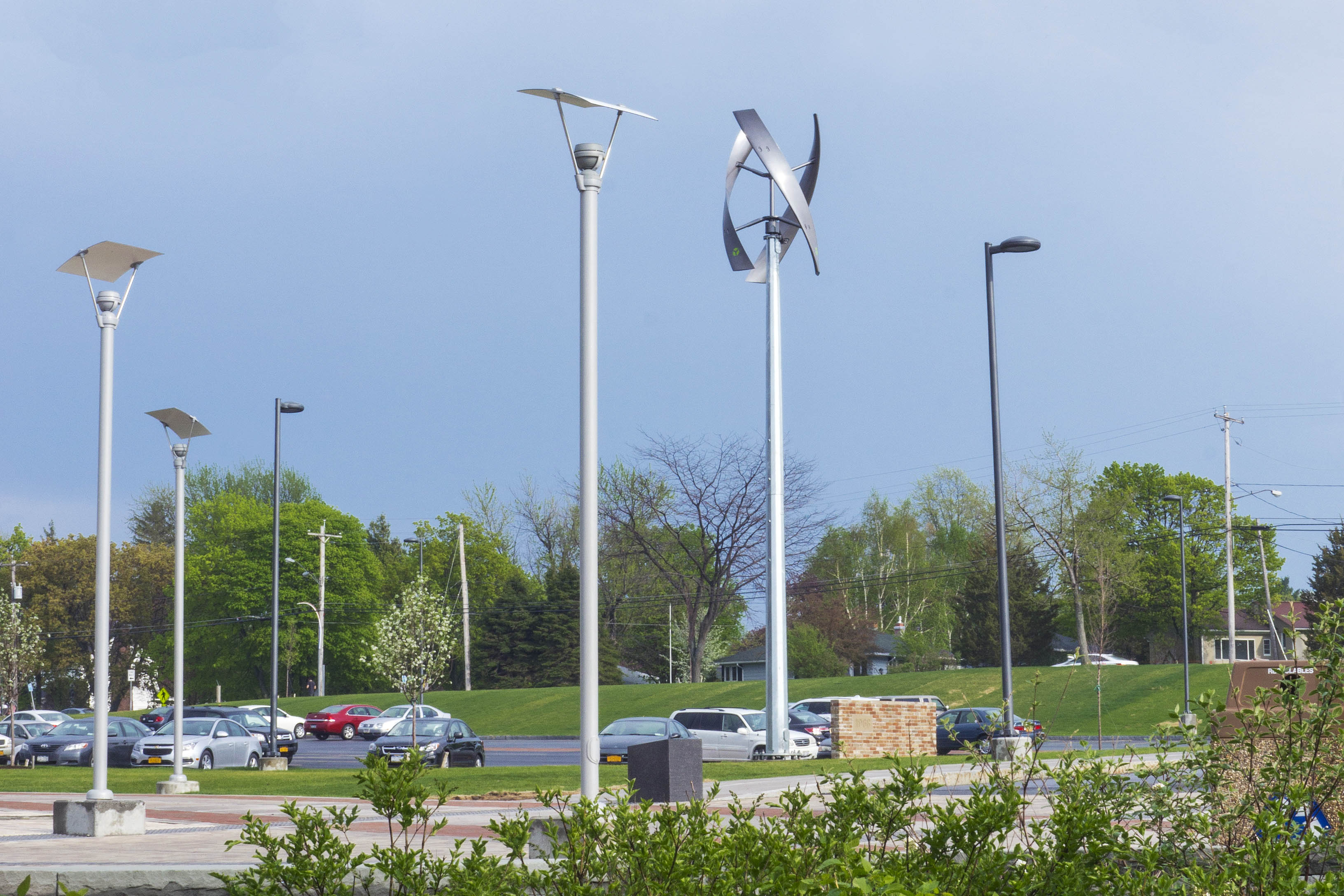 Moving toward carbon neutrality
SUNY Oswego's Richard S. Shineman Center for Science, Engineering and Innovation has set a landmark on the college's charted course to carbon neutrality by 2050. The Presidents' Climate Commitment, signed by SUNY Oswego President Deborah F. Stanley in 2007, pledges to reduce the college's carbon footprint 40 percent by then.
All new construction on campus since 2007 has been designed to at least LEED Silver standards. The Shineman Center is the second campus facility to achieve LEED Gold certification. The Village, a 68-unit townhouse complex for students residing on campus, won the gold rating in 2011. Both are part of the college's $800 million campus renewal, which—in addition to the primary goal of improving the learning and social environment for students—aims to meet rigorous standards of environmentally responsible construction.
"Our Shineman Center for Science, Engineering and Innovation stands out in so many ways," said President Deborah F. Stanley. "The largest project in our campus renewal program, it is a model of environmental sustainability, a model for building teaching opportunities right into the facilities where students learn, and a model of an interdisciplinary science community that is mindful of the welfare of future generations as it pursues discovery and innovation."