SUNY Oswego's abiding commitment to access and opportunity drives us to deliver America's promise to those who seek the personal and professional fulfillment that a college degree offers over the course of their lives. Further, along with the benefits derived to the individual, we believe that ensuring inclusion of those from widely diverse backgrounds and experiences invigorates our learning environment and serves to produce a better-informed, more creative and productive citizenry for all.
---
SUNY Oswego delivered effectively and accountably in 2015-16. We continued on our compelling path, building on our significant successes while also vigilantly keeping an eye on creating an innovative and responsive future.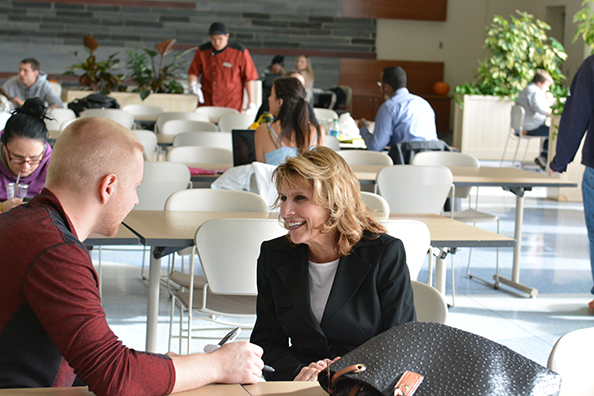 We sought to understand the pulse of our society and the state of our economy and, in turn, reach even further by forecasting industry demand and developing interdisciplinary offerings that will propel both today's and tomorrow's students and position them to thrive long into the future. Operating on the belief that communities we touch experience increased prosperity, social equity, sustainability, self-sufficiency and greater educational attainment, SUNY Oswego elevated and supported productive external partnerships; integrated arts, athletics and recreation offerings in the community; and broadened college programming that serves the social needs of our campus and neighboring communities.
We are proud of our hallmark of strength, quality and value, and the role SUNY Oswego plays to ensure collective prosperity, equity, resilience and success for all – that is The Oswego Way. I invite you to join us along this path as you review this report.
Deborah F. Stanley
President