The College Stores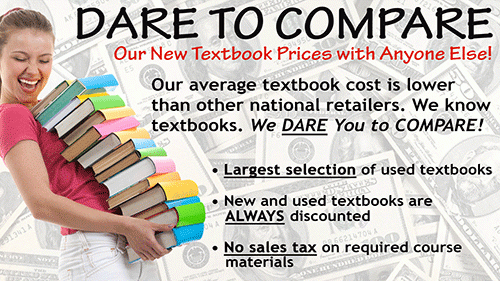 Dare to Compare Textbooks:

Dare to Compare! Many people assume because we are the on-campus bookstore, we will be higher priced than our competitors. That's why we ask you to Dare to Compare! We believe if you compare our prices with other booksellers, you will choose us. We have great prices, convenient location, and there is

NEVER sales tax on required course materials

!

LARGEST SELECTION OF USED TEXTBOOKS

- We strive to buy back as many textbooks from our students to fulfill textbook quotas for the upcoming semester. We also have the resources to get books from all over the country to ensure our shelves are stocked full of used textbooks. We know textbooks. We DARE you to COMPARE -->

Order today

  |  

FAQ about Textbooks
On-Campus Store Hours - Summer Break: During summer break our on-campus locations (Artville, Bookland, and Campus Center). Artville and Bookland are open 8am-4pm Monday-Friday.
Oswego State Laptop Purchase Program: The 2019 Laptop Purchase Program features the Dell Latitude 5400 and Dell Chromebook. As part of the Laptop Purchase Program, you will receive our peace of mind on-campus technical support - meaning we will diagnose and solve any issue that arises with your laptop. Most of our repairs are successfully completed in 24 hours! Upon placing your order for the Dell Latitude, only half the total payment is due ($650.00 plus tax) by cash or credit card. The remaining balance ($650.00 plus tax) appears on your student's tuition bill for the following semester. The Dell Chromebook 11 is a one-time payment of $469.00 plus tax. Yes, it's that simple! Learn more about the program and each laptop's specifications...
Convenient Summer Storage: Who loves packing and moving? Let us ease the burden of wondering how you will pack up all your belongings, how you will move them, and where will you store them over the summer. Our summer storage program offers 3 different packages as well as a la carte options to meet your needs no matter how much you wish to store away for the summer. Packing supplies included in all our packages, convenient curbside pickup, scheduled redelivery, and less hassle and stress! Learn more...
Flex Plan: Your student ID card is the one card you will need for your Flex Plan. Sometimes your financial aid is not in when you need to buy your textbooks; by setting up your Flex Plan it will be added right to your semester's tuition bill! With one swipe of your student ID card, the Flex Plan may be used to purchase anything from textbooks, art, computer, and school supplies to health and beauty products at our Hewitt locations. At the Campus Center, use your Flex Plan to pickup a sweatshirt for gameday or a Hallmark greeting card or emblematic item for family and friends. You can either put money into your Flex account from excess funds from your loans or by adding money to the tuition bill. Learn more or setup your Flex Plan today...
Artville Cafe: We accept Laker Dining Dollars for food purchases at our Artiville store cafe. In addition to Seattle's Best Coffee, we have assorted cookies, snacks, candy and Pepsi products as well as an assortment of gluten free products. We also have soup, salads, and assorted sandwiches! Soup is available from 10am-3pm Monday through Friday (while supplies last). Soup prices are a small for $3.99 and large for $4.59. Salads options may include caesar salad with chicken, cobb salad, and southwest salad. Sandwiches/wraps: turkey BLT on white wrap, chicken caesar white wrap, veggie hummus on flatbread, buffalo chicken on white wrap, turkey on rustic hoagie, chicken salad on ciabatta, tuna salad on brioche roll, and a Gyro on flatbread. Stop by for a quick but delicious bite to eat on your trek through campus. Check out our daily soup menu...
About our Locations
Artville
Tel: (315) 312-2261, E-mail: thestore@oswego.edu
Semester Store Hours: Monday-Friday 9am-5pm
Main Level of Hewitt 
Home of the College Store's computer department and located directly across from our textbook location (Bookland). We would be happy to special order any software you may need and is available to us. Receive technical support for your laptop through the Laptop Purchase Program. Artville has a full inventory of art supplies for students including Golden Artist Paints, fine art paper, mat board, poster board, canvas, pencils, sketch books, and more. Artville also has a cafe complete with Seattle's Best coffee, assorted cookies, soups, salads, sandwiches, and wraps from Monday-Friday 11am-3pm.
Bookland 
Tel: (315) 312-2260, E-mail: textbooks@oswego.edu
Semester Store Hours: Monday-Friday 9am-5pm
Main Level of Hewitt Union

Our textbook location is loaded with the largest selection of used textbooks and all new textbooks are discounted 10%. We also have school and art supplies.
Campus Center
Tel: (315) 312-5900, E-mail: thestore@oswego.edu
Semester Store Hours: Monday-Friday 9am-5pm, Saturday 1pm-4pm (open to 9pm during men's hockey games)
Check out our store in the Campus Center which features the best selection, best quality, and best prices on Oswego clothing and emblematic items. We also carry Hallmark greeting cards and seasonal gifts.
Copy Center
Tel: (315) 312-2261, E-mail: copycent@oswego.edu
Semester Store Hours: Monday-Friday 9am-5pm 
A full service printing/copying for SUNY Oswego students located in our Artville location. Services include incoming & outgoing fax service, black & white copies, and color copies.
Oswego State Downtown
Tel: (315) 216-4985, E-mail: thestore@oswego.edu 
Store Hours: Thursday: 12pm-8pm; Friday: 11am-5pm; Saturday: 11am-5pm; Sunday: 10am-4pm; and Monday-Wednesday: CLOSED

Joining the City of Oswego community with the Oswego State community! Along with other departments from campus you can get a flavor of the many great things happening on campus. Currently you can browse the best selling Oswego apparel and student art. Extended hours during the Oswego's Farmers Market on Thursdays during the summer. Additionally, Tyler Art Gallery hosts numerous art exhibits throughout the year. Check out the latest exhibit at www.oswego.edu/arts (Until further notice, event tickets for SUNY Oswego events are not available for sale at this time.)