Visiting Artist Series
Fall 2016: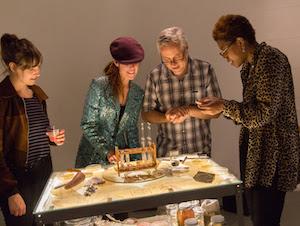 October 24-26 - Moira Williams
Moira Williams creates participatory works that bring people together and make explicit the complexity of their community and the environment. Her work builds upon open exchanges, where gestures, movement and objects offer diverse opportunities for connections, reciprocity and shifts in authorship. Concepts of eco-feminism and labor are prevalent in her work as is walking. She is a founding member of the walking cooperative Walk Exchange, has spoken at Elastic City Walks Festival, Dorsky Curatorial Gallery Programs, OpenEngagement Conference for Art and Social Practice, Al Mantanabbi Street Project, Falmouth University Penryn, Cornwall, UK, Alice Yard in Trinidad and has been interviewed by C Magazine in Canada. Her work has been seen in Jenifer Monson's iLAND, Thomas Hirschhorn's Gramsci House, Movement Research NY, Walk 21 Munich, Issue Project Room NY, No Longer Empty's This Side of Paradise NY, Bowery Arts + Science, DUMBO Arts Festival, M.I.T., FLEX IT! My Body. My Temple. Nashville, Tenn, FLOAT, The Luminary, St. Louis, MO., The Kitchen, MoMA PS1, Articulating Space Research Center, Cornwall UK, National University Bogota, Colombia, the Ghetto Biennial Haiti and Miami Basel Art Fair.
Moira is a Laundromat Project Fellow, recently awarded an Emergency Grant from the Contemporary Arts Foundation in NY and has been selected as On Our Radar Artist by Creative Capital.
She holds a BFA from the School of Visual Arts in NY, an MFA with a Graduate Certificate in Spatial Politics from Stony Brook University, NY.
Monday, November 14th - Dan Rose
Dan Rose is a web designer and will be of interest to students in Graphic Design, Communication Studies, Human Computer Interaction, Information Science, Computer Science, and Technology (all programs that teach some aspect of web design).
Dan Rose is a web designer in Upstate New York who has actively been invited to speak at large conferences nationally and internationally. He recently published a book titled, "Responsive Design with Adobe Photoshop" that has been well received. He is currently a designer at Adjacent, founder and organizer of Create Upstate (an important local design conference), and board member of the local chapter of AIGA.

Links to his work can be found at: http://danroseonline.com/.