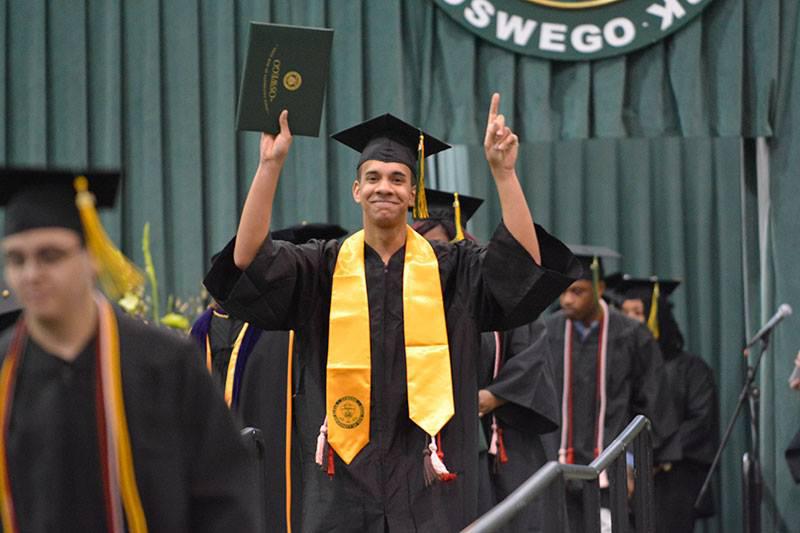 Hundreds of graduates and their families will gather for a cherished milestone at the three ceremonies during Commencement, Saturday, May 12, in the Marano Campus Center convocation hall and arena:
9 a.m. for the College of Liberal Arts and Sciences
1 p.m. for the School of Business 
4 p.m. for the School of Education and School of Communication, Media and the Arts
Commencement is a celebrated occasion for graduates, family, friends, faculty and others to mark the outstanding achievements of our students. Each student will receive six tickets with the purchase of their regalia. 
Seating for our guests is available on a first-come, first-served basis. Visitors with physical disabilities who will need special seating or other arrangements should call 315.312.3358 in advance.
An interactive campus map with parking information is available online.
The formal Commencement ceremony features a procession of faculty in academic robes, concise acknowledgement of students graduating with honors, and graduates crossing the stage in recognition of their achievement. A professional photographer will document students as they participate. More details for visitors can be found on the Guest Information page.
Those unable to attend can watch it as a live Webcast or either live or rebroadcast on local cable.  You also can share your excitement via the #ozgrad hashtag on Twitter.
Christene Barberich '91, global editor-in-chief and co-founder of the award-winning women's media company, Refinery29, will speak at the 9 a.m. ceremony. Speaking at the 1 p.m. ceremony will be Robert E. (Bob) Moritz '85, global chairman of PwC. And at the 4 p.m. ceremony, Jeff Hoefer '80, who heads Google's Digital Imaging Group for Brand Marketing and Hardware, will speak. Read more about our accomplished alumni speakers.
For more details and answers to commonly asked questions, visit the College Store's Commencement page.