Theatre Department
The Oswego State Theatre Department prepares students for a career in the theatre and its related fields through a combination of academic knowledge and production experiences. We produce four mainstage productions during the academic year staged in Waterman Theatre and in our flexible lab spaces.
UPCOMING AUDITIONS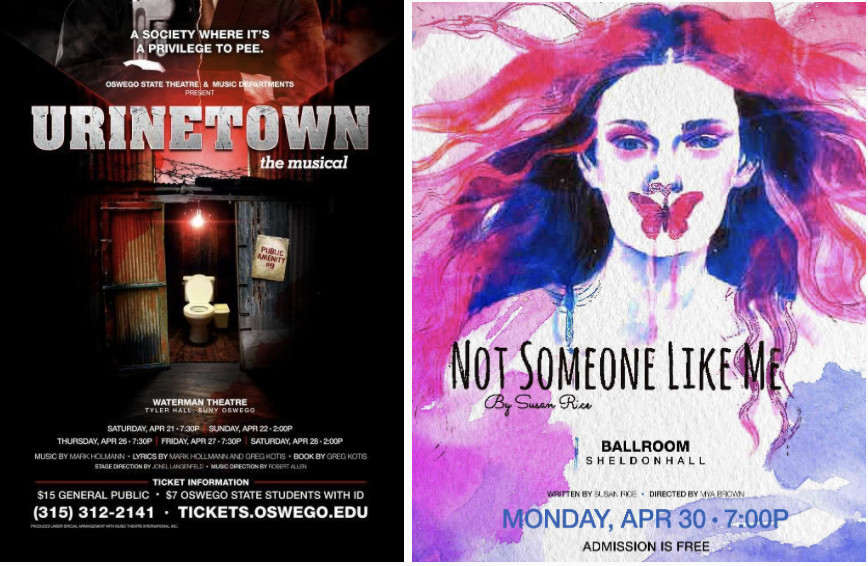 Urinetown, the Musical
Auditions February 1st, 2nd, and 3rd, Hewitt Lab
Not Someone Like Me
Auditions February 23rd, Lanigan 107
For more:
Audition Information
About our department
Academic and Performance Programs
We recognize the at the immediacy of theatre, its collaborative nature and ability to share stories on an elemental level to a community are what ultimately draw students together to make theatre. Theatre is, as Robert Edmond Jones wrote, "to be aware of the Now." The department is dedicated to training students in this awareness through study of the theory, craft and history of theatre while holding itself to high artistic standards of production in the context of a Liberal Arts program. 
Hands-on programming
Programming features the classics, contemporary drama, and musicals as well as numerous smaller scale activities such as student theatre, New Voices, workshop productions, collaborations with the Music Department, readings of original plays and workshops with visiting artists. Our student honors production is unique to Oswego- a completely student designed and directed production that is a part of our mainstage season. 
The Department supports productions presented by ARTSwego, which serves as a catalyst for high quality arts programs that enhance the cultural environment of the college and augment academic offerings. The Department also participates regularly in the Kennedy Center American College Theatre Festival. Internships and study-abroad opportunities are available and encouraged.
Program vitality through alumni
Our Department has a high rate of success in graduates who have started and maintained careers in the business and/or entered graduate school, and maintains a large, active and helpful alumni network that ranges from regional theatre to Broadway and includes TV and film.
Theatre students have a support system witin their major and a specialty advisor within Career Services.  Jenny Roxas is the Career Development Specialist whose focus and expertise is in the fine and performing arts, media and entertainment. 
Contact
Jennifer Knapp
Interim Department Chair