Drama Festival
 High School Drama Fesival • Tuesday, May 3 2016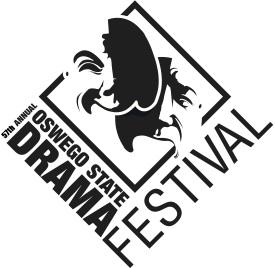 Registration is FULL!
We welcome our 2016 respondent: Lenny Planes
SCHEDULE
8:45                  Welcome
8:55-9:15         Red Creek: "A Midsummer Night's Dream"
9:25 - 9:45       Auburn: "Just a Tutor" and "The Burrito Shop"
9:55 - 10:15     G Ray Bodley: The Complete Works of William Shakespeare
10:25-10:45     JC Birdlebough: "Too Much Light Makes the Baby Go Blind"
10:55 - 11:15   Oswego: "Macbeth"
11:20 – 12:10   Lunch in Campus Center Arena
12:15 - 12:35   Camden: "The Little Mermaid"
12:45-1:05      Mynderse Academy: "Footloose"
1:05-1:10        Announcements
1:10 – 1:20      Break and time to find workshop locations 
1:20 – 2:10      Workshop Session 1
2:15-3:05        Workshop Session 2
3:10-4:00        Workshop Session 3
4:10 - 5:10      Dinner in Campus Center Arena
5:15 -5:30       Claim seats for Space Pirates of Planet Penzance in Hewitt Ballroom
5:30 - 7:45       pace Pirates of Planet Penzance  
Our temporary space in 2016 (Marano Center) does not allow for sophisticated lighting, set changes or black outs.  We will, however, provide for a individual changing stations behind the stage.  Our technical staff will work closely with regarding what elements you might bring to best showcase your talent.  MARANO CENTER FLOOR PLAN includes staging/seating /tech (pdf).
Workshops and respondent sessions will be posted at the end of the week.
Looking forward to another exciting celebration of theatre with your students!