Blackfriars News and Events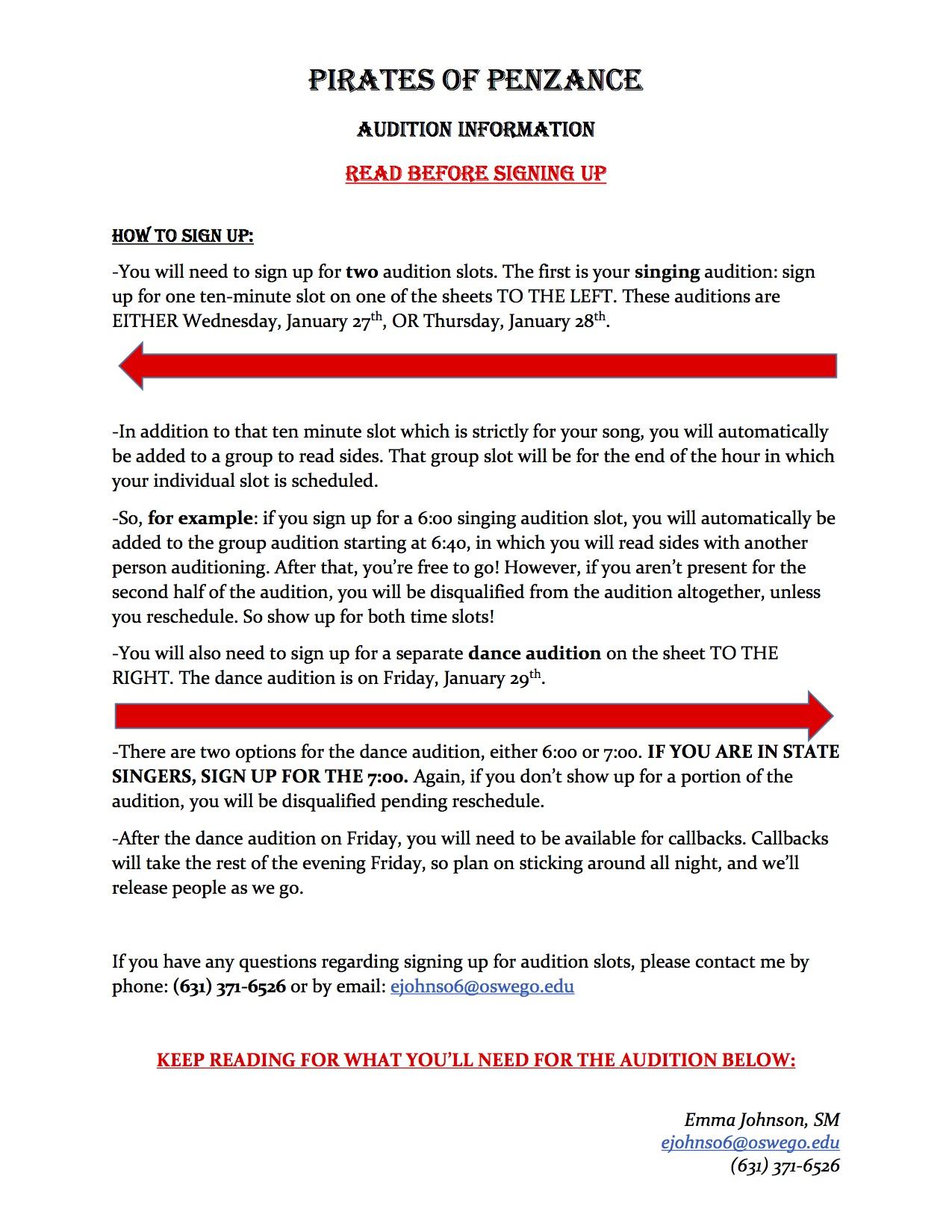 PIRATES OF PENZANCE
Audition INFORMATION
Read before signing up
-Prepare 16-32 bars of a comedic song in the style of the show. This does not necessarily need to be Gilbert & Sullivan, but it should fit the general atmosphere. Old Broadway is a good resource-stay away from very contemporary music.
-That's it! Sides will be provided for you at the second half of the audition, and the dance number will taught to you by Don, the director, and Kelsey, the choreographer.
WHAT TO WEAR:
-Think of an audition as an interview. You should dress professionally, but comfortably. For the dance audition on Friday, wear dance clothes-whatever is most comfortable to you and allows you to move.
WHAT TO BRING:
-If you have a resume and/or headshot, please feel free to bring them! If you don't, don't worry; we will have paperwork at the audition for you to tell us about your experience, skills, etc. We'll also take a picture of you!
MISCELLANEOUS INFORMATION:
-If you are cast, you will need to register for THT 300, which is the theatre practicum class. For more information about 300, you can contact Judy McCabe at judith.mccabe@oswego.edu
-Rehearsals are scheduled to begin February 22nd, which is during tech week of The Mousetrap. If you are involved in Mousetrap, we can work around your schedule, but we need to know about it beforehand!
-Performances are scheduled for April 21st (preview), April 22nd, 23rd, 29th, and May 1st.
That's it! Please arrive to your audition 15 minutes early, to fill out paperwork and be ready to called in to the room.