AUDITIONS SPRING 2018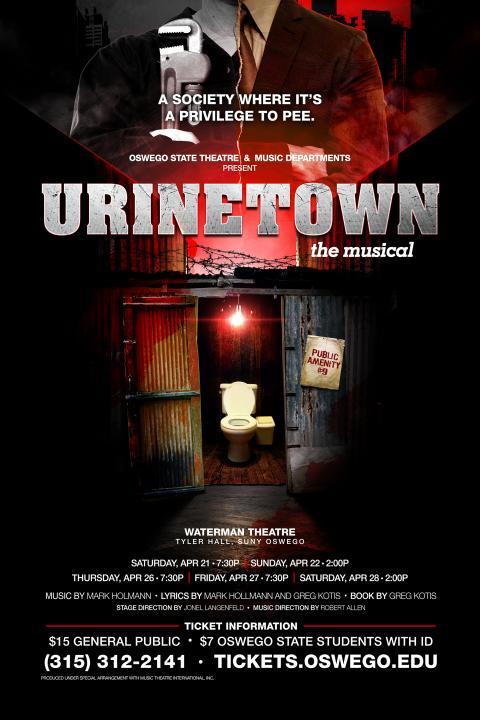 URINETOWN: THE MUSICAL
Director: Professor Jonel Langenfeld; Musical Director: Professor Robert Allen
Auditions - Acting and Singing: Thursday February 1st 6-10pm
Please wear professional attire.
One minute monologue (preferably comedic) must be memorized.
There will be an audition packet with songs from the show posted on the call board in Tyler by the Lab Theater.  You may take the music for the character you are interested in auditioning for.
You may audition using a song of your choice but you must bring a clean and neat copy of your 32 bars of music for the accompanist.
Song must be memorized and you may NOT sing acapella.
Auditions - Dance: Friday February 2nd 6-10pm
Please wear movement clothing and appropriate footwear.
NO JEANS.
You must sign up for both Acting/Singing and Dance auditions
The sign up sheet will be available the first day of class, January 22nd.
Callbacks: Saturday February 3rd starting at 12pm
Please wear movement clothes.
Sides will be provided for you.
These will be group call backs and you will not sign up for at time you must arrive at 12pm.
Just because you did not receive a call back does not mean you are not being considered for the show.
*ALL AUDITIONS AND CALLBACKS ARE IN THE TYLER LAB RM.46*
*ALL INFORMATION WILL BE POSTED ON THE TYLER CALL BOARD*
For more information, contact the stage manager, Cadi Hannold at (716) 338-6923.

NOT SOMEONE LIKE ME
Director: Professor Mya Brown
Auditions will be held in Lanigan 107 on Feb. 23 from 6-8pm, by appointment only.
To book an appointment, please visit this page. 
Actors will be asked to present readings from the script. Please pick up sides in the Theatre Department office.
This is an all-female cast. If you have any questions please contact Mya Brown, mya.brown@oswego.edu.