The Sustainability office is committed to creating, maintaining, and fostering relationships across the campus community to further our institutional commitment to sustainability and equity among our students, faculty and staff.
Laker Print
Starting in Spring 2019, thanks to a partnership between the office of Sustainability and CTS, printing will become much more sustainable. Last year, almost 2 MILLION pages of paper were printed on campus. Without printing banner pages, or sheet with your name and information that starts your print job,  this new system is projected to save over 120,000 sheets of paper. This new system will also benefit students in many other ways in the process of printing. For more information please visit the following link.

Greek Week
The Office of Sustainability partners with Greek Life on campus in order to promote a more sustainable lifestyle. During Greek Life's recruitment week, all students on campus are welcome to attend the Greek Life barbeque, partnered with our office, allowing it to become a zero waste event. The office of sustainability brings custom reuseable Greek Week bottles, promoting students to remove single use plastics from their lives. Our bottles are stickered with Tap-In stickers, allowing attendees of the event to join our mission with Cupanion to download the Fill it Forward app which donates clean water to communities in need. To learn more about Cupanion and the Fill it Forward app check out our Tap-In program!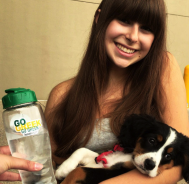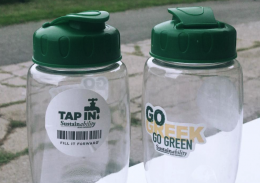 TerraCycle
TerraCycle is a private U.S. recycling business headquartered in Trenton, New Jersey. It runs a volunteer-based curbside collection program to collect non-recyclable pre-consumer and post-consumer waste, and then partners with corporate donors to turn it into raw material to be used in new products. Thanks to our sustainabillibuddy and faculty member, Kate Spector, we are using Terracycle on campus to collect used dry erase markers, and turn them into something new! Find our terracycle bin outside of the Campus Center College store!