Lending a Helping Hand
Students Helping Oz Peers —or SHOP for short—opened its pantry in October 2016 as the first student-run food and clothing pantry within the SUNY system. It provides students, faculty, and staff with FREE non-perishable food, toiletries, sexual and reproductive health products, and professional and winter apparel. SHOP is a collaborative effort between on and off campus partners who recognize the need to address food insecurity on our campus.
SHOP is located in the basement of Penfield Library to the right of the elevator.
How To Get To Shop
Once you go through the front doors of Penfield Library, you will want to head to the back of the building where there is a sign that says elevator. Once in the elevator select the button for the basement floor. After exiting the elevator, you go right and there should be a sign that says SHOP!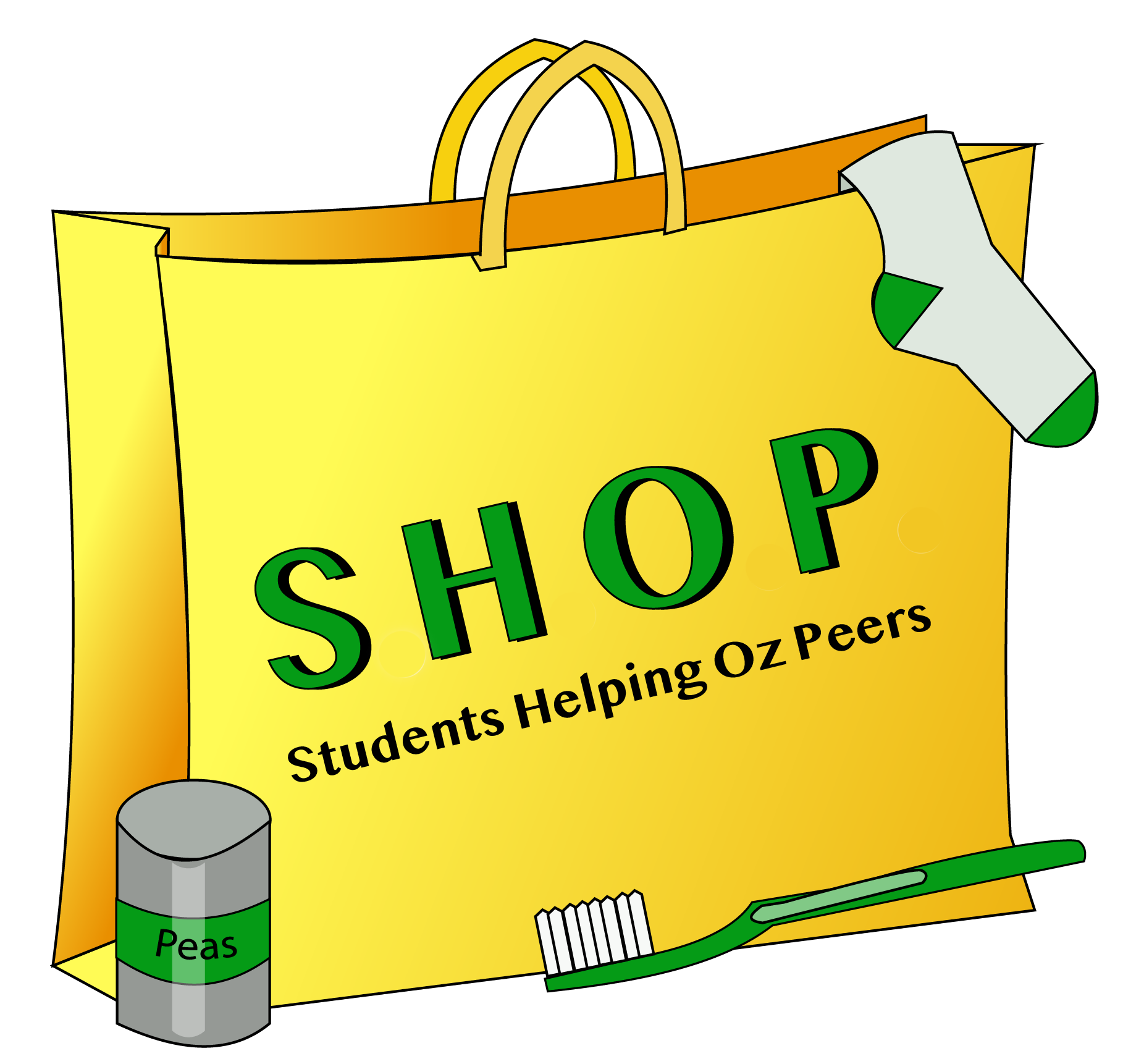 How it Works
This is a walk-in and confidential. No appointments required.
If this is your first time using SHOP please fill out our new users form.
SHOP Pick-up Form-You can also place orders online and they will be filled within 48 hours and placed at the Online Orders table in the front of SHOP.
You can pick up these orders during SHOP's open hours. If you need to pick them up outside of those hours, contact the shop@oswego.edu email.
Hours
SHOP is closed for the remainder of the Spring 2022 semester. If you need access to SHOP, please email deanofstudents@oswego.edu. Thank you for a great semester! See you in Fall 2022.
Give Time and Take Action
Volunteering offers vital help to the campus community. Through volunteering you can make new connections, achieve personal goals, practice using your skills, and discover hidden talents. Community service hours are IST/GST approved. 
Interested volunteers can fill out the SHOP volunteer form and it will be directed to our Volunteer Coordinator, Camryn. You will get a response with further instruction from them within 48 hours.
Some roles for volunteers include:
Provide services to students
Donation drives
Take care of donation items
Contact the SHOP at shop@oswego.edu to setup a training time.
Make a Donation
Donations can be set up with Helena Buttons, through shop@oswego.edu. Donations can also be brought to SHOP during it's open hours. Donated items can't be left outside of SHOP or dropped off at the library desk.
What SHOP Has To Offer
SHOP has various items to offer the campus community from generous donations. Below you'll find a list of items we typically accept as well as the items that are in need.
We Accept:
Non-perishable foods
Toiletries
Winter clothing (coats, hats/gloves, scarves and lightly used boots) and business attire
School supplies
Laundry detergent
Paper towels
We Do Not Accept:
Bed sheets, bed toppers, pillows
Mattresses
Carpets, bath mats, towels
Underwear/undergarments
Socks, Worn Shoes
Cribs, car seats
Weapons
Perishable/expired foods and alcohol
Below is a list of items that we currently need.
Food: 
Peanut Butter
Cereal 
Granola bars
Sauce 
Pasta/Ramen noodles
Toiletries: 
Paper towels
Toilet paper
Razors
Mouthwash
Monetary Donations
Auxiliary Services in 506 Culkin for cash donations.

Alumni page- Click the "Other" Box and select "The SUNY Oswego Food Pantry/Students Helping Oz Peers(SHOP)."
190
Unique users for Fall 2021
30
Online users for Fall 2021
Please donate items or funds, or be a student volunteer!  
 Studies show that approximately half of two-year and four-year students are food insecure. SHOP and your actions can help meet the need.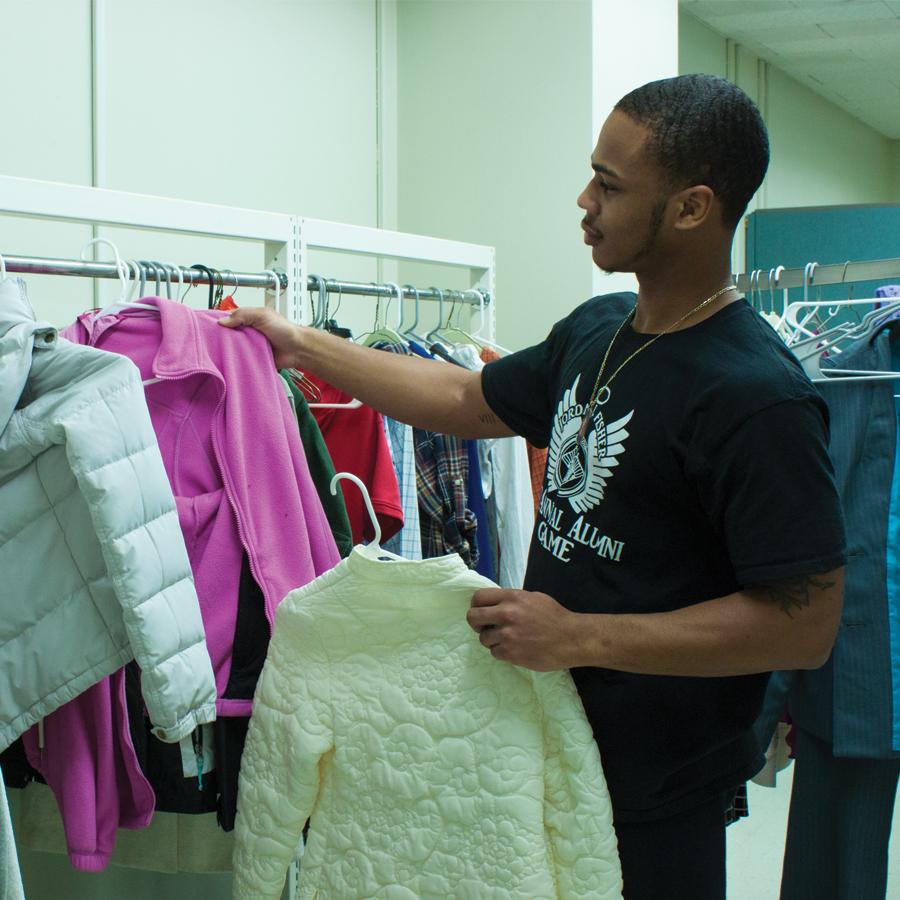 Clothing Drives:
Instead of discarding surplus clothing, you can now give them a second life. The clothing drive allows business and Winter clothing items to be reworn and givien new purpose for the good of our cause and planet.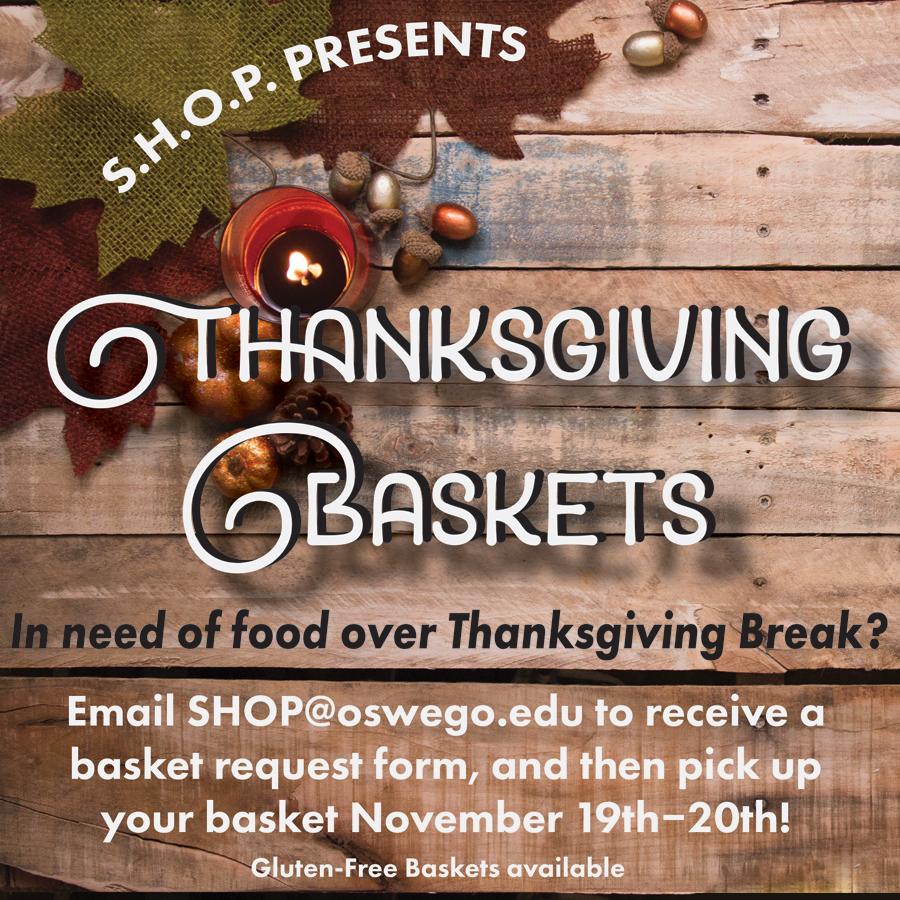 Holiday Baskets:
For Thanksgiving break, The SHOP offers customized baskets for those who need a little extra hand during the holidays.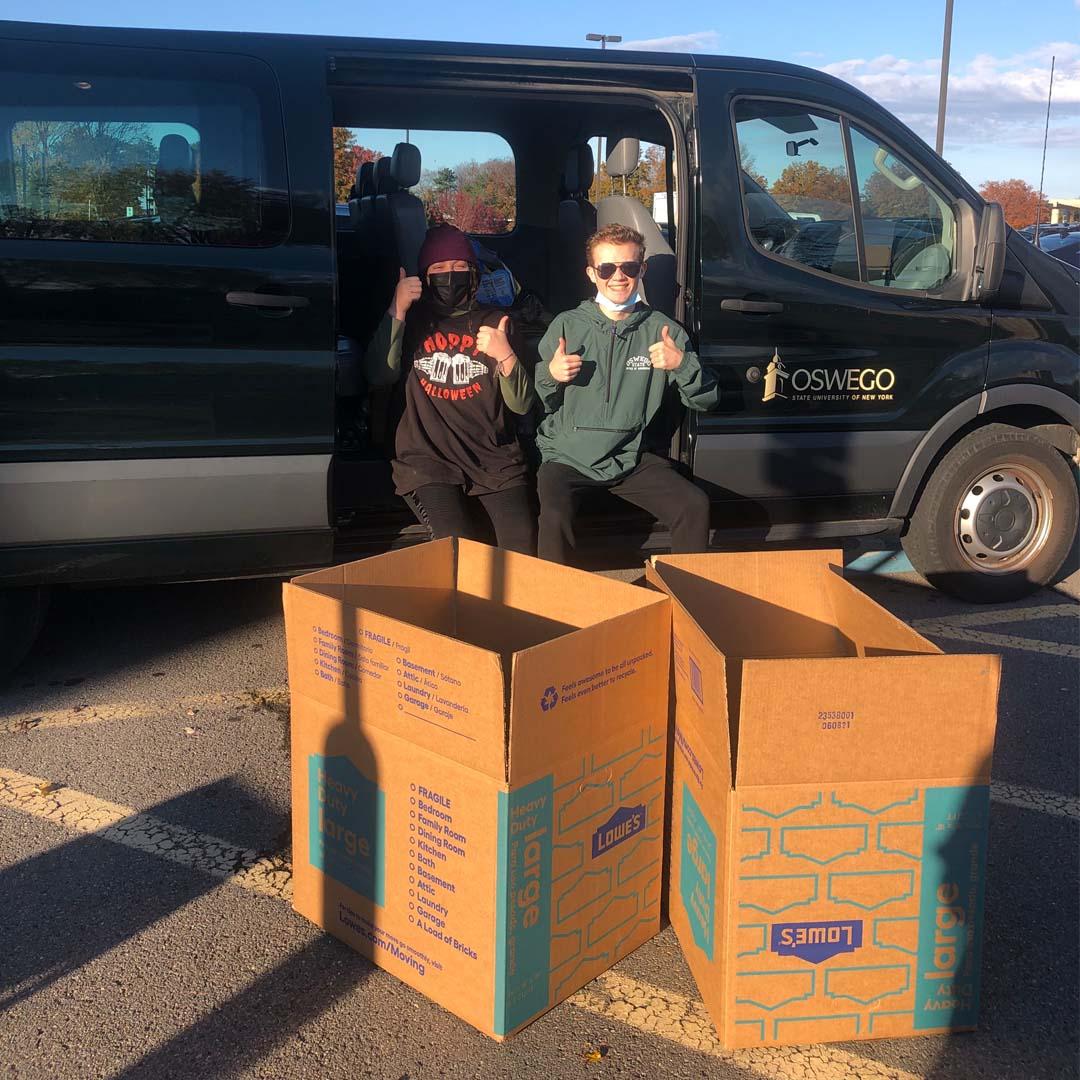 Cram The Van!:
A campus-wide and week long competitive food drive between buildings to cram an Oswego Van. It was won by Johnson Hall in November of 2021.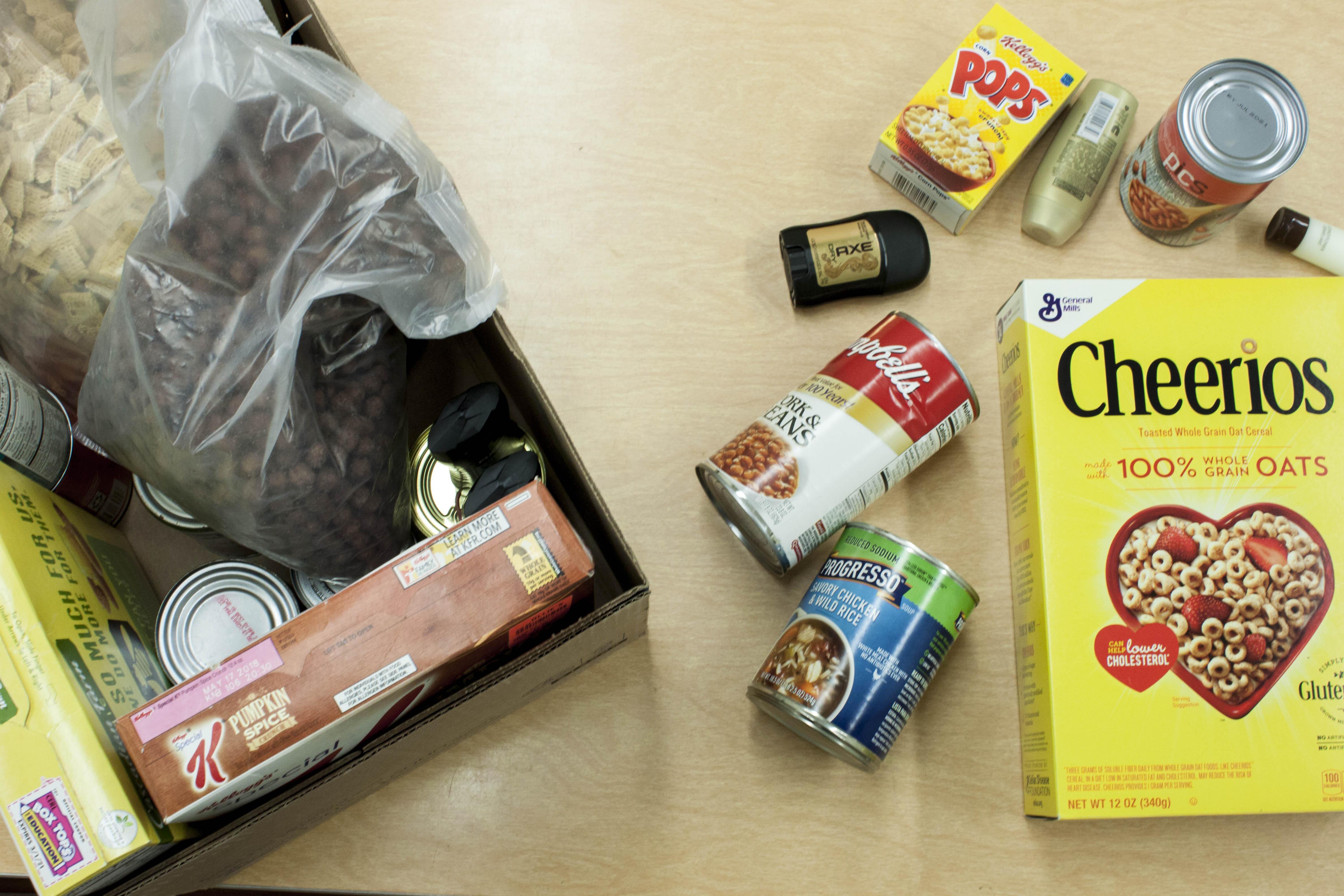 Taste of Home
What is your favorite, or most used, quick and easy dinner or lunch meal you'd love to share with oswego students? SHOP is starting a new program titled "Taste of Home", where we share a easy recipe every week introducing easy meals our users can make in their residence halls or kitchens with various SHOP products.
Thank You SHOP Donors and Volunteers!
Since 2016, Students Helping Oz Peers (SHOP) has been helping SUNY Oswego students, faculty, and staff to fight food insecurity on our campus. In the past 5 years we have supplied over 1200 people with non-perishable food, toiletries, sexual and reproductive health products, winter and professional attire and more completely free of charge! In the Fall of 2021 semester we opened back up again in person and online after having been online exclusively in 2020. This year we are tracked to DOUBLE our usage record and that's thanks to the many donors and volunteers that have given to SHOP. On the behalf of the Advisory Board, Staff, and users of SHOP, we want to thank each and every person who donated goods, money, or time. Thank you!
SHOP & Swap Event
Have old clothes you might not need anymore? SHOP volunteers held a new event called "SHOP & Swap" to encourage people to swap their old clothing for something more essential for their professional needs. Organizers say this is for anyone looking to boost their professionalism when funds are limited. It will also help break the stigma when utilizing second hand shops when you're in need of clothing for such important events. Organizers say they hope this will create a more safe space for those in need.
*Clip provided by WTOP
Donor Spotlight
We want to thank Auxiliary Services for their generous donations. We are able to function solely because of donations like the ones pictured here that help us serve as many people as possible. Thank you!
"True joy is never fully experienced, until one has practiced the art of giving."
"Shop has given me the chance to keep give back, continue to open my eyes, and allow me to see the good in people."
"Volunteering at SHOP has allowed me to interact with people from all walks of life."
"SHOP has given me a new outlook on the community, and realizing the importance of unity within the people here in Oswego."
"I like to pay it forward to the community where with a simple act of kindness, we can change the person's world. There's no better place to do it than being part of SHOP."