I Am Oz — Diversity Speaker Series
"I Am Oz" Diversity Speaker Series began in 2014 as a way to create awareness of the many perspectives, experiences and issues that impact our communities. 
Upcoming Events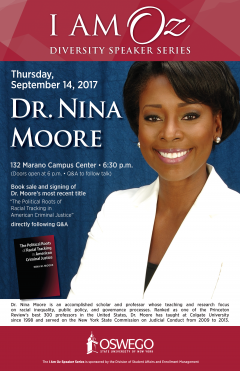 Dr. Nina Moore
September 14th, 2017
6:30 PM
Marano Campus Center 132
Dr. Nina Moore is an accomplished scholar and professor whose teaching and research focus on racial inequality, public policy, and governance processes. Ranked as one of the Princeton Review's best 300 professors in the United States, Dr. Moore has taught at Colgate University since 1998 and served on the New York State Commission on Judicial Conduct from 2009 to 2013.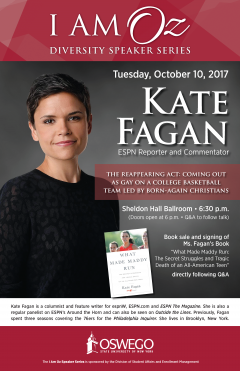 Kate Fagan
The reappearing act: coming out as gay on a college basketball team led by born-again christians
October 10th, 2017
6:30 PM
Sheldon Hall Ballroom
Kate Fagan is a columnist and feature writer for espnW, ESPN.com and ESPN The Magazine. She is also a regular panelist on ESPN's Around the Horn and can also be seen on Outside the Lines. Previously, Fagan spent three seasons covering the 76ers for the Philadelphia Inquirer. She lives in Brooklyn, New York.
For more information about these events, please contact the Dean of Students Office at deanofstudents@oswego.edu or 315-312-5483