Alcohol and Other Drug Education
Alcohol and drugs are a part of the social landscape at SUNY Oswego. For some people it's a welcome part of college life. For others, it's overwhelming and scary to see the things that students can get involved in. Our program supports students through education, counseling, and implementing prevention programs on campus.
Dean Of Students AOD Programs
Members of the campus community can use the available campus and community resources. We have courses focusing on alcohol and drug education along with extracurricular programs. These resources help to increase awareness of AOD use, choices, and consequences.
BASICS
BASICS is a two-session one on one assessment created for college students. Developed at the University of Washington, BASICS has been found to reduce negative consequences resulting from drinking, as well as alcohol consumption rates.
Many students will need to complete BASICS as part of a student conduct sanction.  The cost of the program is $80. If you would like to schedule a BASICS assessment, and not as part of a student conduct sanction, there is no charge.
eCheckup To Go!
Are you interested in learning more about your alcohol, cannabis or nicotine use? Both are online, anonymous surveys about your substance use. You will get personalized feedback about your alcohol and marijuana use. This program aims to motivate individuals to reduce their consumption.
Everfi Education
SUNY Oswego has partnered with EverFi. EverFi supports campus communities in fostering safe and healthy campuses. The courses strive to reinforce healthy decisions and promote positive attitudes and behaviors.
AlcoholEdu
This online program uses evidence-based prevention methods to inspire students to make healthier decisions related to alcohol and drug use.
AlcoholEdu for Sanctions
This online, science-based course will teach you about the effects of alcohol on the body and mind. This course will help you make safer and healthier decisions so you can avoid trouble in the future.
Drug Abuse Prevention
Students will gain the knowledge needed to make healthy decisions with prescription medication. Topics covered include the science of addiction, how to intervene with misuse, and how to dispose of prescription drugs.
Residence Life Staff Requests
To request beer goggles or educational materials, please fill out the google form provided. Please remember to specify the type of materials you need, and the amount for each item requested.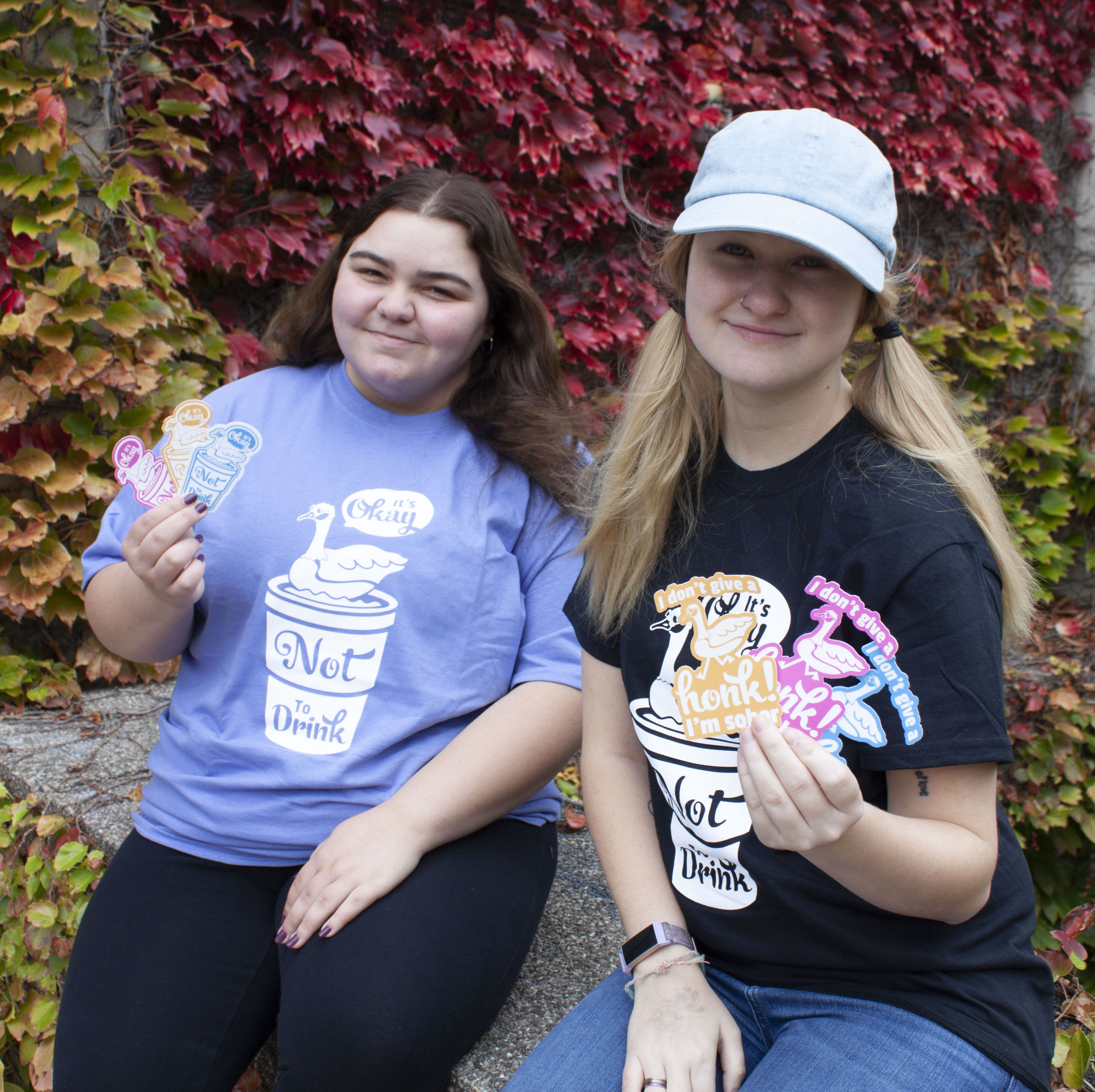 It's Okay Not To Drink Week (National Collegiate Alcohol Awareness Week)
This event brings attention to issues posed by excessive drinking among college students. The Peer Health Educators present activities and educational materials to teach the campus about alcohol use. Activities in the past included outreach, giveaways, paint nights, and more!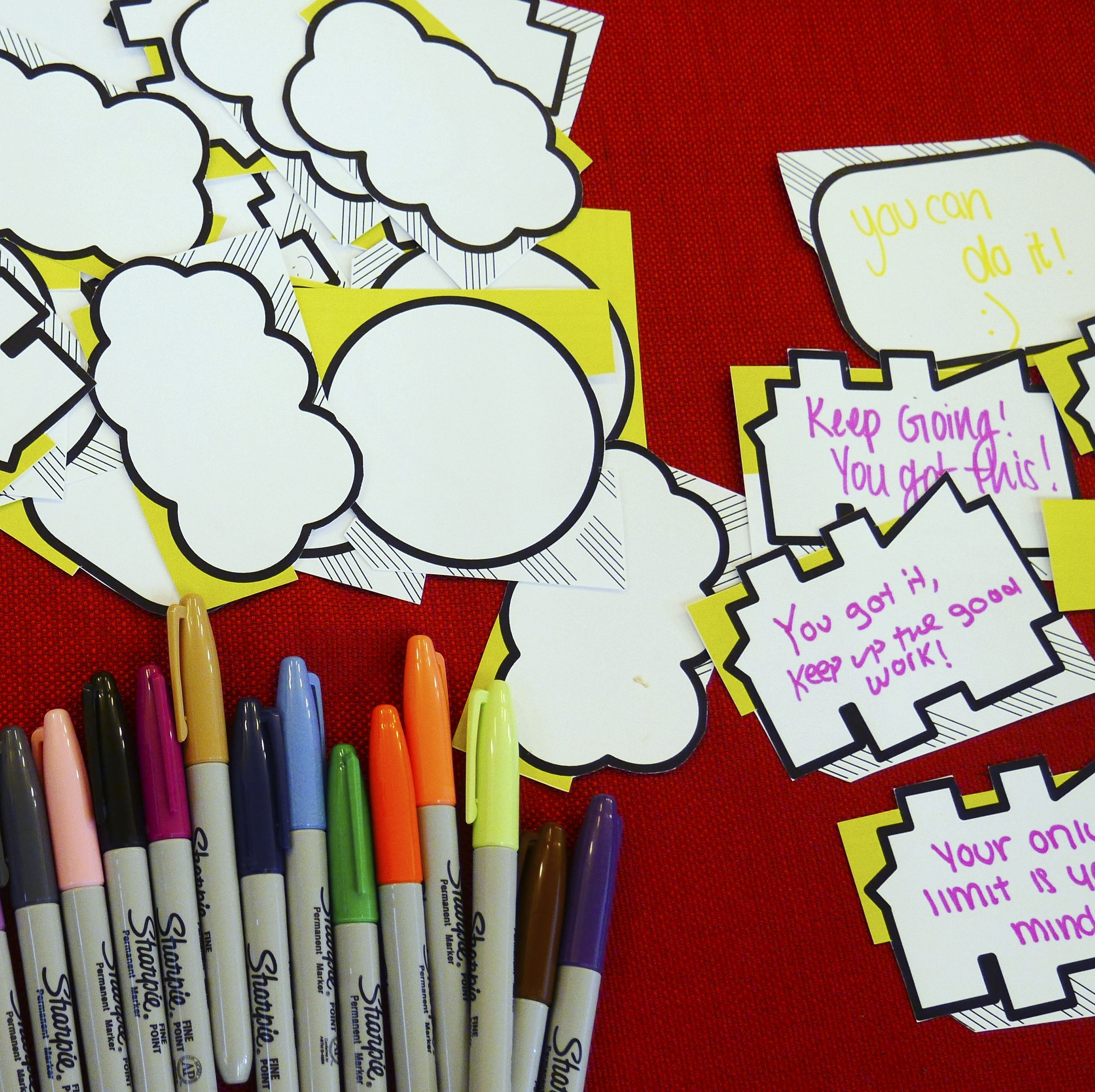 Kick Butts Day/The Great American Smokeout
Kick Butts Day (taken place since 1996), is a tobacco-free holiday where people can get together across the U.S. and stand up against tobacco. This event raises awareness about the problems associated with tobacco use.
The Great American SmokeOut, created by the American Cancer Society, is an annual event held in the third week in November. This event encourages smokers to quit smoking or to quit on the day of the event through local resources.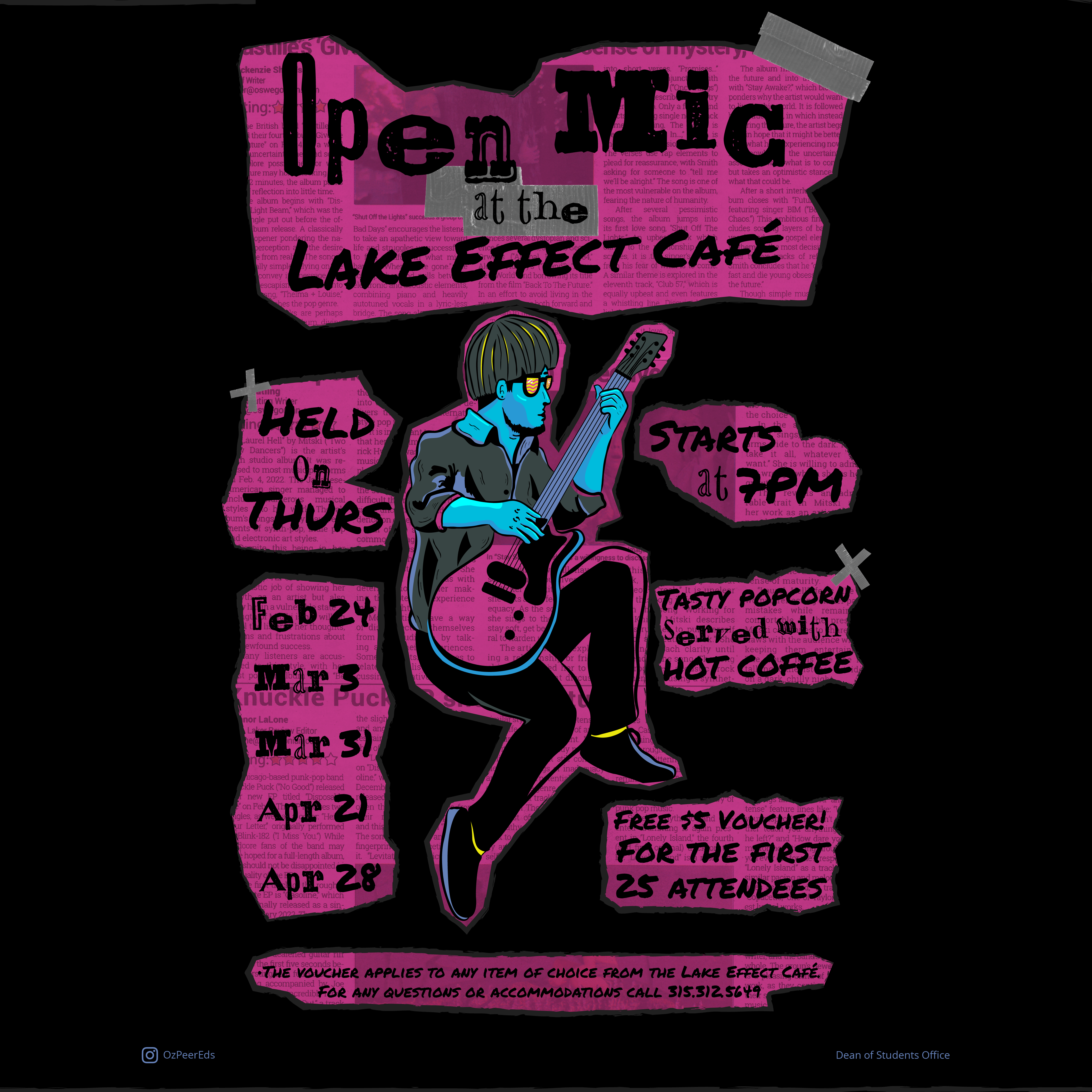 Open Mic Night
Open Mic returns at the Lake Effect Café located in Penfield. Performances ranges from music, comedy, poetry, and more! Popcorn and hot coffee will be served. We will also be offering a FREE $5 voucher for the first 25 attendees at Open Mic, this voucher applies to any item of choice from the Lake Effect Café! Open Mic will be held on the following Thursdays starting at 7pm:

Feb. 24
Mar. 3
Mar. 31
Apr.21
Apr.28

For any questions or accommodations call 315.312.5649. Follow @OzPeerEds on Instagram for updates and information on Open Mic and other programs/events.
Additional General and Legal Information
Statement In Support For a Drug Free Campus
The State University of New York at Oswego recognizes that the abuse of alcohol and/or illegal possession or use of other drugs adversely affects the pursuit of its educational objectives. The College is committed to providing a safe and comfortable educational environment for all members of the College community. The abuse of alcohol and other drugs adversely affects the user as well as others who live and work in the same environment. It is a fact demonstrated through both national and local data that the use of alcohol and other drugs inhibits performance and adversely affects health, safety, and the campus environment.
It is the responsibility of the College to uphold the Federal Drug-Free Schools and Communities Act Amendments of 1989 and the Federal Drug-Free Workplace Act of 1988. Therefore, all members of our campus community are hereby notified that the abuse of alcohol, the unlawful sale, possession, or distribution of alcohol, and/or the unlawful sale, possession, distribution or manufacture of LSD and other hallucinogens, marijuana, hashish, cocaine, peyote, heroin, amphetamines, barbiturates, and other controlled substances, except under legal medical prescription, is prohibited on and off College premises, at College sponsored events, or at events sponsored by student organizations or student groups.
Students and employees who are found to have violated this policy will be subject to disciplinary sanctions up to and including expulsion from the College and/ or termination of employment. Student groups or organizations found to have violated this policy will be subject to sanctions up to and including loss of privileges for using the grounds and facilities of the College to advertise, recruit, and conduct activities. In efforts to establish and maintain a drug-free workplace and campus community, the College will provide ongoing alcohol and other drug awareness educational programs and disseminate information about alcohol and other drug use. All students and employees will receive a statement of this policy annually.
Any SUNY Oswego employee who is convicted of a criminal drug or alcohol statute violation must notify his/her supervisor of the conviction within five days after the conviction. As required by the Federal Drug-Free Workplace Act of 1988, the College must inform contracting or granting agencies of such convictions within ten days after receiving notification from the employee or otherwise receiving notice of a conviction. Any employee found to be in violation of this policy will be subject to corrective action. Questions about this Drug-Free Workplace policy should be referred to the Director of Human Resources, 201 Culkin Hall, (315) 312-2230.
An overdose occurs when a toxic amount of a drug/medicine is taken. Many substances can cause harm when too much is taken, including alcohol, prescription/OTC medications, illegal drugs, and some herbal remedies. Risk of overdose is increased when more than one drug is taken at the same time, or the person is not used to taking a certain drug.
An overdose is a medical emergency that requires immediate medical attention. ALWAYS call 911 if a drug overdose/alcohol poisoning is suspected
What should I do if a friend had too much to drink?
Call 911. Alcohol poisoning can lead to death. Know the signs of alcohol poisoning using C.U.P.S:
C

old and clammy skin

U

nresponsive

P

uking

S

low breathing
Don't leave them to "sleep it off"
Call 911 or SAVAC
Try to wake the person
Don't leave them alone
Roll them on their side to avoid choking from vomit
What should I do if I think my friend has overdosed?
A wide range of signs and symptoms can occur when a person overdoses, and everyone responds differently. Signs and symptoms depends on a variety of factors such as which drug was taken, the amount taken, and the person's state of health at the time. Do not put your own safety in danger. Some drugs can cause a person to lash out in unpredictable manners, it is not safe to try to reason with a person who has overdosed. Call a medical professional right away.
Call 911 or SAVAC right away
Don't give them anything to eat or drink
Don't leave them alone
Don't put them in a shower
Don't let them sleep
Don't make them throw up
Don't leave them to "sleep it off"
Get information
Under the Good Samaritan Policy the victim or the witness is not subject to formal disciplinary actions with the college. SUNY Oswego encourages a witness or a victim of an AOD related emergency to seek medical assistance right away.
Oswego Hospital
110 W. 6th St.
Oswego, NY 13126
Oswego Police Department
169 W. 2nd St.
Oswego, NY 13126
Kinney Drugs
174 W. Bridge St.
Oswego, NY 13126
Fulton Police Department
141 S 1st St.
Fulton, NY 13069
Important Numbers:
New York State HOPEline (24/7): 1-877-846-7369 or text: 467369. Toll-free, anonymous and confidential.
Drug Task Force: 1-888-511-8997
Emergencies: 911, Campus Police at 315.312.5555, or SAVAC at 315.312.4003
Community Resources:
*Has listings for 12 step programs in the area (i.e. Alcoholics Anonymous(AA), Adult Children of Alcoholics(ACOAs), Narcotics Anonymous(NA), Codependency Anonymous(CoDA)
Hours
Mon–Fri 8:30am–4:30pm
Summer Hours: Mon–Fri 8:30am–4pm