Walk-A-Thon
       Walk with a Purpose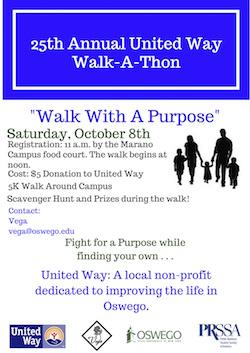 Every year SUNY Oswego students coordinate a United Way Walk-A-Thon which provides much-needed funds for the United Way and valuable experience for students.  This year, Vega Women's Honor Society, PRSSA, and Auxiliary Services are organizing the event.
Our 25th Annual United Way 5K Walk-a-Thon was held on Saturday, October 8, 2016
This year there will be prizes and a scavenger hunt along the walk. This is a great event for the family; get some exercise, enjoy the beautiful fall weather and give to a great cause.  Donation is only $5.  Cash (or checks made out to SEFA) will be accepted.
Registration begins outside of Marano Campus Center at 11:00am.  The walk begins at 12 noon.
Sponsored by SUNY Oswego Auxiliary Services, coordinated by Vega Women's Honor Society and Vega's Advisor Dr. Laura Brown, and the PRSSA.