Totally Teal / Teal Tuesday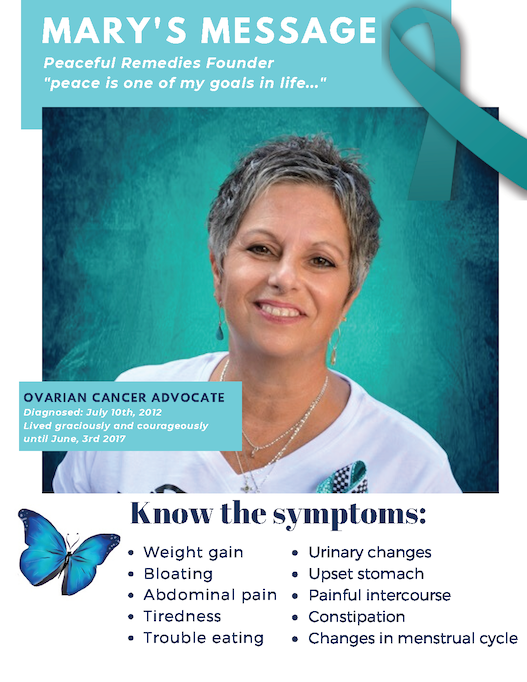 It is September and that means it is National Ovarian Cancer Awareness Month!  In honor of Mary Gosek, we will be partnering with the SUNY Oswego SEFA Campaign to continue the SUNY Oswego Totally Teal / Teal Tuesday campaign!
Due to COVID-19 there will not be a group walk or photo this year. However, everyone is encouraged to wear their teal apparel every Tuesday, take a walk on Tuesday September 22, and post a photo on social media with the hashtag #tealtuesdays.
In addition, every Tuesday during September SUNY Oswego will continue the campaign to bring awareness to ovarian cancer symptoms and the disease via Wear Teal on Tuesdays.  TEAL - stands for "Tell Every Amazing Lady" about the signs and symptoms of ovarian cancer. 
MASKS!! As a special fundraiser for Peaceful Remedies we are offering face masks with a teal ribbon logo (on a black or white mask) when you make a donation of $5 or more. The masks are 100% cotton, 3 ply, adjustable nose piece, washable, and reusable. Place your mask order today by making your donation using the google form (a CashNet link will be sent to you for collecting your donation).
Finally, we are looking for volunteers to help spread information about the disease and the Teal Tuesday program around campus and virtually. Please contact Tammy Reitz if you are interested in helping.
Help us spread the word - here is a link to a full-sized poster of Mary's Message. Share this information with your departments and spread the awareness for ovarian cancer! You never know whose live you may save!