Poinsettia sale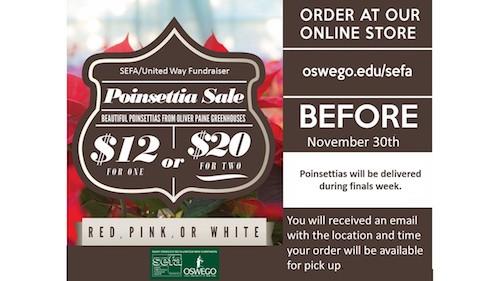 Beautiful poinsettias from Oliver Paine Greenhouses in Fulton are for sale for $12 each or 2 for $20. They are ~16 inches across and 16 inches high and are available in red, pink, or white. To order, visit our online order form before 5pm on November 30th. A portion of the purchase price will be donated to the United Way of Greater Oswego County.
https://goo.gl/forms/CChgmnpcSTe8cnRZ2
Poinsettias will be delivered to campus on Monday, December 10th in a decorative pot cover and in a holiday protective sleeve. You will receive an email with the location and time your order can be picked up.
If you are unable to pick up your purchase on this day, please make arrangements withkristin.gublo@oswego.edu and we can make accommodations. Cash or checks made out to SEFA are due to Kristin Gublo in G02 Shineman. Credit card payments can be processed in 507 Culkin Hall. All payments must be received by December 3rd.The timing of the delivery is perfect for decorating your home for the holidays. They also make great gifts during holiday visits.