Bake offs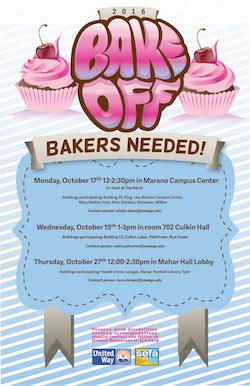 Calling all bakers! We need bakers for the 16th Annual SEFA/United Way Bake Offs. 
To enter, simply e-mail the contact person for the event in your building letting her know the name of the dessert you will be submitting.  Contact email for each event contacts are listed in the second table below. The event contact can let you know when and where to drop off your dessert prior to the event.
Thanks to our bakers and tasters last year, we were able to raise $700 toward our annual campaign drive.
Due to Department of Health rules and regulations, desserts need to be submitted in taste size portions wrapped in plastic. Desserts requiring refrigeration cannot be accepted. 
Please note: there is no final bake off so you will only have to bake once. Prizes will be awarded to the winner of each bake off. Mark your calendar for all three bakes offs and be sure to come out and sample your co-worker's creations!
Fall 2016 SEFA/United Way Bake Off Results
Event
Buildings Participating
Amount Raised
Marano Bake Off
Building 20, Marano, King, Lee, Rich, Sheldon,
Walker, 

Park, Rich, Shineman, & Wilber

$200
1st Place Winner:
Susan Drobar
2nd Place Winner:
Terri Pettie
3rd Place Winner:
Debbie Kite
Fall 2016 SEFA/United Way Bake Offs
Bake Off Event
Day/Date
Time
Location
Culkin Bake Off
Wed. 10/19
1pm-3pm
702 Culkin Hall
Mahar Bake Off
Thurs. 10/27
12pm-2:30pm
Mahar Hall Lobby

Special thanks to our building event chairs: Shelly Sloan, Cathy Johnston, & Laura Brown!
Thank you to all our bakers and tasters!!