Bake offs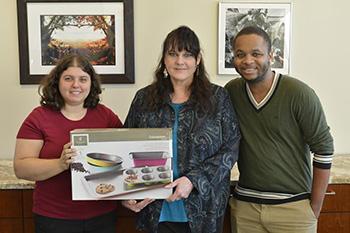 Winners of the 2016 SEFA Bake Offs
                                             Left to Right: Sharona Ginsburg, Myles Clendenin and Susan Drobar
Thanks to all our bakers and taste testers!  In all three bake off events, we raised a total of $648 toward the annual campaign!
Fall 2016 SEFA/United Way Bake Off Results
Event
Buildings Participating
Amount Raised
Marano Bake Off   

Bldg. 20, Marano, King, Lee, Rich, Sheldon,
Walker, Park, Rich, Shineman & Wilber

 $215

1st Place Winner:

Susan Drobar - Devils Food Halloween Cupcakes
Culkin Bake Off
Bldg. 12, Culkin, Laker, Pathfinder & Rice Creek
 $256.50
1st Place Winner:
Myles Clendenin - Apple Turnovers
Mahar Bake Off
Hewitt Union, Lanigan, Mahar, Penfield & Tyler
$176.50
1st Place Winner:
Sharona Ginsburg - Pumpkin Snickerdoodles
Special thanks to our building event chairs: Shelly Sloan, Cathy Johnston, & Laura Brown!