Exploring Nature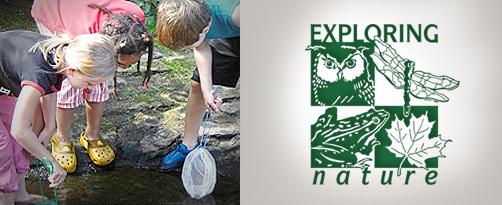 Since 1983, Exploring Nature has been an education program designed to encourage young people's curiosity and concern about their world. Participants explore and investigate life around Rice Creek while discovering nature first hand through nature walks, activities and games.
"Terrific! Wonderful activities."   
"Great class sizes ~ nice and small."  
"We'll be back again next year." 
"Excellent.  They looked forward to coming each day and had so much to tell at home."
Join us this year and see what all the excitement is about!       
Exploring Nature 2018
 Monday through Friday
9 am to 2 pm


July 9 to 13
and / or
July 16 to 20
Children ages 5 to 14
as of the start of the program
*          *          *          *          *          *          *          *          *          *          *         *
Registration for the summer of 2018 is open.
Use the links to the left for more information.
______________________________________________________________________________
Program administered by Dr. Diann C. Jackson