Directions
Rice Creek Field Station is located on Thompson Road, Oswego, New York about 5.3 km (3.3 mi.) west of the Oswego River between New York State Route 104 and Johnson Road (County Route 7).
The entrance to the field station grounds is on Thompson Road 1.7 km (1.25 mi.) south of its junction with New York State Route 104, immediately west of the main entrance to the SUNY Oswego campus.
The entrance road turnoff is at the intersection of Thompson Road the abandoned Brownell Road.
+43.430491, -76.542769   
315.312.6677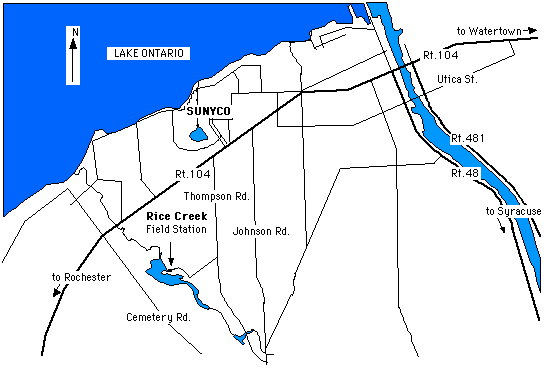 The Green Shuttle transports students between the SUNY Oswego main campus and Rice Creek. 
The Green Shuttle route operates from the Marano Campus Center to lot commuter lot EC-7, Laker Hall and Rice Creek and back to Laker Hall, lot EC-7, returning to the Marano Campus Center. This service runs continuously Monday - Friday between 7:30 am – 5:25 pm on days that SUNY Oswego classes are in session. The shuttle departs from the Marano Campus Center on the hour and the half hour, and from Rice Creek 13 and 43 minutes after the hour except for the last run, which departs at 5:25 pm.  When the gate is closed, the bus stop will be at the upper parking lot next to the gate. Full schedule.