Room assignments/selection
Please read carefully! SUNY Oswego students must adhere to this policy.
Incoming first year/freshmen and transfer students. New Student Housing Application available Nov. 1 for spring semester and March 1 for fall semester at myHousing.oswego.edu
Current Students Room Selection
Village Room Selection for 2021-22 starts February 1, 2021.
Residence Hall Room Selection for 2021-22 starts March 1, 2021.
All steps in the selection process begin at 10:00 a.m.

Funnelle Hall will be open and available to students as paid single rooms. 

Lonis, Moreland, and Oneida will not be available for selection.
College Housing Policy
The College believes that immersion in the educational environment is the preferred experience for new students. Therefore, all full-time undergraduate students who will need to establish an Oswego-area residence in order to attend the college are required to live on campus to the extent that facilities are available and utilized*.
Students generally exempted from this requirement are those who:
will continue to reside with their parent(s) or legal guardian(s);
will continue to reside in their official residence, which is separate from that of their parent(s) or legal guardian(s), and at which they had resided for at least three consecutive months prior to their acceptance of the admissions offer from the college;
are married; or

are twenty-one (21) years of age as of September 1 for fall admission or January 1 for spring admission.
Students in this category must submit a Request for Exemption form available on the department's web site and at 303 Culkin Hall.
*Due to current facility availability, students who fulfill specific criteria will be considered as having fulfilled the Housing Requirement and would no longer be required to live in college housing; these students are those who first enrolled at SUNY Oswego as:
first year/freshmen students and have lived in residence at SUNY Oswego for four (4) consecutive semesters (fall and spring) if admitted in the fall or three (3) semesters if admitted in the spring.
-or-
transfer students and have lived in residence at SUNY Oswego for two (2) consecutive semesters (Fall and Spring) if admitted in the Fall or one (1) semester if admitted in the Spring.
Effective fall 2020 recipients of Presidential and/or Destination scholarship(s) are required to live on-campus. Students
who move off-campus will forfeit their scholarship(s).
Contact
For questions, contact ResLife via email or call 315.312.2246 to inquire about living on campus. Thank You!
303 Culkin Hall
Oswego, NY 13126
P: (315) 312-2246
F: (315) 312-6329
E: reslife@oswego.edu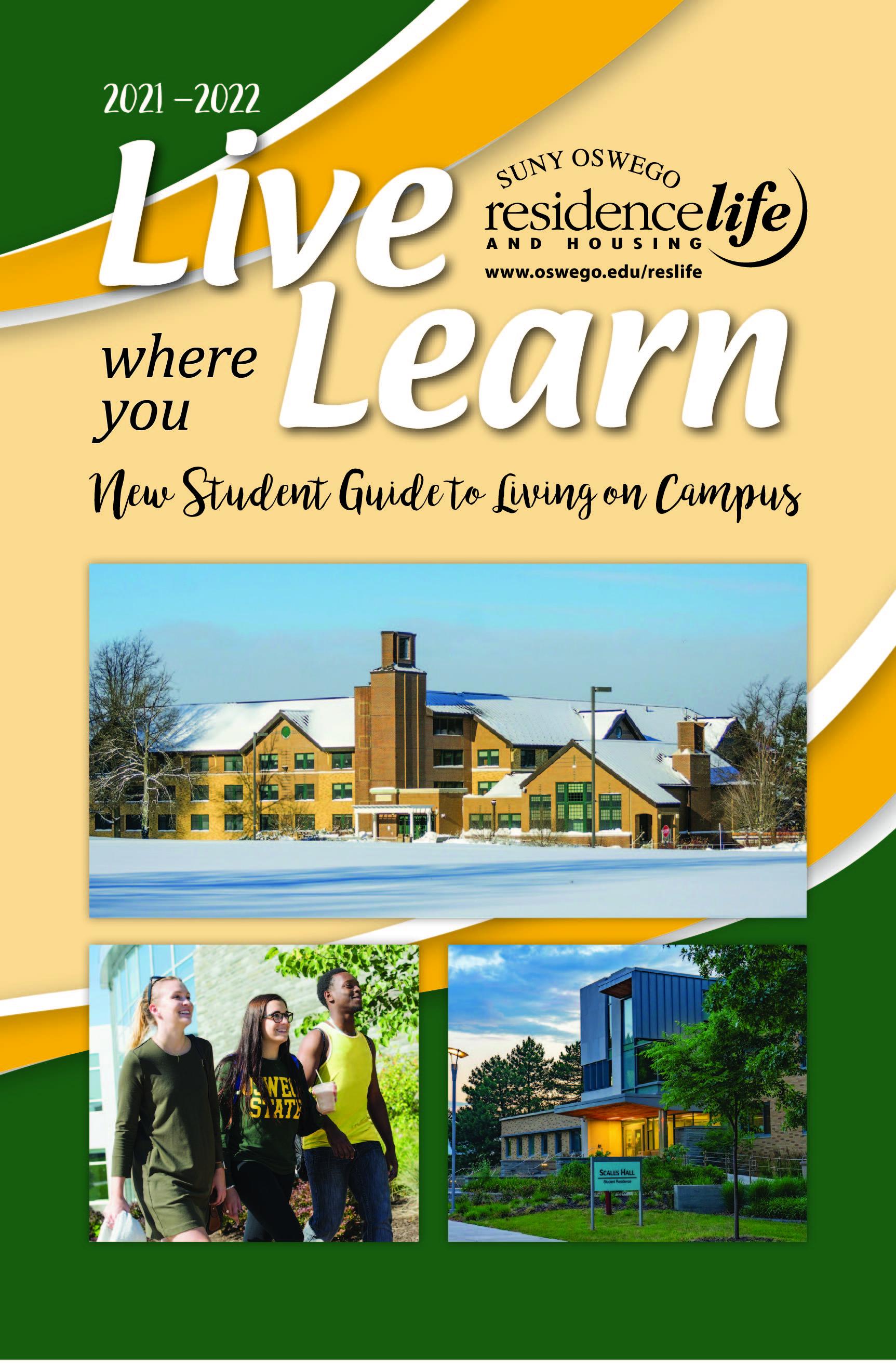 Live Where You Learn 2021-2022
Student Guide to Living On Campus
Parents or students needing assistance with this publication or web page may contact the Residence Life and Housing office.
RELATED LINKS:
QUICK LINKS:
Persons with disabilities needing assistance with the content of these ResLife pages should contact the Residence Life and Housing office at 315.312.2246 between the hours of 8:00 am and 4:00 pm. Thank You