Room assignments/selection
NEW STUDENTS
(incoming first year/freshmen and transfer students)
Reservation Process - Required Steps!
Pay the $100 Housing Deposit at myOswego.oswego.edu according to the instructions in the offer of acceptance from the College.
Activate your SUNY Oswego e-mail account/Laker NetID (your SUNY Oswego e-mail BEFORE the @ symbol).
Submit your New Student Housing Application at myHousing.oswego.edu; requests for specific residence halls and specific roommates (if applicable) are submitted as part of the application process. Login with your Laker NetID and password.
CRITICAL INFO ABOUT SUBMITTING YOUR NEW STUDENT HOUSING APPLICATION at myHousing
The New Student Housing Application will be available at myHousing.oswego.edu beginning Thursday, March 1, 2018 as follows:
Beginning at 9:00 am for incoming NEW students for fall 2018 who paid the Housing Deposit by February 28, 2018.
The first business day after payment of the Housing Deposit if payment is made March 1, 2018 or later.
Through May 31st, NEW students will be able to revisit and edit their application at myHousing. Beginning June 1st, NEW students who have submitted their application will not be able to re-enter the site or make changes to their application (including residence hall and roommate requests).
Incoming students who submit their completed New Student Housing Application by May 31st will receive priority for room assignments based on the date the College received the Housing Deposit.
Students who submit their New Student Housing Application June 1st or later will be assigned to available space later in the process.
Step by Step Instructions for Submitting the New Student Housing Application here...
NEW STUDENT ROOM ASSIGNMENTS are made by AUGUST 1 (for Fall) and by approximately mid-January (for Spring). An email is sent to students as they are assigned, but there are exceptions, so PLEASE email reslife@oswego.edu or call us at 315-312-2246 if you do not receive an assignment by the above posted dates. To find out more about living on campus, read our Live Where You Learn (PDF) guide.
Although new students are given no guarantee of assignment to a specific building or room, every attempt is made to honor students' first or second preferences.
Roommate requests
Residence Life and Housing will attempt to honor roommate requests when all students involved have mutually requested each other when submitting their New Student Housing Application. The College will assign (a) roommate(s) for students who do not request (a) specific roommate(s).
The College does not discriminate on the basis of race, religion, national origin or sexual orientation in these assignments. Once housing assignments are made, students can view their housing assignment info at myHousing.oswego.edu.
CURRENT/RETURNING STUDENTS
Rooms are still available for CURRENT/RETURNING STUDENTS at this time!
For questions, contact Mary Craw at mary.craw@oswego.edu or call 315.312.2246 to inquire about living on campus. Thank You!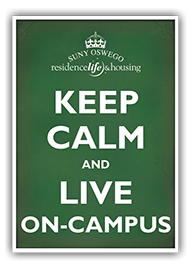 AND...Learn More Here:
Current/returning students can participate in the Room Selection Process starting in the spring semester of every year. This process allows students to reserve their residence for the upcoming fall semester. Students can learn details and step-by-step information about the Housing Selection Process via:
this web site
residence hall postings beginning in December.
The Parents Newsletter mailed home in January.
The Student Newsletter mailed to every student living on campus.
The Oswegonian campus newspaper.
the campus-wide digital signage network.
staff members within the residence halls.
This process is handled almost completely online beginning in the spring semester of every year. Please contact the ResLife office at reslife@oswego.edu for further information.
COLLEGE HOUSING POLICY
The College believes that immersion in the educational environment is the preferred experience for new students. Therefore, all full-time undergraduate students who will need to establish an Oswego-area residence in order to attend the college are required to live on campus to the extent that facilities are available and utilized*.
Students generally exempted from this requirement are those who:
will continue to reside with their parent(s) or legal guardian(s);
will continue to reside in their official residence, which is separate from that of their parent(s) or legal guardian(s), and at which they had resided for at least three consecutive months prior to their acceptance of the admissions offer from the college;
are married; or

are twenty-one (21) years of age as of September 1 for fall admission or January 1 for spring admission.
Students in this category must submit a Request for Exemption form available on the department's web site and at 303 Culkin Hall.
*Due to current facility availability, students who fulfill specific criteria will be considered as having fulfilled the Housing Requirement and would no longer be required to live in college housing; these students are those who first enrolled at SUNY Oswego as:
first year/freshmen students and have lived in residence at SUNY Oswego for four (4) consecutive semesters (fall and spring) if admitted in the fall or three (3) semesters if admitted in the spring.
-or-
transfer students and have lived in residence at SUNY Oswego for two (2) consecutive semesters (Fall and Spring) if admitted in the Fall or one (1) semester if admitted in the Spring.
revised 030518ams
303 Culkin Hall
Oswego, NY 13126
P: (315) 312-2246
F: (315) 312-6329
E: reslife@oswego.edu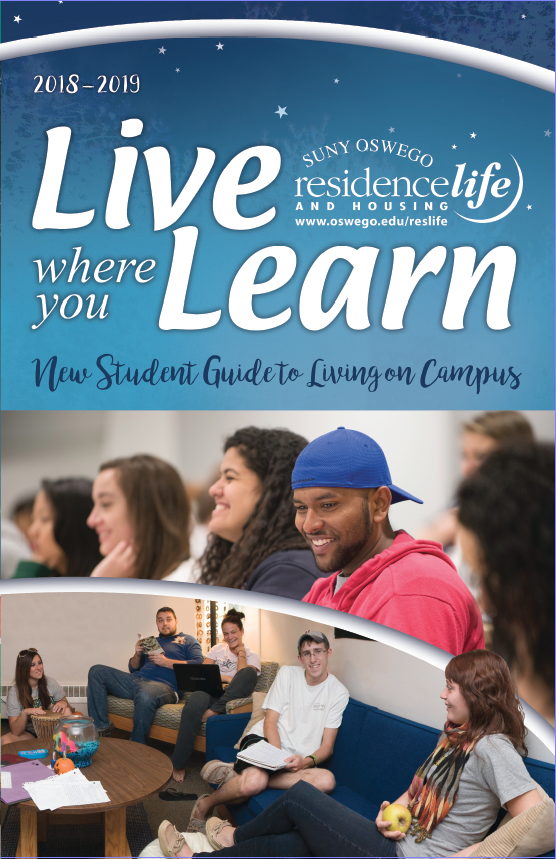 Live Where You Learn 2018-2019
Student Guide to Living On Campus (pdf 1.3m)
Parents or students needing assistance with this publication or web page may contact the Residence Life and Housing office.
RELATED LINKS:
QUICK LINKS:
Persons with disabilities needing assistance with the content of these ResLife pages should contact the Residence Life and Housing office at 315.312.2246 between the hours of 8:00 am and 4:00 pm. Thank You