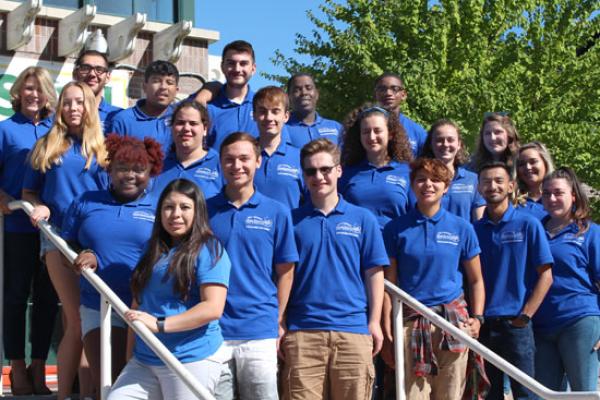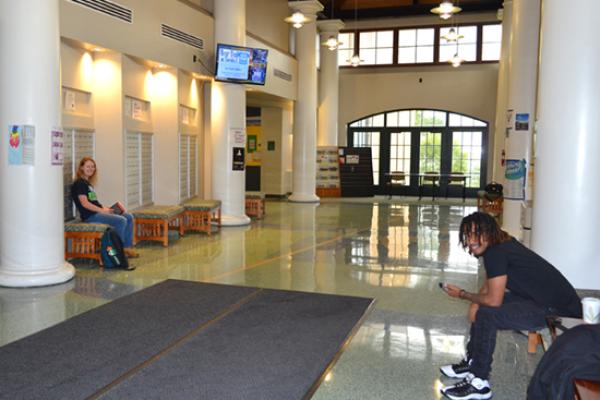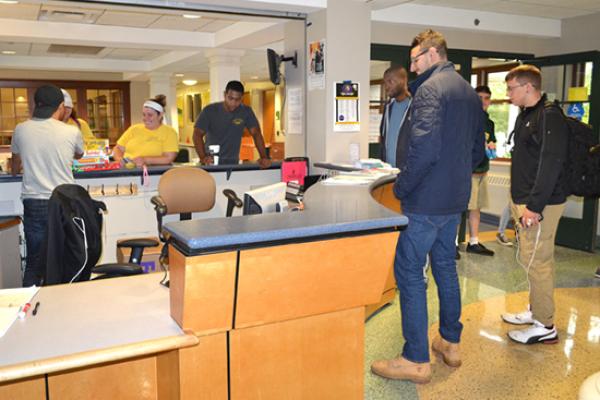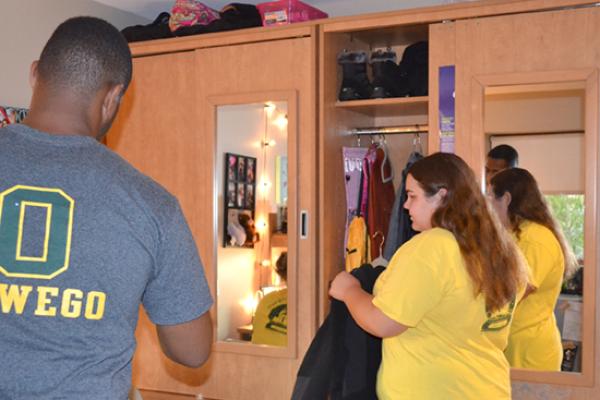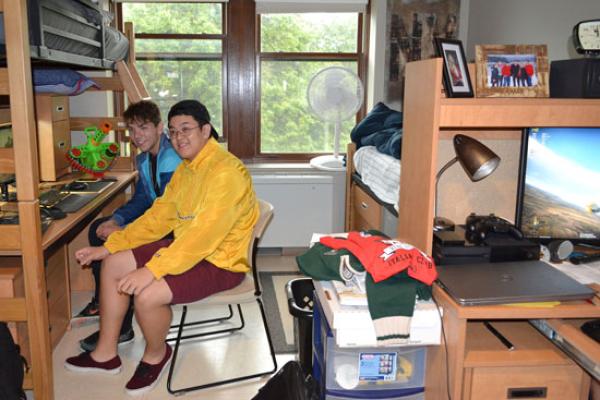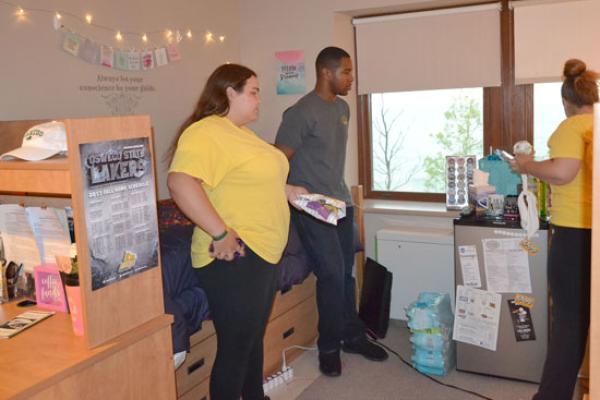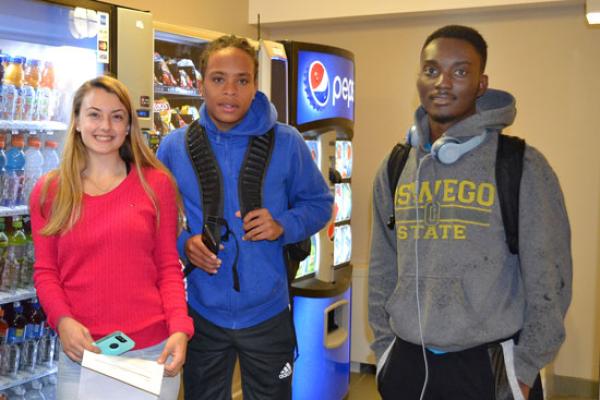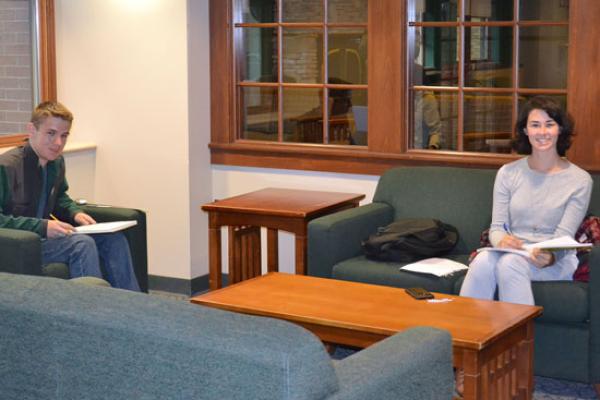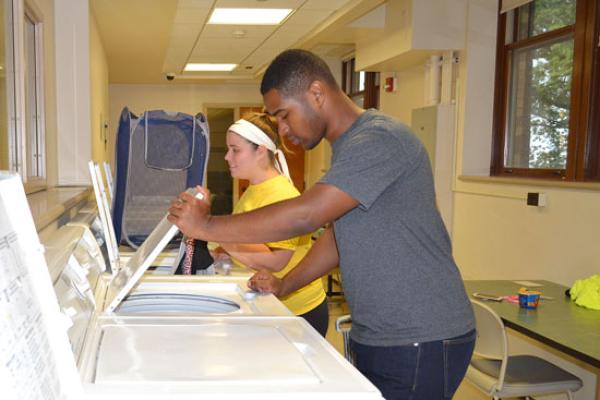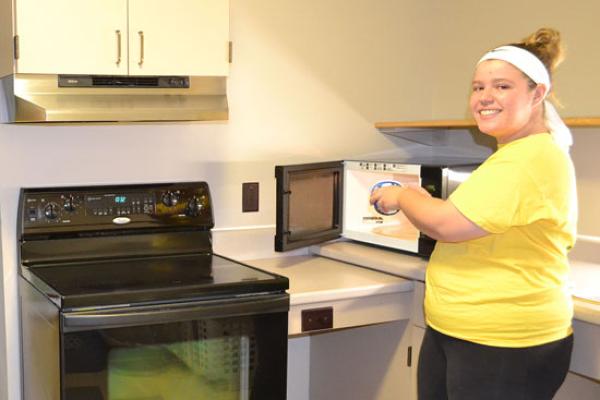 Johnson Hall is a first-year community oriented Residence Hall on the east side of campus. Johnson offers double room accommodations and is connected to Lakeside Dining Hall and it's neighboring residence hall, Riggs.
Key Info
Location

: Lakeside

Available for

: first-year students only

Room type

: double standard rooms

Occupancy: 250
Floors

: 4

Bathrooms

: shared single-gender

Hall staff: 1 Residence Hall Director, 1 Assistant Hall Director, 16 Resident Mentors, 1 FYRE Coordinator 
Furniture and Measurements
Bed
Desk with desk chair: 42-48" wide x 29" high x 27" deep

Hutch: 42-48" wide x 26" high x 12" deep
Desk Pedestal: 15" wide x 27" high x 24" deep

Armoire: 44-48" wide x 84-86" high x 24" deep
Dresser: 29.5" wide x 24" high x 24" deep
Floor lamp
Waste and recycling baskets
Mirror
Room Layout and Measurements
Standard room: 12.5' x 15' with 7' window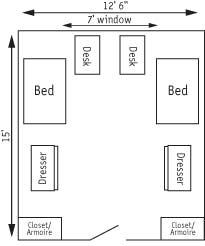 First Year Residential Experience
The Johnson First-Year Residential Experience program is designed to encourage a successful first year of college by succeeding academically and being involved in campus life and the greater community.
Students who choose to live in the First Year Residential Experience agree to participate in the learning activities sponsored by the hall staff, regularly attend hall council and enroll in the College Orientation and Success Course GST 100.
As part of the floor community, each resident participates in the development of a Community Living Agreement in order to have input in developing expectations for the floor. The first-year students of Johnson are also given the opportunity to be active in the creation of campus activities and policies by participating in area councils or serving in positions such as Desk Attendants, and Recycling Technicians.
More Info
Address
20 Rudolph Road Oswego, NY 13126
Phone
315-312-4110
Hall Features
Connected to Lakeside Dining Hall

Main lounge with great view of Lake Ontario, stone fireplace, TV, ping pong, pool table, and foosball

Deck overlooking Lake Ontario

Lounge and kitchenette with stove/range, sink and microwave on each floor

Basement kitchenette with oven/range, sink and microwave

Air conditioning

Laundry

Elevator and stairs
What's Nearby
Lakeside Dining Hall

Short distance Marano Campus Center, Shineman Center, Rich Hall academic buildings

Waterbury, Scales and Johnson residence halls

Parking lot