Beyond the classroom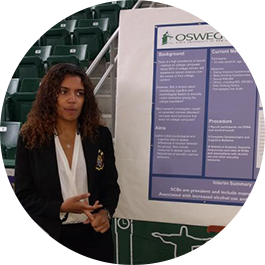 Hands on learning
Research and internships
Our department prides itself in offering students a hands on education and training in psychological science. Faculty members work closely with students in a variety of research contexts, which prepares them for graduate training in psychology and future employment. Oswego's variety of on-campus labs and facilities and strong internship network means you can pursue many field opportunities that build your skills and experience.
Conferences
During the past several years, students have presented independent research and collaborative research with faculty members regionally at the Annual Meeting of the Eastern Psychological Association. Students have also co-authored presentations at meetings held by the Association for Psychological Science, the American Psychological Association, and several other major psychological associations. You also have an opportunity to present research at our annual Quest day of scholarly and research activities
Honors society and clubs
Psi Chi Honor Society
This international psychology honor society encourages student learning and stimulates professional development through the science of psychology. Members of Psi Chi bring their qualifications and determination to the research and practice of psychology. To qualify for induction into Psi Chi, students:
are seeking a major or minor in psychology
have completed 3 semesters of college
completed at least 9 semester hours of psychology courses
have a minimum of 3.0 psychology GPA and a minimum 3.0 cumulative GPA

Application requests are sent out in the spring each year to eligible students (determined by GPA). The Psi Chi Faculty Advisor is Dr. Bovier.
Facebook
Laker Life
National website


Psychology Club
Our mission is to promote and educate in the field of psychology and related fields.We strive to maintain an active role in the community by participating in events and institutions including Stride to SAVE Lives, Adopt-A-Grandparent, the Oswego Animal Shelter, Relay for Life, Mentor Oswego and other events on campus. We meet every Tuesday at 7:30 p.m. in Mahar 467.

If you have any questions or would like to join, feel free to email us at osupsychclub@gmail.com.

Facebook
Association of Black Psychologists
SUNY Oswego's ABPsi is the Oswego student circle of the national organization The Association of Black Psychology. The purpose of this organization is to affect and influence social change through the usage of psychology, to create programs that can assist in informing individuals about problems of the black communities and other ethnic groups and to assist in solving these problems.
Contact Information
7060 NY-104
131 Marano Campus Center
Oswego, NY 13126
United States of America
Contact Email: sunyoswegoabpsi@gmail.com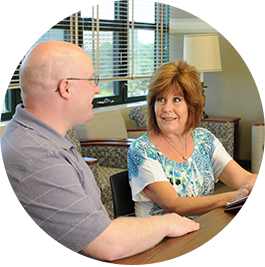 Academic
Honors program
Our psychology honors program provides a unique opportunity for students to design and carry out original research under the close supervision of a faculty member. It is designed for students who have a specific area of interest, who can think creatively, work well on their own and have a topic they would enjoy delving into.
We encourage you to apply when you have met the eligibility requirements and have demonstrated strong academic achievement in your courses.
Awards
The David J. King Psychology Department Honors Project Award
This award was established in 1989 by Dr. Paul Wilbur, Professor Emeritus of psychology, in memory of Dr. David J. King who was chair of the Department of Psychology from 1968 to 1976. To be eligible for the David J. King award a student must be a senior psychology major enrolled in PSY 490H (Practicum in Honors Research). All such students presenting at the Quest Symposium will be candidates for this award.
Helen B. Daly Undergraduate Award for Excellence in Psychological Research
This award is dedicated to Dr. Helen B. Daly (d.1995) in recognition of her contributions during 27 years at Oswego. During this time Dr. Daly obtained the rank of Distinguished Teaching Professor and was awarded both the Chancellor's Award for Excellence in Teaching and the Oswego Gold Medal for Excellence in Research and Sponsored Programs. In order to continue her dedication to the development of outstanding student researchers, this award is presented to a student or students who have demonstrated outstanding skills and accomplishments in psychology research. Nominations are made by the psychology faculty.
Outstanding Senior in Psychology Award
This award recognizes an outstanding senior in majoring in Psychology. The criteria for this award includes academic excellence (a minimum of 3.3 SUNY Oswego GPA overall and 3.5 in Psychology courses), high potential for success in the field of Psychology, and commitment to the field of Psychology (e.g. history of service, research accomplishments, and plans for graduate study). There is an application for this award.
Psychology Club Undergraduate-Scholars Grant Program Cindy Sprague Grants
The Psychology Club established the Undergraduate-Scholars Grant Program in 1989 as a means for support of quality, student-initiated scholarly activity in psychology. The Psychology Club administers the program, which is supported by and endowed through The Oswego College Foundation, Inc. account started by Roger and Margaret Sprague of Mexico, NY. The fund and grants are named in honor of their daughter, who died the summer before she would have attended SUNY Oswego. The grants typically range from $25 to $100 with a maximum of $200 for an individual grant. Applications are made to the Psychology Club Grant Review Committee and guidelines for the grant applications are available in the Psychology Department office in Mahar Hall. Deadlines: October 15 and March 15.
The Professor Herbert Van Schaack Endowed Scholarship
This award recognizes an outstanding student majoring in Psychology at SUNY Oswego.The scholarship was established in recognition of Dr. Van Schaack's accomplishments and contributions during his 39 years at SUNY Oswego. A 1951 graduate of SUNY Oswego, Dr. VanSchaack obtained the rank of Distinguished Service Professor and was awarded the Chancellor's Award for Excellence in teaching. Dr. Van Schaack also served as Chairman of the Faculty Assembly for 10 years. Demonstration of academic excellence in Psychology and a desire to pursue a career in Psychology will be the primary criteria in the selection process. To qualify for this award a student must: (a) be a matriculated major in his/her junior year in Psychology, (b) have a minimum 3.50 GPA in Psychology, (c) demonstrate promise and commitment to pursue an advanced degree in Psychology, and (d) be entering his/her Senior year. Preference will be given to a student who has demonstrated leadership qualities and has participated in service in the community. Preference may also be given to students with documented financial need and/or who have been a teaching assistant in the Psychology Department (and who has demonstrated a strong teaching ability and interest). The Psychology Department selects students to receive the award.