All new, incoming first year and transfer students are required to complete a series of "next steps" in order to successfully enroll at SUNY Oswego. The staff in the Office of New Student Orientation is here to help you navigate those steps!
All students can begin to complete their "next steps" by accessing their New Student Menu. All steps in your New Student Menu must be completed before you can register for an optional, in-person Orientation Program or complete the Online Orientation modules. If you have already paid your deposit, log into the New Student Menu to get started! (You can complete your "next steps" in the New Student Menu and view them, with additional information, in the Welcome Guide below.)
Overview of the New Student Steps
Step 1 - Activate your LakerNet ID
Your LakerNet ID and password will get you into your email, MyOswego, and many other applications you will need to access during your time as an Oswego Student.
Oswego email is the College's official form of communication, so please be sure to check your email often. 
Step 2 - Academic and Health Requirements
Complete your Health & Academic Requirements 
Visit your Patient Portal to complete your health requirements.

Fill out your Academic Information Sheet. You can find this form in your New Student Menu. Your Academic Information sheet gives your advisor vital information on what should be included in your first-semester schedule.

Take your Math Placement assessment. Find more information on the Math Placement webpage. (The Math Placement exam is not required for all majors; you can see if it's required for your major on the Math Placement webpage.)
Step 3 - Agree to Complete your Orientation Experiences + Student ID
Submit the Agreement to Complete your Orientation Experiences
Visit oswego.edu/appstatus to complete this step in the Step 3 Checklist. This agreement requires you to comply with the Online Orientation requirement and reminds you of the optional, in-person summer Orientation Program. You will not be registered for fall semester courses until this agreement is received and Step 3 is complete. 
Submit your Photo for your Student ID
In the Step 3 Checklist, you will be directed to submit your ID Photo via Laker Lookup. Please read the photo requirements prior to submission. You will receive your student ID in one of the following ways: at an in-person Orientation Program (if you attend), via postal mail if you are a commuter student and do not attend an in-person Orientation Program, or at New Student Move-In if you are a residential student and do not attend an in-person Orientation Program. 
Please note: It's come to our attention that some of our students may have photo submissions that are being automatically rejected because the format of the photo is not the most compatible with our Student ID Photo software. This is often seen with photo submissions using Apple products. 
We've created a helpful guide on how to update your settings to take a photo that is most compatible with our software. Please view additional information below. 
Photo Requirements:
All Student ID Photos must show the student…
Looking straight at the camera 

Positioned in front of a plain, light background
Accepted Photo Formats:
JPEG or JPG (most preferred) 

PNG
For Students Submitting a Photo taken on an Apple Device (iPad, iPhone):
Please set up your camera format to  "most compatible" in the settings tab before taking your Student ID Photo. (The default "high efficiency" option converts photos taken with the Apple device into an HEIC format, which is not supported by SUNY Oswego's ID photo system.) 
To change your photo settings, follow these steps! 
Step 1: Access "Settings" on the home screen menu.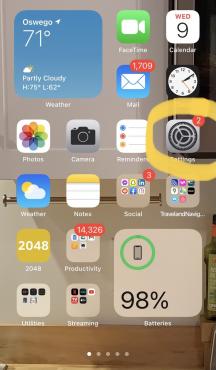 Step 2: Scroll down and select the "Camera" option in Settings.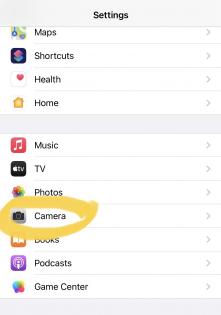 Step 3: Access the "Formats" option at the top of the Camera menu.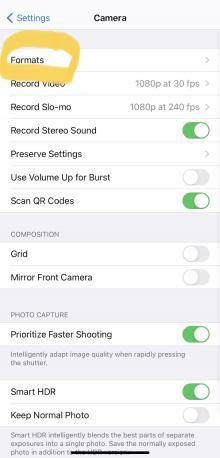 Step 4: Select "Most Compatible" option.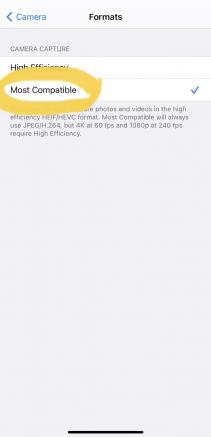 For more information on uploading your student ID photo, click here
If you need any further assistance, please contact our office at (315) 312-5522.
Step 4 - Complete Online Orientation + Register for your Orientation Program
Complete Oswego Online Orientation
Beginning June 28, 2021, Oswego Online Orientation will become available to all students who have completed Steps 1 - 3. 
To complete, log in to Blackboard, select "Online Orientation - Fall 2021" from the "My Courses" menu and complete all required modules and assessments.
Register for your Optional, In-Person Orientation Program
We are offering several optional one-day, in-person orientation programs for new students and their families. Students are limited to one guest each (guest must be 18 or older.) Registration for the in-person programs is available to students who have completed Steps 1 through 3 in the New Student Menu.