Break Transportation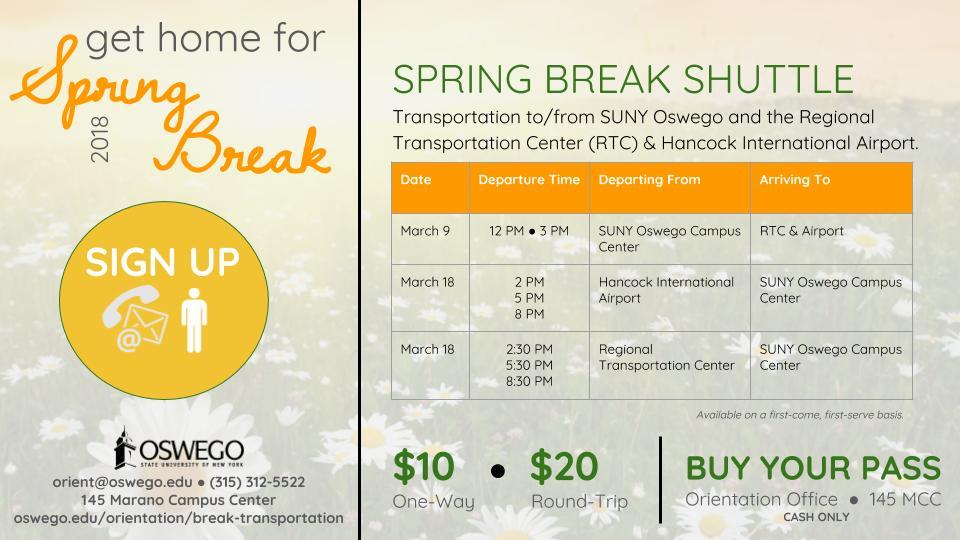 For more information, please refer to our 

student_travel_guide_2017-18_final.pdf
Shuttle Service to and from The Regional Transportation Center and Hancock International Airport in Syracuse
Need to get home for one of the college's breaks and don't have a ride? The Orientation Office offers a convenient shuttle service to and from the Regional Transportation Center and Hancock International Airport, in Syracuse for Thanksgiving Break, Winter Recess (return trips only), and Spring Break.   
Departure Service to Hancock International Airport & Walsh Regional Transportation Center for Spring Break
Friday, March 9, 2018 | Deaprt from Marano Campus Center Bus Circle 
12 PM (1 PM arrival at Hancock; 1:15 PM arrival at RTC)
3 PM (4 PM arrival at Airport; 4:15 PM arrival at RTC)
Sunday, March 18, 2018 | Return Service to SUNY Oswego, Marano Campus Center 
| | |
| --- | --- |
| Hancock International Airport  | Walsh Regional Transportation Center |
| | |
This transportiation is on a first-come/first-served basis. You may purchase your pass at the Compass, 145 Marano Campus Center OR call or email our office. Our hours to sign up and make payment for the Shuttle service will be available from 8:30am to 4pm - Monday - Friday.  You can ride on a SPACE AVAILABLE basis the day of services (must provide Oswego student ID number).
The fee is $10 one way, $20 round trip.  Cash, only.
Phone: (315) 312-5522 | Email: Orient@oswego.edu
In addition, College Express is now offering service from SUNY Oswego to NJ, NYC, Queens and Long Island.  More information is available at http://www.collegeexpressbus.com or at 631.588.7433.  Schedule for the 2017-2018 academic year is as follows:
| | |
| --- | --- |
| Southbound to Great NYC Area | |
| | |
| Tuesday, November 21st | 5:15 PM |
| Friday, December 15th | 5:15 PM |
| Friday, March 9th | 5:15 PM |
| | |
| --- | --- |
| Northbound from Greater NYC area | |
| | |
| Sunday, November 26th | 12:00 PM |
| Sunday, January 21st | 12:00 PM |
| Sunday, March 18th | 12:00 PM |
Reservations can be made at https://secure.northforkexpress.com/collegeexpress/reservation.aspx - please input your travel dates
Here are some additional links below that may assist you in your travel planning.
Centro bus service runs regular routes Oswego to Syracuse (via Fulton and Phoenix) and the Regional Transportation Center in Syracuse, which connects with air, rail and bus transportation.  
You can also reserve a Zipcar.
The Regional Transportation Center hosts bus service from Greyhound and Trailways (1.800.858.8555), who both offer student discounts. Amtrak also runs trains Regional Transportation Center in Syracuse. Schedules, tickets and information can be accessed at www.amtrak.com or at 1.800.USA.RAIL (1.800.872.7245). Amtrak offers student fares and other discounts.
If you're considering flying in for a visit, the following airlines provide service to Hancock International Airport in Syracuse.
-          Air Canada (Air Georgia): 1.888.247.2262
-          Allegiant: 1.702.505.8888
-          American Airlines/American Eagle: 1.800.433.7300
-          Delta Airlines: 1.800.221.1212
-          JetBlue Airways: 1.800.538.2583
-          United Airlines: 1.800.241.6522