Faculty profile
Zheng Hao
Assistant Professor
---
Contact
354 Shineman
315.312.6430
zheng.hao@oswego.edu
Office hours
Fall 2018: Tuesday 9:20am-10:20am, Wednesday 11am-12am, 1pm-3pm, Thursday 9:20am-10:20am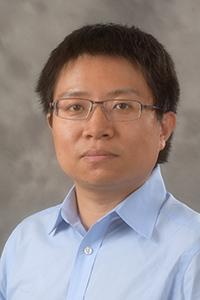 Past work experience:
Lecturer, South Dakota State University, 2016-2018
Lecturer, University of Wisconsin-Stout, 2014-2016
Research
My research interests include Partial Differential Equations and Obstacle Problems.
Publications
The Mean Value Theorem and Basic Properties of the Obstacle Problem for Divergence Form Elliptic Operators. Communications in Analysis and Geometry Vol. 23, No. 1 (2015), p. 129—158
Reifenberg Flatness of Free Boundary in Obstacle Problems with VMO Ingredients. Calculus of Variations and Partial Differential Equations Vol. 53, No. 3-4 (2015), p. 943--959.
Education
Ph.D., Mathematics, Kansas State University, 2014
BS, Statistics, Peking University, China, 2007
BS Economics, Peking University, China, 2007